Creating surveys with Refiner is easy and usually takes a couple of minutes only.
Refiner supports multiple ways to launch and distribute your survey. Regardless of the type of survey you want to run, creating a survey always starts with the following steps:
Choose a survey template
Customize your questions if needed
Customize the survey design
Distribute your survey (in-app, on a website, by email, …)
In this section we'll briefly cover each step and link to dedicated sections for more details.
Create a new survey
If you just recently created an account with Refiner, you most likely already created your first survey during the onboarding process.
To create a new survey, navigate to "Surveys" in your Refiner dashboard and click on the big "+".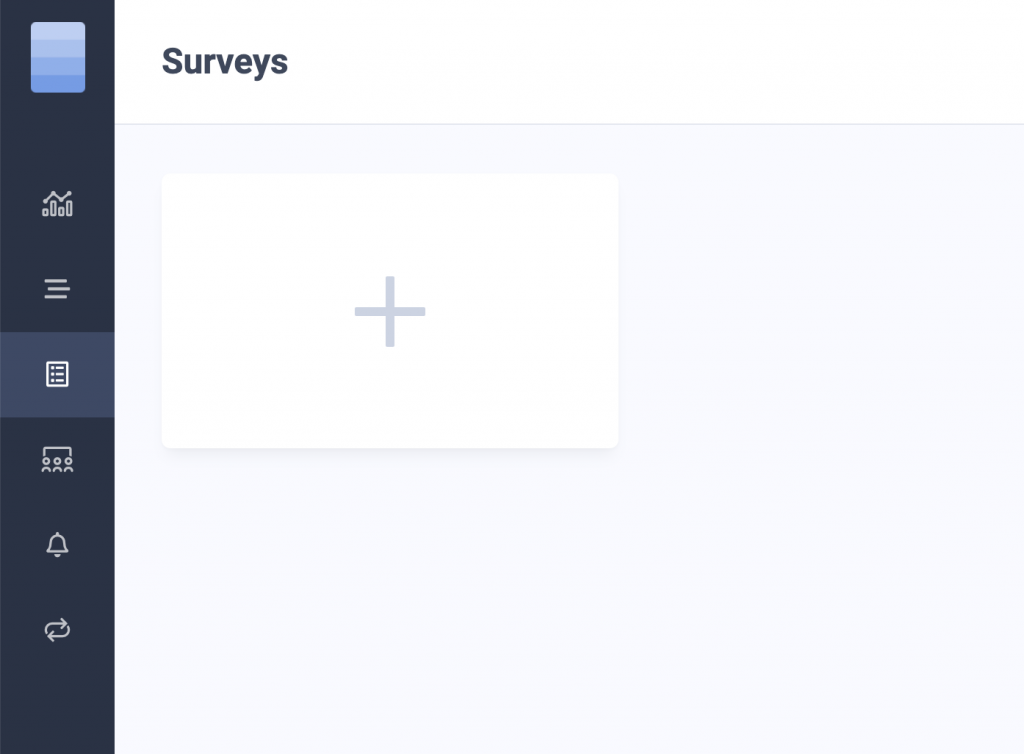 Choose a survey template
Refiner comes packed with many survey templates that cover all kinds of use-cases.
You can filter survey templates by use case, as well as their distribution channel.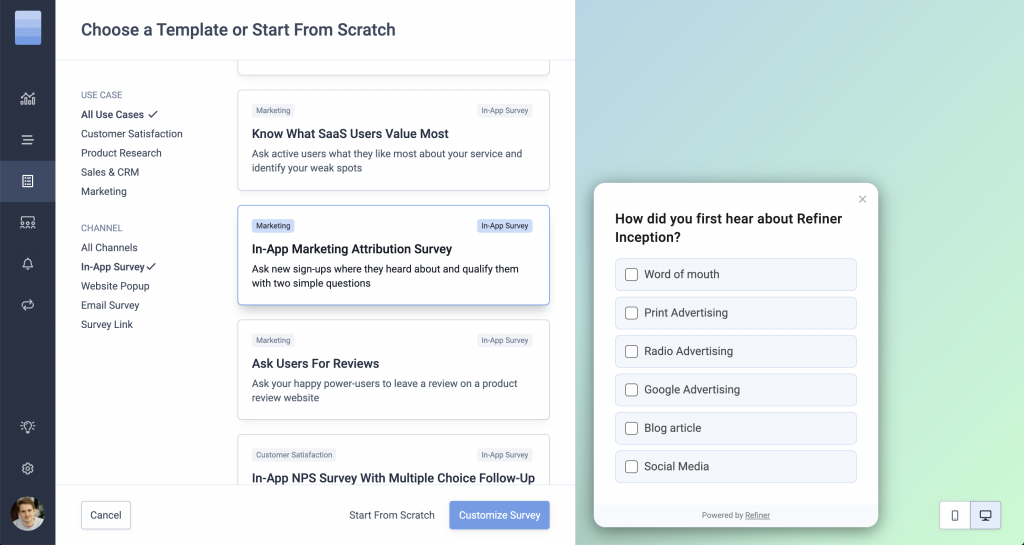 Obviously, you can also skip this step and create your survey from scratch.
Customize survey questions
If you chose a Playbook in the previous step, your survey already contains a couple of questions. While our templates are all "ready-to-use" you might want to customize the questions.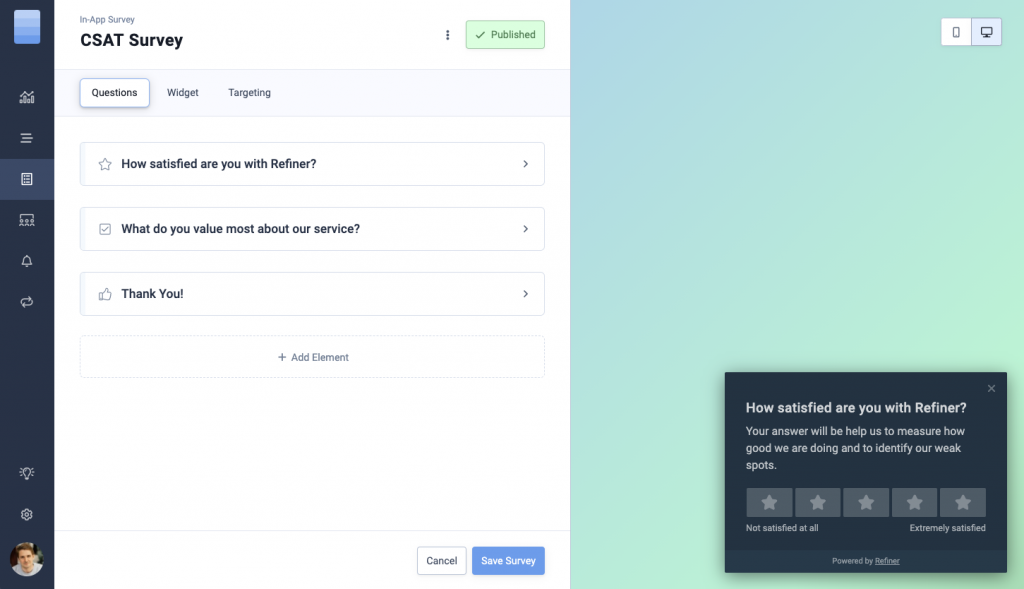 Clicking on an existing survey question reveals all customization options. All questions types in Refiner are fully customizable.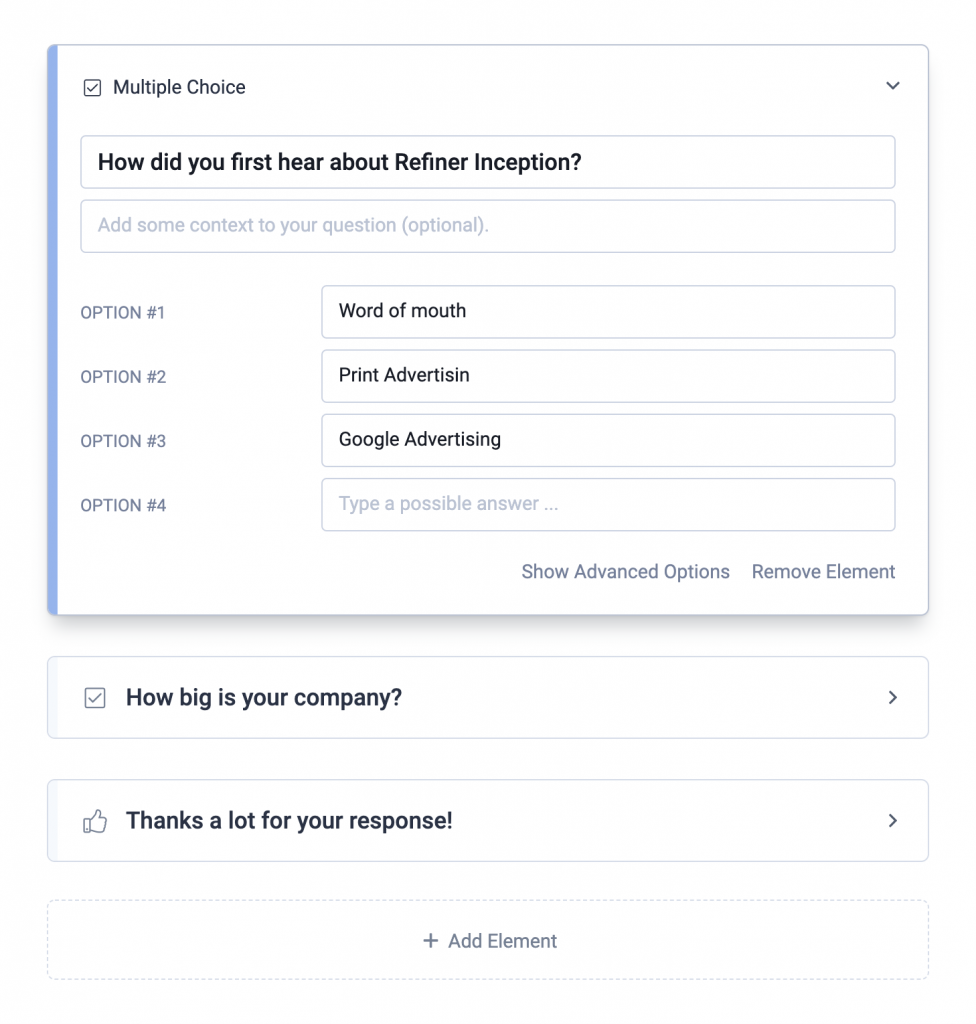 Add more questions
You can add a new survey questions by clicking on "Add Element" below the list of questions.
You can also insert questions between two existing questions by placing your cursos in the space between two questions.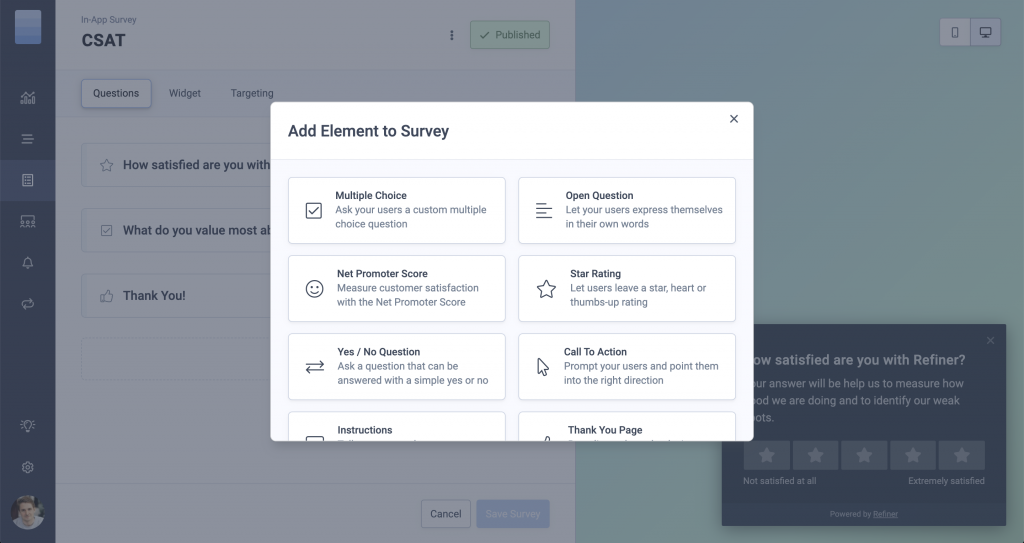 If you scroll down the panel shown in the screenshot above, you can also choose a question from our library.
You can choose between different question types, such as Multiple choice, Open ended, Star Rating, and so on. Refiner also supports Logic Jumps for more sophisticated survey flows.
Target the right users at the right time
Targeting the right users at the right time is a crucial component of any successful survey campaign. Refiner puts you in control who should see your survey and when they should see it.
If you get the timing and audience targeting right, you'll see not only a massive lift in survey completion rates, but you'll also receive high quality responses.
Depending on the distribution channel of your survey (Inside a web-app, on a website, by email or shareable link), different options are available.
Customize your survey
Next to timing and targeting the right users, the design of a survey can also be a critical factor of a successful survey campaign. Refiner offers various design options and you can learn more about them here.