Send Surveys with Customer.io
Send NPS & CSAT surveys with Customer.io
If you are looking for a tool to send user feedback surveys (e.g. NPS, CSAT, missed trial survey, …) with Customer.io, we've got the right solution for you.
Refiner not only provides real-time data sync with Customer.io, but we'll make it easy really easy to embed surveys in your email templates. Refiner provides you with a HTML code snippet which you can paste into your Customer.io email template.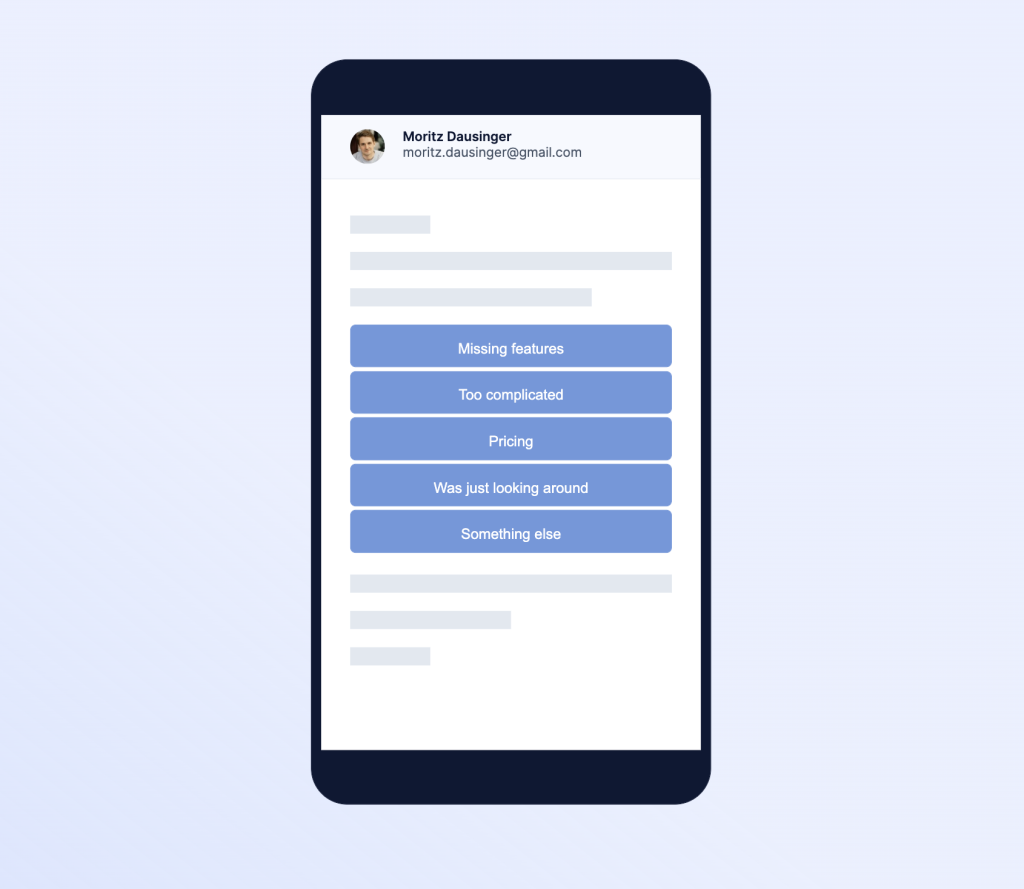 The first question of your survey will appear right inside your email. When a recipient clicks on the a response option, they'll land on a dedicated survey page where they can answer additional questions. Unlike other survey solutions, Refiner collects data right from the first click of the user which will ensure high response rates.
Get your Survey Embed Code
When building your survey with Refiner, navigate to the "Embed Code" tab and choose Customer.io from the list of supported providers.
Selecting Customer.io from the provider list will ensure that the embed code contains Personalization Tags to correctly identify your users by their email address.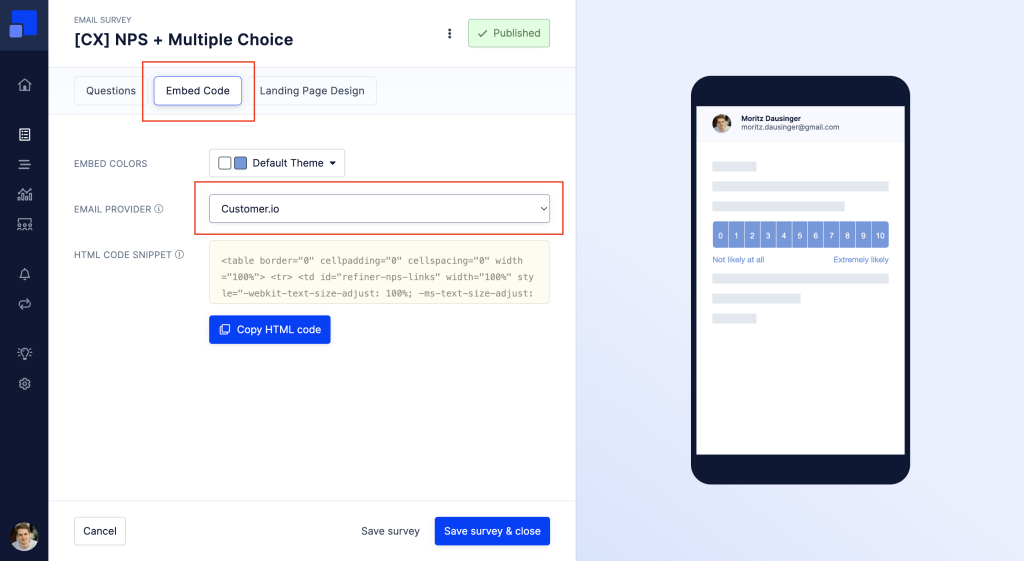 You might choose to customize the colors of your survey so that it fits nicely with your email template in Customer.io.
Finally, click on "Copy HTML code" to copy the embed code into your clipbloard.
Embed survey in Customer.io email
Create a new email campaign in Customer.io or navigate to an existing one. In the "Workflow" view, choose the email which should include your survey or create a new one.
Edit the content of your email and switch the editor to "HTML". Then, paste the HTML at the position where you want to include the survey.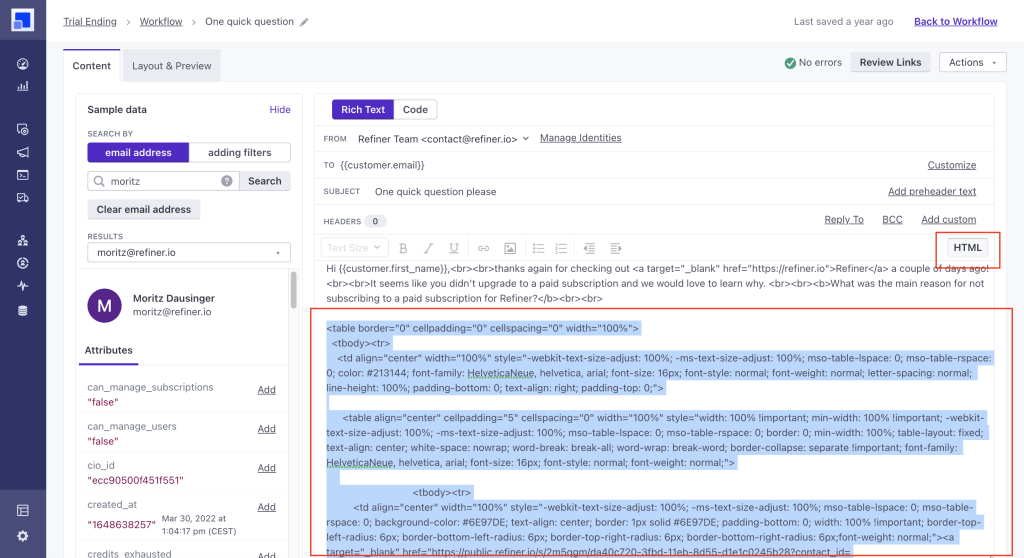 After pasting the survey embed code, you can disable the HTML mode and switch back to normal editing mode.
Click on "Layout & Preview" to preview your survey. If everything looks good, you are done with the setup.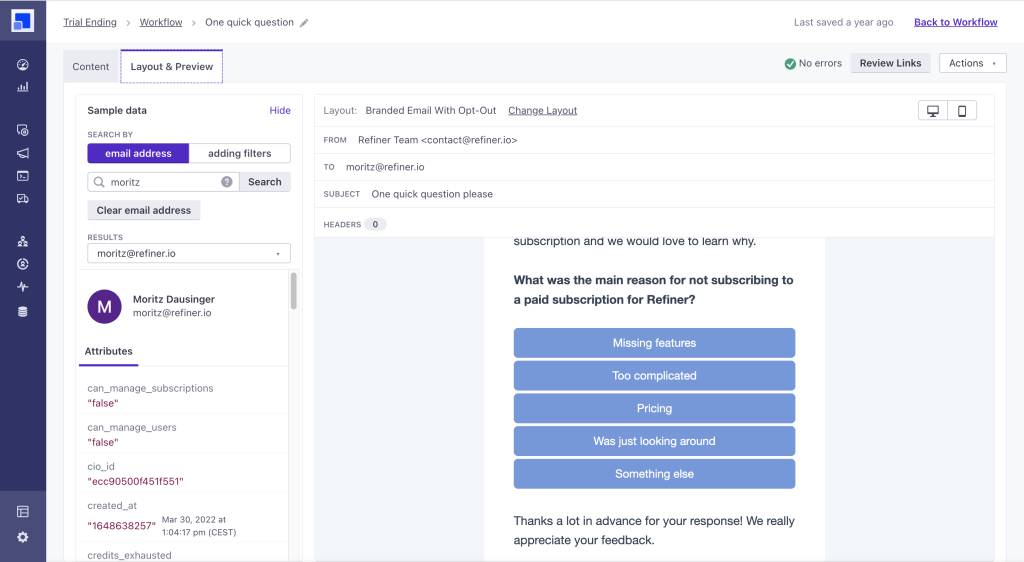 Sync survey responses to Customer.io account
Refiner also provides a seamless data integration with Customer.io. Whenever a user views or responds to a survey, Refiner can push that information to your Customer.io account in real-time. You can find more information about the Customer.io data integration here.