Most business advice tells you to learn more about your customers. And naturally, this is sound advice. There is no doubt about that.
But there is a catch.
You see – Discovering your audience preferences is so easy when you get to talk to those people as they become customers. But we, founders building SaaS or digital product companies, rarely have such luxury.
Our customers sign up by themselves.
They learn how to use our products on their own too.
Hell, often, the only time we get to talk to them is when they reach out for help or support. And that's IF they ever need to reach our customer support.
Well, there is good news, too – There is an option to learn more about those people, discover their preferences, or find out what problems made them to signed up.
That option is to run a customer onboarding survey and ask specific questions that will help you discover who your customers are.
You'll find more about it below. Plus, you'll also discover a list of the best customer onboarding survey questions to ask.
Intrigued? Let's take it from the top, then.
Let's start by defining what a customer onboarding survey is (and what it is not.)
Onboarding is a big word in our industry, and for a good reason.
The onboarding process is often our only way to assist customers as they explore our products, after all. Our customers reach the app without our active involvement. Onboarding, therefore, is how we can show those new users what they could do with the product and help them start receiving value from it.
The thing is – Most of the time, the actual onboarding process focuses on us feeding information to users.
We send them emails with helpful information about the product's features or capabilities.
We show in-app notifications with tips and additional advice as customers explore our apps.
We point their attention to help documentation, send them swag to get them excited about our brands, and more.
The diagram below shows what I'd consider a quite modest and simple flow. The one you're using might include countless more touchpoints and messages.
And sure, we can learn a lot from how our new users respond to that information, how they act on it, and how the onboarding flow changes how they use the product or service.
But we still miss out on one crucial element – Receiving direct feedback from those people.
That's where customer onboarding surveys come into play.
Customer onboarding surveys are simple questionnaires that help us learn more about new users before they become paying customers.
Note that I said simple. That's a crucial thing to remember about these customer surveys.
You see, customer onboarding surveys take a quite unique approach. Unlike other survey types, like customer satisfaction surveys, for example, these surveys help close the gap between the knowledge you have (i.e., product information that you share in your onboarding process) and insights from the customer.
That's one reason why these surveys form a part of the onboarding experience. They allow us to learn more about the person (or a business) that signed up and match those insights with our product information.
For instance, here's a customer onboarding survey I received one day after signing up for the product's trial.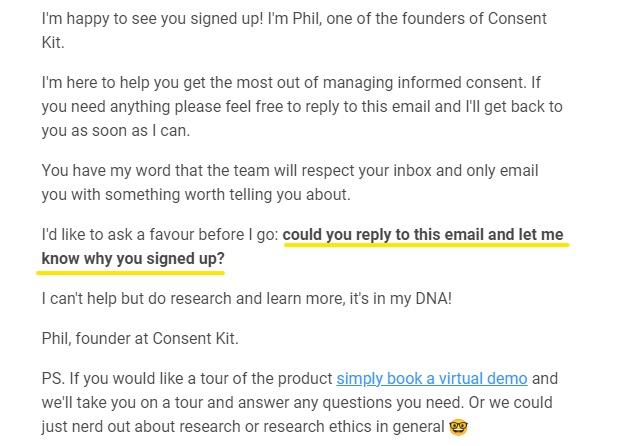 By answering just one question (which I did, by the way), I can provide the company with the most important information they need to learn more about me, my preferences, and what prompted me to seek out their solution.
However, getting those insights is just one benefit of sending customer onboarding surveys.
By asking the right questions, you can get a clear picture of who signs up for your product. As a result, you can not only discover more about your audience. You can also evaluate whether your marketing efforts attract the right audience.
Answers to your customer onboarding survey questions will tell you more about your customers, their expectations regarding the product, and so on. You can use these insights to drive the product roadmap, UX improvements, and more.
Finally, customer onboarding surveys make a hell of an impression on the customer. You no longer seem like a brand only interested in broadcasting information to get its way. You come across as a company focusing on the customer, and that's a powerful way to stand out in a crowded market, as I'm sure you know already.
This brings us to the most important aspect of customer onboarding surveys – The questions you ask.
Before I show you specific questions to include in your onboarding surveys, a quick warning.
Your survey will reach customers in one of two different ways:
You'll either send it to them by email. In this case, you have little control over the context of when the person receives your message. They might be at their desk but also see email on their phone while sitting in a coffee shop.
Or you'll display it as an in-app survey. In this case, the person will see it as they're engaging with your product.
So, there are some things you should always keep in mind when creating your new customer onboarding survey:
It should be short and straight to the point. Regardless of whether the person checks their email in a coffee shop or notices an in-app popup while working in the app, they'll be doing something else when your surveys reach them. Be conscious of that and try not to demand too much effort to process and respond to the survey.
Focus on qualitative questions. Rating questions like Net Promoter Score, for example, are incredibly simple to answer. Customers just need to select a rating on a given scale, and they're done. You can give them the option to provide more context with a follow-up question but don't make this a required step.
Note – As you'll see, it's not always possible to gain all the insights with a rating or qualitative questions. Sometimes you just have to let customer share their insights. But if possible, choose the qualitative first.
Avoid biased and confusing questions, and that's for obvious reasons, naturally. Customers can see through those and will refrain from providing feedback.
This example might seem like an exaggeration, but I hope that it also clearly illustrates the effect of biased questions on our willingness to reply.
Because I doubt that you'd be willing to choose any of the two options provided, right?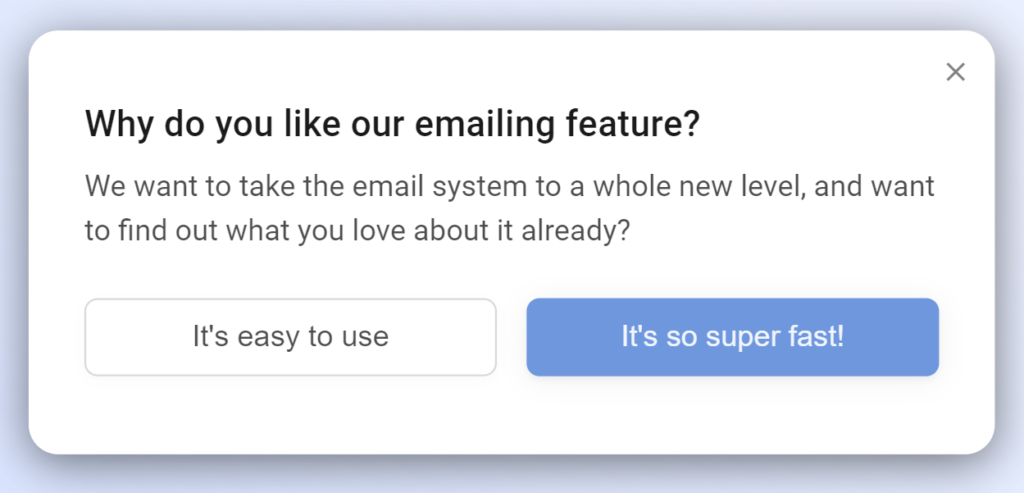 So, with that out of the way, let's look at what questions do work in customer onboarding surveys.
Best questions to ask in a customer onboarding survey (21 examples).
A quick note before we begin – I divided the list of questions into sections, with each section relating to a different purpose for sending the survey in the first place. So, below, you'll find questions that will help you learn more about your customers, discover what made them choose your company, see how you're doing so far, and learn more about their preferences for your product.
Basic customer questions
I assume that you ask some basic qualifying questions in the signup process. However, there are several other things we'd often like to know about our users, but we don't ask about them. This is usually because we want to keep signup forms short. Luckily, you can use the customer onboarding survey to fill in those gaps in your knowledge.
Here are some questions you could ask:
What is your position at the company?
Will you use the product alone or with a team?
Are you the person making the final decision about this product?
How did you hear about the product?
How many products have you tried before signing up for ours?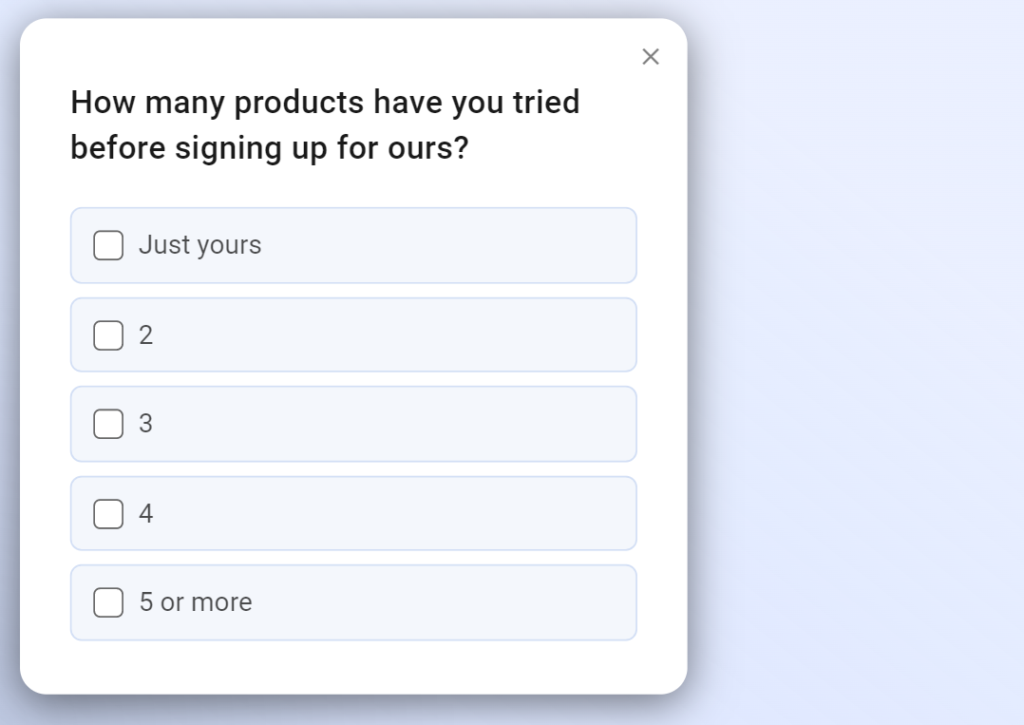 Purchase intent questions
Use these questions to discover the reasons why a person has signed up for your trial, and whether they're your target audience at all.
Which of these features mattered the most to you when signing up?
What is your primary purpose for using this product? (list of options.)
What problem do you hope to solve with this product? [open-ended question]
What other apps did you evaluate before choosing this product? [open-ended question]
What made you select the product over other similar solutions?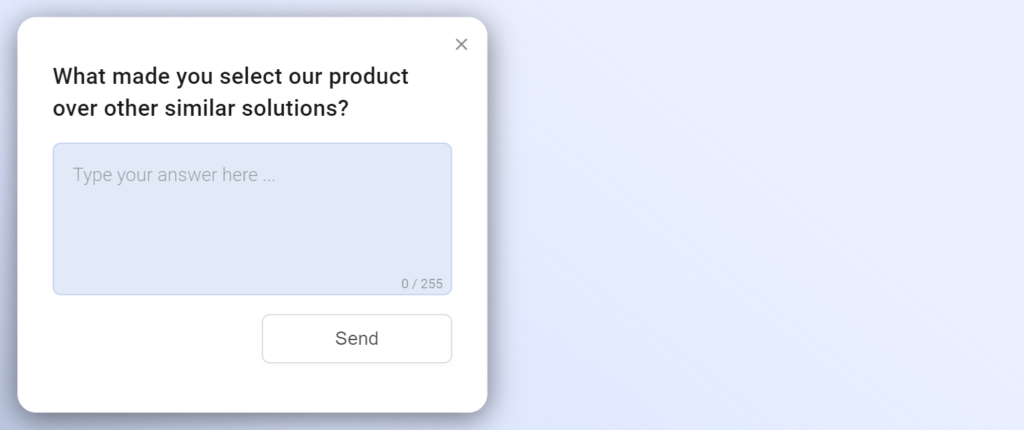 Customer experience questions.
Of course, it's hard to expect customers to be able to share insights about their experience just after having signed up. But these questions do not seek such insights. Instead, they help you to measure customer sentiment so far. In other words, these questions inquire more about their first impressions rather than long-term user experience.
Here are several examples of questions that would help you uncover that:
On a scale of 1 – 10, how useful is the product to you?
Based on your experience with our product so far, how likely would you be to recommend it to friends or family?
On a scale of 1-10, how satisfied are you with our product so far?
How would you rate our signup process?
How could we improve our signup process?
TIP – You can use segmentation here and modify those questions to specific customer behavior. For example, instead of asking about the signup process, you can target customers who have reached out to your customer service team and ask about that specific experience.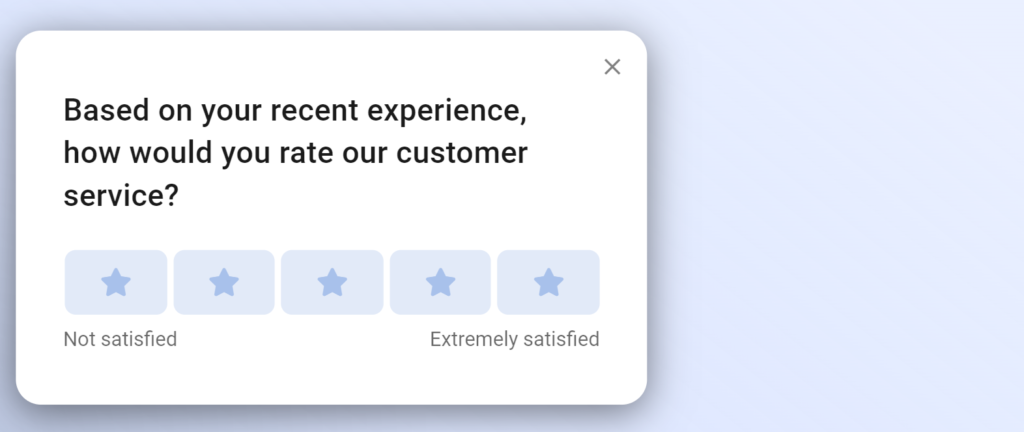 Product usage questions
Finally, these customer onboarding questions will help you discover what new users think about your product so far. Again, remember that these questions seek to uncover initial impressions rather than in-depth feedback. That said, even those insights can help you identify new ways to communicate with customers, talk about the product, and improve the UX significantly.
Have you experienced any issues when getting started with the product?
Do you find our product easy to use?
Rate the usefulness of these features to you.
What feature did you expect in the product but did not find?
What do you dislike about our product?
What do you like about our product?

And that's it…
I hope you've found this guide and the list of questions to ask in customer onboarding surveys helpful.
Good luck collecting this amazing feedback from new customers.
Get to know your users
Refiner is a customer survey tool for SaaS & digital products. Collect more user insights with perfectly timed microsurveys, automate actions based on answers, and quickly find gaps in the understanding of your users.
Discover Refiner