Planning to run in-app surveys? Wondering how to make the most of it?
You know – Continuous feedback can improve everything in your business – from product development to marketing and customer success.
And to collect it, you just need to launch the right surveys at the right place. But unfortunately, sometimes that's the problem, right? How do you get your survey in front of people at the very moment when they're using your product?
Well, that's where in-app surveys come in handy.
In this guide, you're going to learn the best practices for in-app surveys and how different teams can use them to meet their SaaS objectives.
But let's begin at the beginning.
What Is an In-App Survey?
An in-app survey is a survey integrated into your page or app.
Contrary to external surveys that direct users to another page, in-app surveys make it easier for your customers to answer your questions in just a few clicks as they're using your product.
Why Create and Use In-app Surveys?
There are many reasons to create in-app surveys for your business. Let's look at the key benefits.
#1. Be proactive with customer feedback
Not all surveys should take time. In-app surveys can be quick and easy to answer and they can still help you gather valuable insights about your product and customer experience.
Use them to be more proactive with your feedback and find how your users feel about a feature before you notice a drop in usage.
The faster you learn about any product issues, the easier it becomes to prevent churn.
#2. Improve response rate
One of the biggest challenges with surveys is to get a good response rate. We recently evaluated the performance of the last 500 in-app surveys created with Refiner and published an in-depth report on in-app survey response rates.
There are multiple best practices to increase response rates, but the number one rule would be to launch surveys that don't disrupt the user experience.
Go where your customers are (in that case your web page or product) without directing them to external pages. Reduce the friction as much as possible by integrating the surveys into their customer journey and asking them the right questions at the right time.
If you're using an in-app survey tool like Refiner, you can also customize the in-app surveys to your own branding to maximize the chances of success.
#3. Target the right audience
Another challenge with user surveys is to create the right content for the right audience. That's where in-app survey segmentation comes in.
For example, you can trigger an in-app survey to your most engaged users after spending a set amount of time on your product to hear their thoughts about a particular feature.
The better the context, the higher the chances of a response.
#4. Make customer feedback easier and effortless
User experience matters and it's no different when creating a survey. Think like your users.
The best way to boost your response rate is to make the survey feel easy and effortless.
Imagine you're using a product for the first time. A pop-up question comes out all of a sudden within the first minute and asks you for product feedback. You want to close the survey. It's hard to get rid of it so you end up frustrated, which could possibly affect your overall product experience.
Imagine if the survey experience was different. After the first ten minutes of using the product, a question shows up on your screen. The copy makes it clear that it understands you're a first-time user.
"Welcome to [product]. What are your first impressions of the product up to now?"
The process takes just a few seconds to complete. Guess which one of the two scenarios leads to a higher response rate.
(Yes, it's the second one)
#5. Gain insights on user experience
The best way to maintain a good user experience is to follow your user throughout their customer journey.
From the very first interaction with your product to the long-term engagement, it's important to ask for their feedback to understand their pain points and spot any potential issues.
In-app survey tools like Refiner can help you organize the feedback you're collecting from all your users to uncover unique insights that can turn into actionable tips for your product roadmap.
#6. Help customers feel involved in your product decisions
Your customers know best what your product is missing so you want to keep them close when building your product roadmap.
In-app surveys make it easier to connect with your audience and involve them in improving your product.
For example, if you are thinking of launching a new feature, you can launch a quick survey to target your most engaged users. You can either ask them a direct question about whether the specific feature would be useful for them or you can expand the options and let them pick the features they want next.
How Different Teams Can Use In-app Surveys
There are various ways to use in-app surveys across different teams – it all comes down to what you want to get out of them.
Let's dive deeper into the various use cases for each team.
Customer Success
In-app surveys can help you track and improve your customer success metrics. For example, you can use them to measure customer satisfaction with CSAT surveys both for new and loyal users.
You can also launch a CES survey to measure customer effort and how your customers feel when using your product.
Whether it's about measuring your NPS score or tracking users' satisfaction, you can use in-app surveys in the customer success team to learn more about your audience and how to keep them happy.
Managing customer feedback doesn't need to be time-consuming. All you need is the right survey for the right audience to get the best insights out of every single question.
Growth Marketing
SaaS growth and scaling can't happen without knowing what your customers like.
Collecting feedback through in-app surveys can give you valuable insights into your customers and what they enjoy from your product. You can even build your marketing personas based on their habits and interests to improve your messaging.
Let's say your business is primarily targeting marketers up to now but once you trigger a quick in-app survey among your engaged users, you find out that your product is equally appealing to project managers.
Just like that, you uncovered a new segment in your audience.
You can also use in-app surveys to identify high-value accounts with just a few questions. Trigger a survey to your most engaged customers and explore how the prospect of any upselling opportunities can help them solve more of their problems.
User Research
The traditional idea of user research can take time and it's not always easy to scale. In-app surveys can be highly customized to help you maintain a high response rate while they are still easy to create in just a few steps.
Looking for quick validation over a new feature you're building? You can trigger an in-app survey among your loyal users to gather feedback.
Interested in understanding your users throughout their lifecycle? Follow their evolutions with microsurveys that you trigger with the right content at the right time.
For example, there's a difference between a user who just onboarded and someone who is using your product for a year. How has customer satisfaction changed? How often do they use the product? What's their favorite feature?
Use the feedback you're collecting to improve their user journey and help new app users have a smoother experience in the future.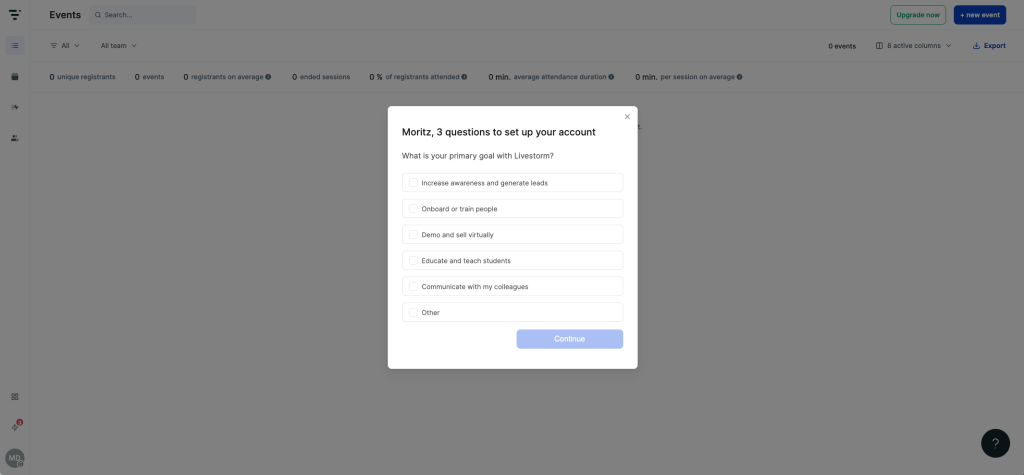 Product Management
There are always new ideas to implement in your product. There's no better way to validate them than asking your customers.
Be proactive with collecting insights by launching contextual in-app surveys for each segment of your audience. Identity any problems in existing features, prevent customer churn or get your users to submit their feature requests.
Use all the insights to improve your product decisions and make it easier to measure your product-market fit.
You can even analyze which segments have reached product-market fit or who needs additional help.
How to Create Effective In-app Surveys
Ready to create an in-app survey? Here's everything you need to consider.
#1. Define your objective before creating a survey
The first step is to define your objectives. What do you want to get out of the survey? Why are you creating one?
Your goal should be clear and easy to measure.
For example, you might want to launch an in-app survey to find what your new users think of your onboarding experience.
In this case, you need to create a CES survey to target this particular segment in order to measure the customer effort.
#2. Timing is crucial
Even the most relevant survey won't get a high response rate if you don't launch it at the right time.
A great benefit of customer survey tools like Refiner is the option to trigger an in-app survey at the right time for the right audience.
You don't want to ruin the customer experience by launching a feedback request survey when a user is filling out the details to subscribe to your product, do you?
#3. Don't ignore segmentation to reach the right audience
Segmentation can be the key to improving your customer feedback data. It's not enough to collect insights if you don't narrow it down to different segments of your audience.
For example, when launching a Net Promoter Score (NPS) survey, it's not just about the overall NPS number. You want to dive deeper to measure customer loyalty across different segments of your audience.
Spend the right amount of time to work on your segments, their definitions and how to understand them by asking the right questions at the right time.
#4. Design with user experience in mind
There's nothing more annoying than pop-up app messages you can't close. You don't want your surveys to annoy your customers so keep the user experience in mind throughout the design process.
Let's say you want to launch a feedback survey to measure customer satisfaction. Your survey should blend with your brand and the app. It can't disrupt the user experience by taking up a big part of the screen.
The best way to get a high response rate is to make the responses feel quick and effortless.
#5. Pick the right survey template
It's daunting to start a survey from scratch, I know.
That's why there are many survey templates out there to help you pick the best one for your needs. Instead of coming up with your own survey questions, you can choose a template based on your survey's use case.
You can adapt the template as much as you want to match the copy and the branding to your audience's needs.
If you're using Refiner, you can use the various templates made for SaaS businesses to maximize your chances of success.
#6. Design for mobile
Your surveys should be accessible to every screen size.
It's not enough to test your survey design on a laptop when a growing number of users rely on their phones to access a page or an app.
When optimizing your survey for a mobile app, make sure the copy is easy to read and that the survey design does not impact the overall user experience.
Here is a preview of an in-app survey if you're using Refiner.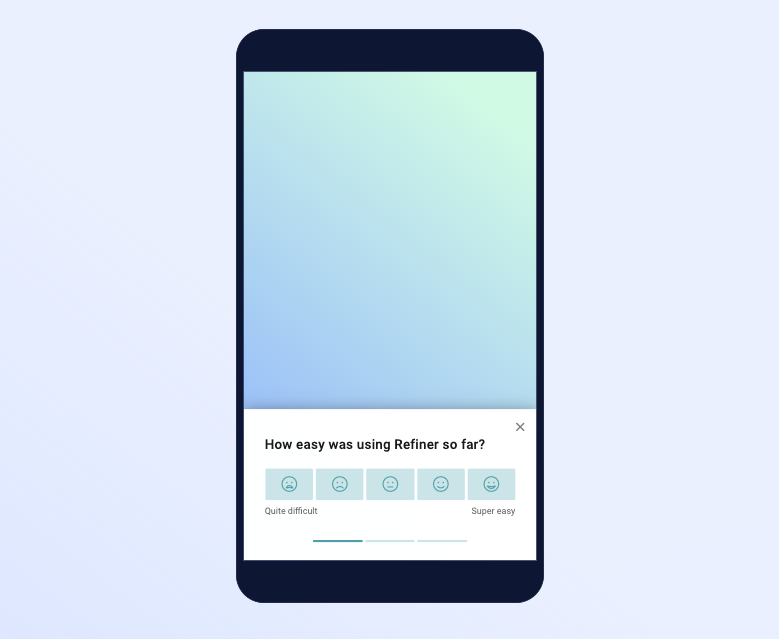 #7. Pay attention to the copy for each question
Every question should be clear and easy to understand.
Asking for too many things in one question can confuse your audience and affect your response rate.
Be specific and use simple words.
Here is an example of a direct and clear question:
"Would you be interested to schedule a quick 1-on-1 demo with our team?"
#8. Keep it short
Longer sentences can affect the user experience if they take too many rows so make sure you're cutting down on anything you don't need.
Review the copy for every question you're creating. Is there another way to frame it without using too many words?
Let's say you want to find out how your customers found out about your product.
Here are two different ways to ask the same thing.
Option 1 – "Do you remember the channel you were using when you first found out about our product?
Option 2 – "How did you first hear about us?"
The second option sounds better, doesn't it?
#9. Run A/B tests
We all tend to assume what our audience knows but we only confirm our validations by running various A/B tests.
When creating an in-app survey, experiment with the copy, the targeting or even the time that you're launching the survey.
Make sure that you're only running one experiment at a time to confirm the winning option.
Use all the learnings to improve your next surveys based on what resonates with your audience.
#10. Look at your analytics
After launching your survey, it's time to analyze your survey data.
Whether it's about your NPS score, customer satisfaction or product-market fit, reporting can help you understand your audience and what they want from your product.
Be proactive with analyzing your data and dive deeper into different audiences to understand their unique needs.
If you are using Refiner, you can create real-time customisable reporting boards while you can also bring all survey data in one place to improve the decision-making in your product.
There it is…
Everything you need to know about in-app surveys and how to use them for your SaaS business.
Before you create your next microsurvey, make sure you keep it relevant to the specific audience.
Think what you want to get out of it and keep it simple.
Remember, user experience is always important.
Good luck!
Get to know your users
Refiner is a customer survey tool for SaaS & digital products. Collect more user insights with perfectly timed microsurveys, automate actions based on answers, and quickly find gaps in the understanding of your users.
Discover Refiner