Do you have a process to collect customer feedback and close the customer feedback loop? Want to learn how to do it successfully?
Fact: The best way to grow a successful product is to keep your customers happy and engaged.
But how do you do it? How do you even know whether your customers are engaged with the product?
Well, that's where customer feedback loops come in.
In this guide, you'll find everything you need to know about the customer feedback loops, its benefits for your business, and the best practices to create one.
First of all, how do we define the customer feedback loop?
What is the Customer Feedback Loop?
The customer feedback loop is a repetitive practice of gathering customer feedback and acting upon it to improve various aspects of the product or company's operations.
Instead of waiting for your customers to submit their feedback, you are launching contextualized surveys to engage different segments of your audience. Once you collect the feedback,you act on it.
That's what "closing the feedback loop" means – responding to the feedback either to resolve an issue or to acknowledge the positive feedback you receive.
Let me illustrate how this works with an example.
Let's say you launched a product survey. A user responds to the survey and shares their thoughts on how you can improve a particular feature. Then another person does the same, and another and another…
You collect all that feedback, analyze it, and communicate the insights with your team. They, in turn, get to work at implementing it, all the while you reach out to the user to share your planned actions based on their comments. And you've just closed the customer feedback loop.
Why is Closing the Customer Feedback Loop So Important?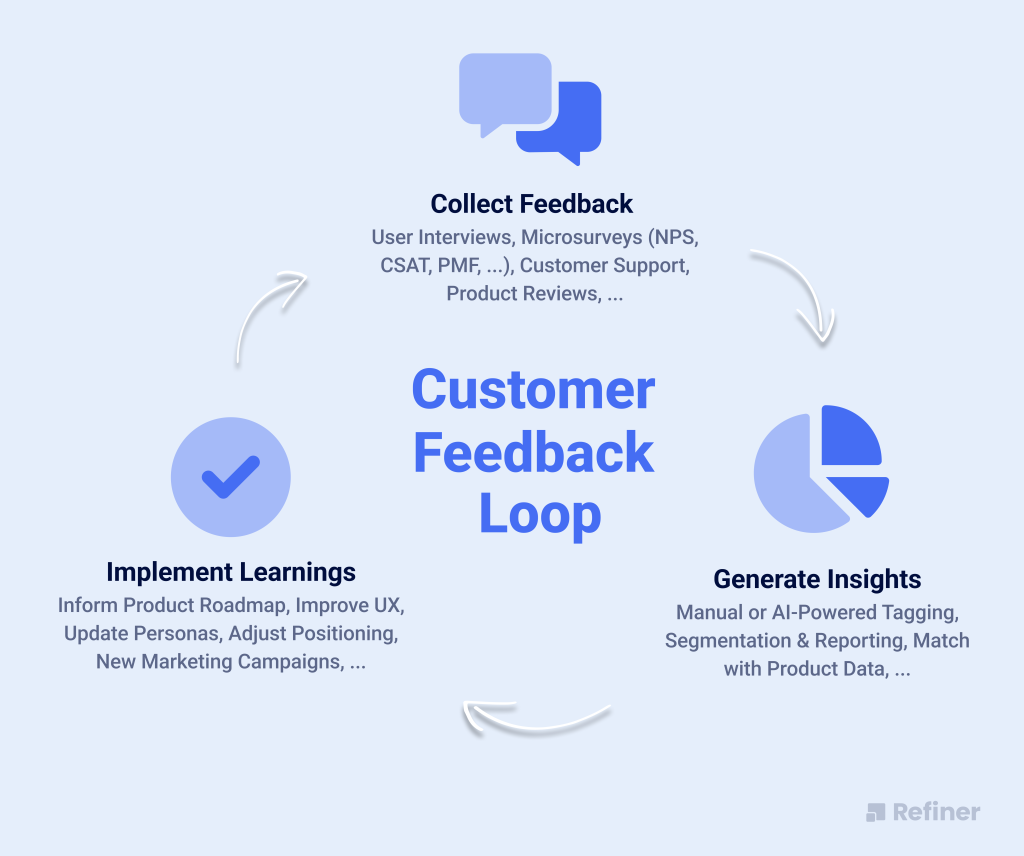 #1. Retain existing clients
It's not enough to attract new clients if you can't retain your existing ones. In fact, it's 5x more expensive to identify a new customer than to maintain an existing one.
You can't afford to lose them, right?
That's why it's important to understand their needs and listen to their feedback.
Be proactive with triggering surveys at the right time and be ready to act on the insights you collect. Once you address the feedback, get back to the customer to communicate the change.
The more you're paying attention to what they want, the easier it will be to develop a long-term relationship with them.
#2. Improve the customer experience
Feedback loops can be either positive or negative. This means that they help you discover your strengths and weaknesses straight from your customers.
Either way, you have the opportunity to connect with your customers on a personal level while working on improving your customer experience even better.
For example, a customer may share feedback on how a feature is useful for their daily tasks. Once you collect the survey feedback, you get back to the customer to thank them for the useful feedback.
This is where you close the feedback loop with customers and boost your customer engagement. You're gathering useful insights that you can pass on to your team while you're also engaging with your customers in a more personalized approach.
#3. Build your product along with your customers
You know, it's so much easier to build a product when you get your customers to help.
Asking frequent questions can help you learn more about the user pain points, the customer experience, and the future features you need to add.
But if you want to take the customer engagement to the next level, make sure you close the feedback loop on every occasion.
Let's say a user responds to a customer survey on new features they'd like to see in your product. They provide you with valuable insights on what matters to them so you're working on updating your product roadmap.
At this stage, you have three options:
You send them a message to acknowledge their feedback and share your actionable plan about the product's feature
You announce your upcoming product features on social media hoping that all users will read it
You wait for the new feature to go live to trigger a message in the app to announce its launch
As you can imagine, the first option is about closing the feedback loop and building a personal approach to your customer interactions.
#4. Make your customers feel involved
Another important reason to create a customer feedback loop is to make your customers feel involved in your business decisions.
Think of it as a dialogue with your users.
You're asking them for feedback. They submit it. Now it's time for you to reply back.
If it's about positive feedback, show your appreciation and reward them for their loyalty.
If it's about negative feedback, thank them for the engagement and commit to making changes that will address their problems.
Either way, closing the feedback loop helps you feel closer to your customers and what they want from your product or service.
#5. Reduce customer churn
Many SaaS businesses are surprised when an increased number of users stops using their product from one month to the other. You don't want to be at this stage when you notice the growing number of unhappy customers.
42% of users have left a SaaS subscription due to poor customer service. The best way to reduce customer churn is to be closer to your customers through all the stages of their lifecycle journey.
That's why you need to be proactive with customer feedback.
Frequent customer satisfaction surveys can help you understand what your users think about your product and the overall customer experience.
Not all customers will make their negative feedback obvious. This is where customer feedback surveys are needed.
Asking the right questions at the right time can give you valuable insights. The next step is to identify the responses that indicate a higher risk of churn.
In order to close the feedback loop, you need to get back to the unhappy users and prove that you are working towards addressing their issues.
Small steps towards improved customer happiness can make a difference in the end.
How to Create a Customer Feedback Loop
Ready to apply a feedback loop in your business? There are four strategic stages to help you improve the collection and implementation of your customer feedback, based on the ACAF framework.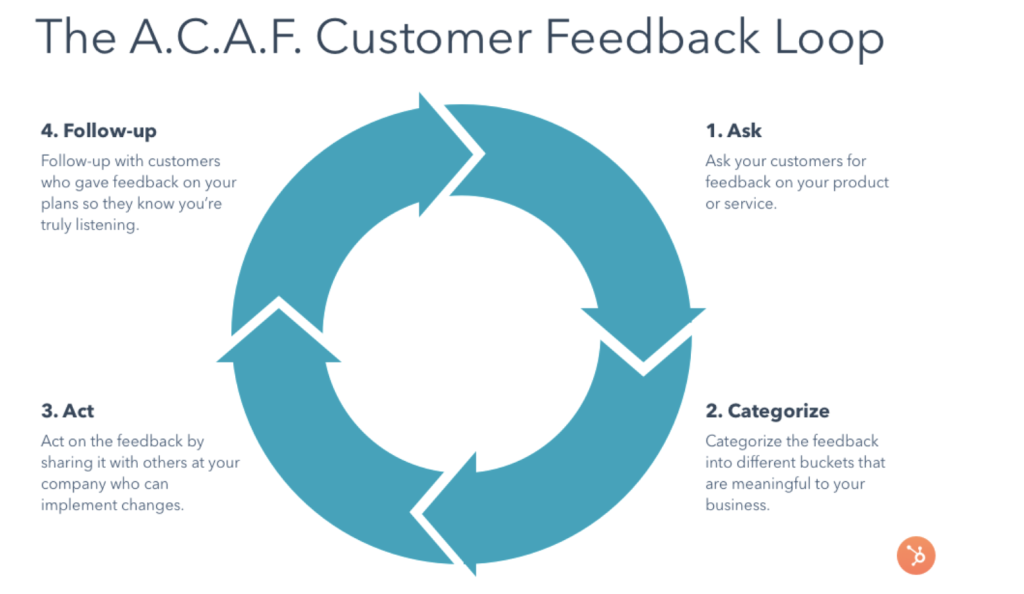 #1. Ask for feedback
The first step is to ask for customer feedback on your product or service. You can launch a CSAT survey to measure customer satisfaction or gather feedback on your product's features through a series of questions.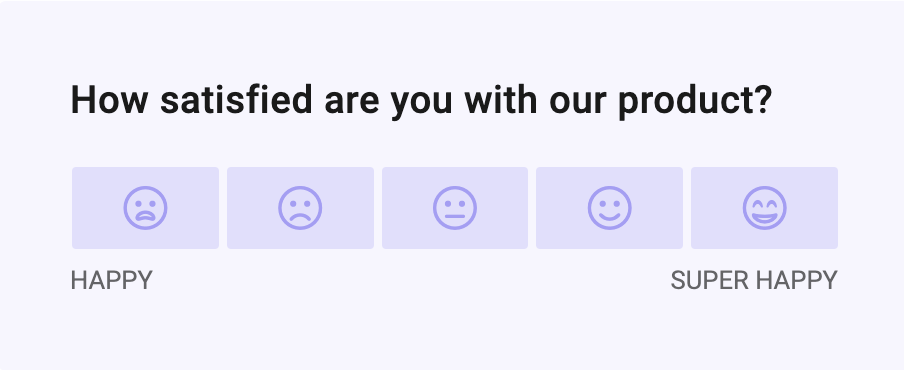 Tools like Refiner can help you with the survey question templates, the branding and the segments you're targeting with each survey.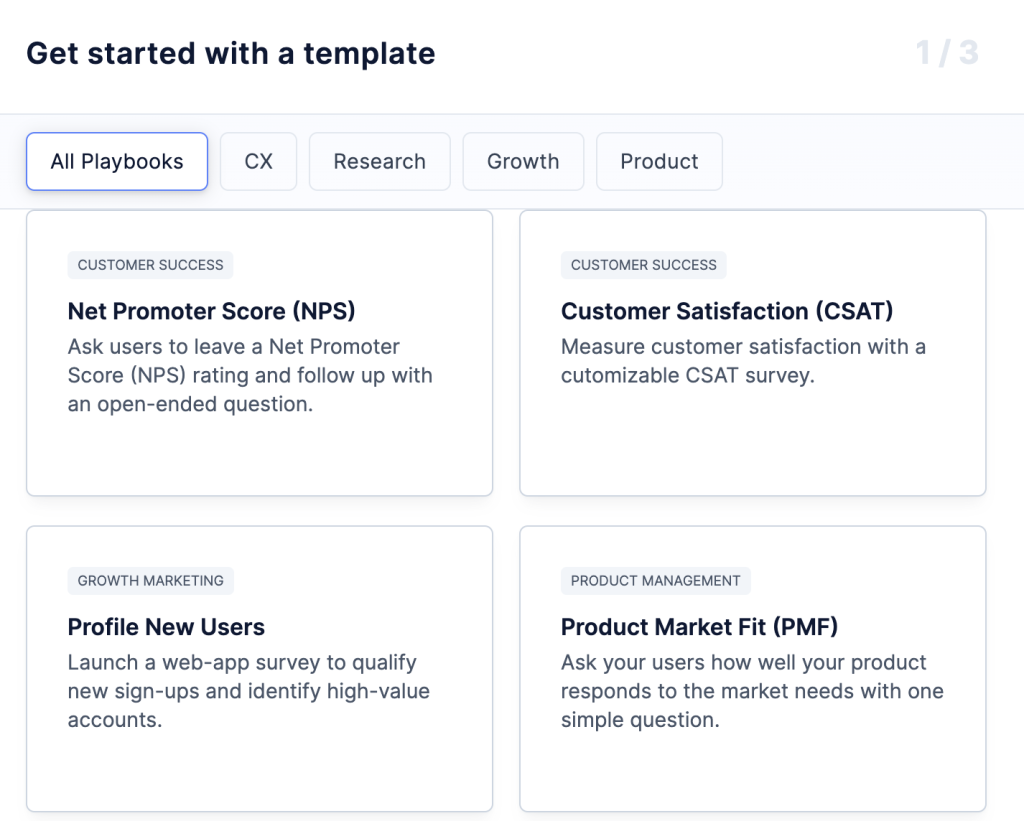 At this stage, think of what you want to get out of a survey before you're ready to launch it and always keep the user experience in mind.
#2. Categorize insights
Once you collect the feedback data it's time to analyze it and identify any common issues. The data will help you draw useful conclusions and plan the next steps on what you need to improve.
You can categorize the insights based on their frequency, the importance for your product roadmap or even the needs of different target audiences (e.g. your most loyal users)
Work on a system that makes the categorisation easier for existing and future data as early as possible.
#3. Act on the feedback
Now it's time to share the feedback with the rest of your team and proceed to the necessary changes.
Get your product team to work with marketing, customer success, and sales to review the latest insights and how you want to work together on them.
The next step in this process is to implement the changes to your product. Your customers have already guided you on what you need to change and it's up to you to work on the prioritization of different requests.
Start with small changes and quick fixes that are easy to implement and work towards the bigger picture and the features you need to build.
#4. Follow-up with customers
This is where you close the customer feedback loop.
Respond to the customers who provided feedback and thank them for their suggestions.
Send them a personalized email and update them on the next steps.
If it's a positive feedback loop, ask them whether you can use the feedback on your marketing channels.
If it's a negative feedback loop, present them a series of steps you're planning to address the issue.
Either way, a personalized message shows that you appreciate their feedback and you make them feel heard.
3 Examples of How to Close Your Customer Feedback Loop
What does it mean to close the feedback loop in different use cases? Here are three examples.
#1. Improve your product
Let's say you launch a survey to gather product feedback. Your customer responds to it. Instead of simply collecting the feedback and acting on it, you add another layer to this process to close the feedback loop.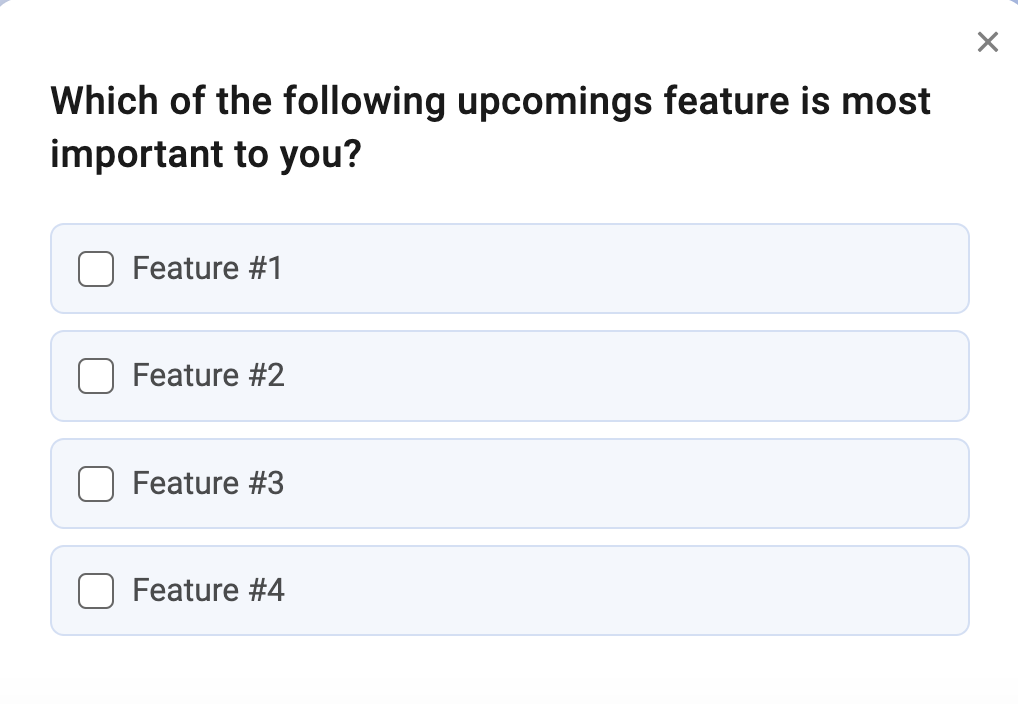 You are reaching out to the customer with a personal message thanking them for the feedback they submitted and updating them on your next practical steps to incorporate the feedback.
You can even ask them for any further recommendations for your product to improve your product roadmap.
It's an effective way to boost your customer engagement and gather valuable insights for your product team.
#2. Improve customer service
A customer has a series of live chats with your team so you're sending a follow-up CES survey to measure the customer effort. The response is positive for your service.
You collect the insights and reach out to the customer to thank them for the positive feedback. You ask if they'd like to share any more details of what they like about your customer experience. You pass down the feedback to your team.
This is a great way to improve the relationship both with your customer but also within your customer service team.
#3. Improve loyalty among your customers
In this case, you're launching a CSAT survey to measure customer satisfaction when using your product. A customer chooses the highest rating among all options.
You reach out with a personal message to thank them for the feedback and ask them if they'd be happy to share the review on their channels. You can even suggest a reward for their loyalty to make them feel appreciated as a customer.
Best Practices For Closing the Customer Feedback Loop
Want to make your process of closing the feedback loop more efficient? Here are some best practices to consider.
#1. Decide on the best ways to gather feedback
First of all, you need to decide on the best way to collect feedback. Your objectives will determine the type of survey you want to send.
For example, if you want to measure the customer effort when someone is using your product, you'll need to launch a CES survey.
If you want to gather customer feedback on your roadmap, you can launch a roadmap validation survey to confirm your upcoming features match your users' needs.
You can also measure your Net Promoter Score (NPS) to see where you stand and what you need to improve.
If you're using Refiner, you can access various survey templates to choose the one that works best for you.
#2. Personalisation matters when asking for feedback
Nobody appreciates content that's not relevant to them. That's why you can't launch one survey targeting every single segment of your user base.
Your messages should be relevant to your audience and the copy should be clear enough to communicate it.
For example, if you are targeting new users, you can use the question to acknowledge they are still new to the product:
"What's your first impression of our product?"
A personalized approach can increase the response rate and thus, the chances of gathering valuable feedback.
#3. Use follow-up questions when relevant
Not all surveys should be time-consuming. You can even launch a survey with just one question.
There are instances though where you can add follow-up questions to gather more insights.
For example, you can measure your product-market fit by asking:
"How would you feel if you could no longer use our product?
Ideally, your customers should be disappointed at some point if they can no longer use your product. Right after this response, they can access a follow-up question to describe your target audience and help you validate your customer personas:
"What type of people do you think benefit the most from our product?"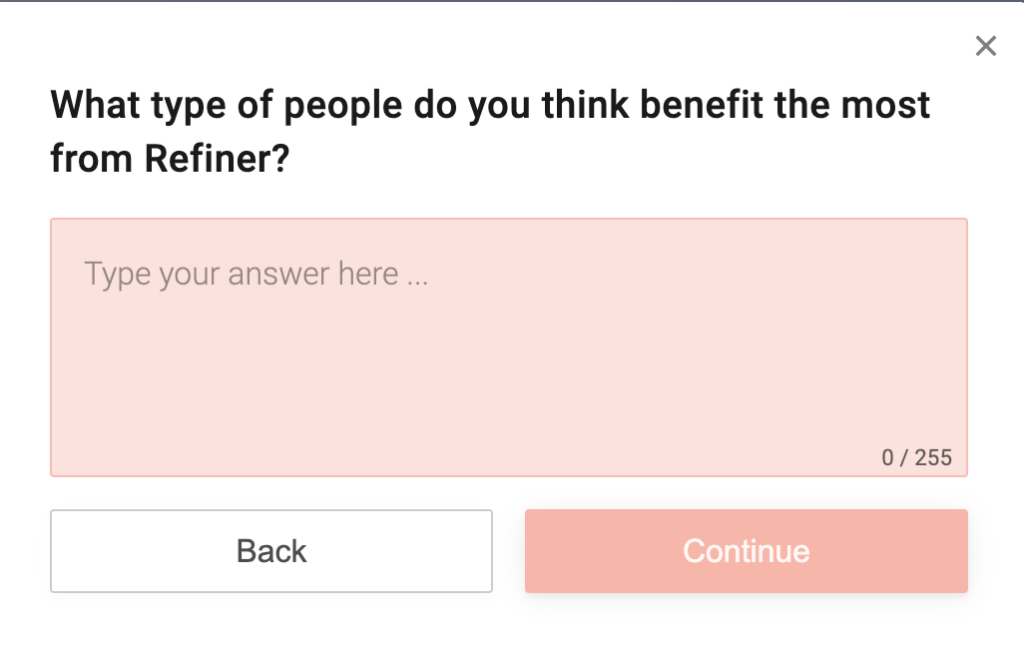 If a user responds to both questions, you can also reach out later on with a personalized message to thank them for the feedback and close the feedback loop.
#4. Make feedback categorisation easier
The best way to make the most out of the feedback you collect is to categorize it based on the different actions you need to follow.
You can create labels for the different survey types you're launching or organize it based on the segments you are reaching out to.
You can also label the feedback loops you have already closed and those that are still pending.
#5. Reduce friction when possible
All four steps in the process of closing the feedback loop should be as frictionless as possible for you and your customers.
You don't want to annoy your customers in the process of gathering feedback or send them too many messages in the end when you are about to close the feedback loop.
Focus on the customer experience and find a balance between ignoring a customer and over-communicating all your actions.
#6. The journey in the customer feedback loop should be customer-centric
Collecting and implementing customer feedback is putting the customer at the forefront of all your activities.
You can't boost your customer engagement or gather feedback for your product roadmap without a customer-centric approach.
Think like your audience through all the stages of their customer journey. What do they want to see from you? What's the best way to reach out to them?
You don't want to ruin the long-term customer experience for the sake of gathering one-off feedback.
Conclusion
Collecting customer feedback is crucial but it's equally important to act on it and communicate the next steps to your customers.
Closing the feedback loop should be part of your customer engagement strategy.
Personalized follow-ups will make your customers feel valued so make sure you don't skip this step.
Good luck!