Look, I never thought that building a SaaS or digital product would be easy. I was never that naive, not even when building my first app.
But I guess, I also never imagined that it's going to get THAT hard either.
I mean, look at the competition we face today. It's insane.
Just for this one reason alone, we have to continuously find new ways to stand out and remain the first obvious choice for customers.
In this guide, I'll show you one way that can help with that. It's something that can help you find out what your customers want, what they think of your product, and how you could be even better for them.
That way is collecting in-app feedback to boost user satisfaction and experience.
Here's what we'll discuss:
What is contextual in-app feedback?
Why you should collect contextual user feedback,
The different ways to collect in-app feedback (because, yes, you have several options here) and
What tools will help you collect in-app feedback from users?
It's a lot to cover, so let's get right to it.
What is in-app feedback?
Typically, when we think of user feedback, we really think of email surveys or link surveys.
It makes sense. These are the most common survey types, after all.
The catch with them, however, is that, in most cases, users respond to such surveys OUTSIDE of your app.
I mean that those people process your questions outside of the context of your product. Hell, they might not even have had it opened for a long time when answering your questions! (This could also suggest that the product is not at the top of their mind when completing your survey.)
There is nothing wrong with that, of course. But sometimes, that context allows for deeper insights.
And that's what in-app feedback helps you collect.
So, the term – in-app feedback – relates to a situation where customers share their experiences and opinion about your product WHILE using it directly from within the app.
Let me show you an example. Here's one of our clients using in-app feedback to collect their customer's opinions about a potential new feature they're planning.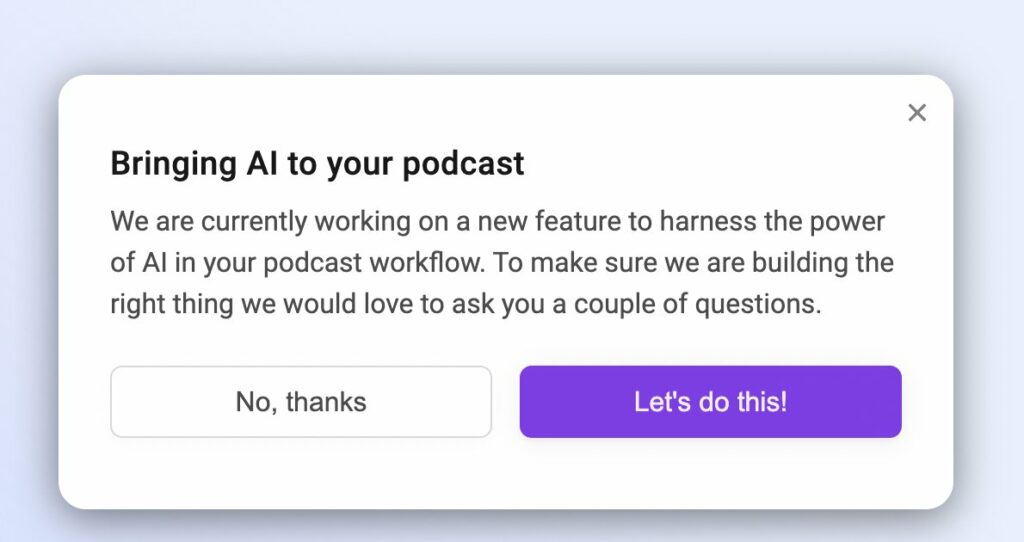 The image shows just the initial feedback widget, of course. Once the user agrees to complete the survey, they see questions asking about the person's attitude towards AI plus information about how they use a feature currently available in the product.
In other words, it's a simple survey. There really isn't anything fancy about it.
And yet, it helps the company collect customer feedback while they are using a feature that might soon be enhanced with new capabilities. As a result, the company collects the most relevant insights to drive its product roadmap.
That's the power of in-app surveys. In-app feedback allows you to collect the most contextual information you can get.
Two other things I want to mention before we go any further.
The example above is what we refer to as contextual (or transactional) in-app feedback. This means that it relates to a particular interaction with an app. This could be a specific feature (like in the case of the company in the example.) But it can also mean a particular aspect of the app, like account settings, price plan upgrades, etc.
Relationship (or general) feedback is the other type of in-app survey you could run. This type of feedback focuses on the person's general attitude toward the app. Surveys like NPS, CSAT, etc., or rating surveys are good examples of this.

Why collect in-app feedback?
We've covered one benefit of in-app surveys already – High context of insights. I think you'll agree with me that there really is no better place to collect user feedback than in the product.
But there are other reasons for launching in-app feedback surveys in your app:
High response rates
And we have proof of that. Here is the data from our last year's research into in-app survey response rates:
Surveys in our sample set of 500 generated a whopping 25.25% of response rates. Completion rates fared just slightly below that, at 23.04%.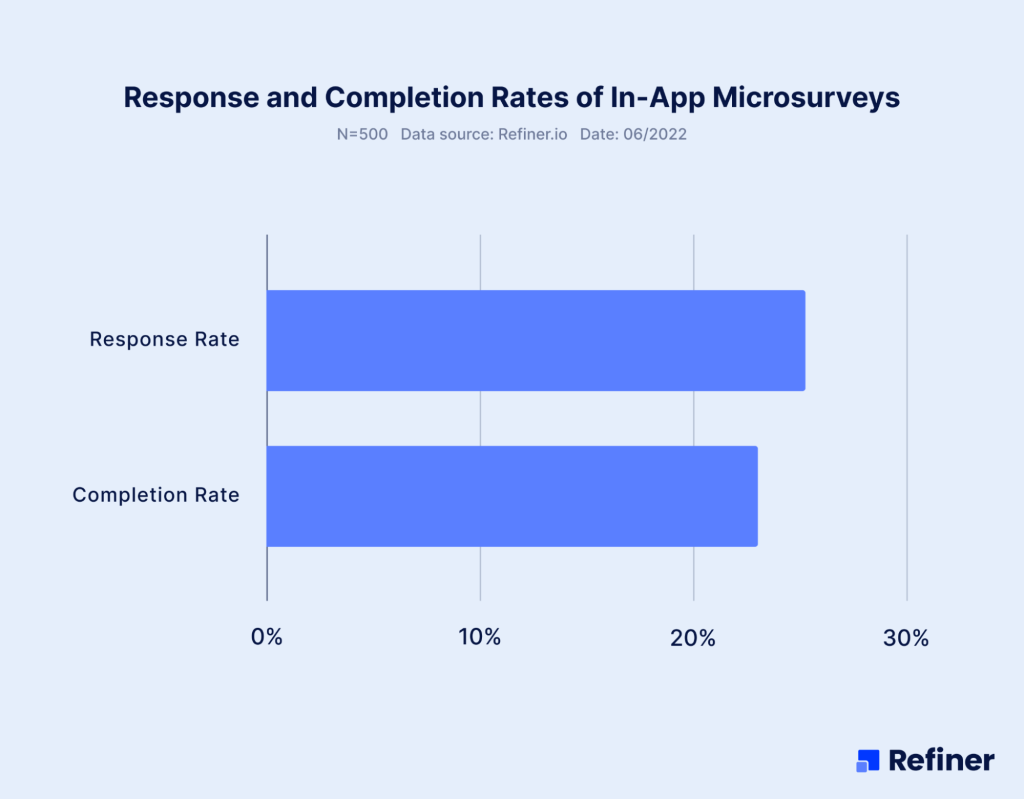 Other benefits of in-app surveys include:
Precise targeting. Let's face it; it's virtually impossible to survey someone who's not a customer with this type of feedback. As a result, with in-app surveys, you can be absolutely sure that whatever insights you collect represent your ideal customers' opinions.
Simpler customer feedback. In-app surveys help your users too. They can respond to a survey quickly without breaking their process or having to go to another screen or app to do so.
Speed of collecting feedback. Again, because the survey happens in an app, you collect feedback almost instantly. The customer doesn't have to consciously decide to switch from what they were doing to completing the survey.
Incredible, right?
But let's dig a little deeper, because you see; in-app feedback has its limitations too.
To be clear – None of these issues would prevent anyone from running this type of user feedback. However, I think it's something you should know about:
The first limitation is the size of the survey. By nature, in-app feedback is fast. Since you don't want to interrupt users too much as they interact with your product, you shouldn't be triggering long and detailed surveys for them.
As a result, you can collect their feedback and insights about the product or a feature. But you rarely have a chance to dig deeper and uncover the "why" behind what they said.
The other limitation (or a challenge) of in-app feedback is that it may seem intrusive to some users. You are showing a survey widget on the screen, after all. And needless to say, that can feel disruptive.
That said, you can overcome this with the right wording and by placing the widget slightly "out of the user's way."
What are the different ways to collect in-app feedback?
Most of the time, when I talk about in-app surveys, I mean more than just a widget with several questions. But there are other ways to gather in-app feedback that you could use as well.
Let's go through them now.
#1. In-app surveys
In simplest terms, an in-app survey is a survey that you integrate into your page or app. Typically, it's a short questionnaire that you trigger either after someone has logged in to your product or after they've performed a specific task. This targeting depends on the type of feedback you want to collect, of course.
The beauty of those surveys is that they allow you to ask product-related questions in the context. The person is using your app at that very moment, after all.

#2. In-app NPS surveys
Net Promoter Score has become a benchmark for SaaS and digital products for measuring customer satisfaction and loyalty, and for a good reason. It's a simple survey (also simple for users to complete,) and yet it provides powerful insights about a person's attitudes towards your product.
And because of its simplicity, you can easily launch NPS surveys in-app and learn about customers' preferences for your product as they engage with it.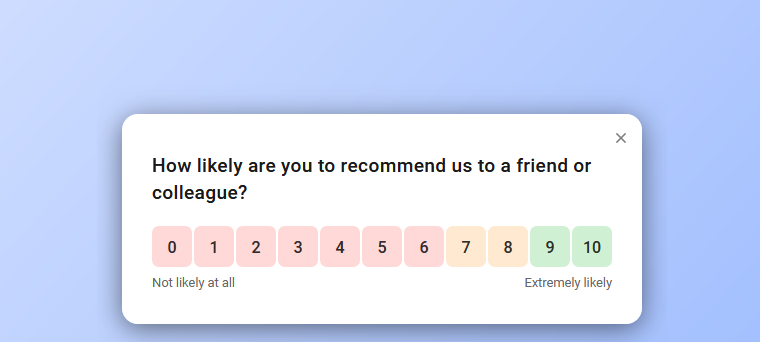 #3. Feedback widgets
In-app surveys ask customers specific questions. These are amazing survey types if you want to uncover specific insights about their attitudes toward your product.
Feedback widgets are different because they provide customers with a means to leave feedback when they decide to do so.
Think of a feedback widget as an open channel for customers to communicate their insights, feedback, and impressions about the product with you.
#4. App rating
Customers don't always have to write anything to provide you with feedback. NPS or CSAT surveys are one example of that. Another is app ratings that you could collect within the product.
These widgets ask customers to simply rate your product, often using a star rating chart. You can use them to collect ratings for the app overall or its particular features.
#5. Bug reporting widgets
Finally, you can also use in-app feedback widgets to collect specific information about bugs or challenges your customers experience with the app. This is a great way to quickly learn about issues within the product and eliminate them before they become a bigger problem.
The best tools to use for collecting in-app feedback
The thing with in-app feedback is that you need a way to trigger those surveys or widgets inside your product. Not every survey platform can do that. Luckily, some tools specialize in in-app feedback collection. Here are the best of them.
#1. Refiner.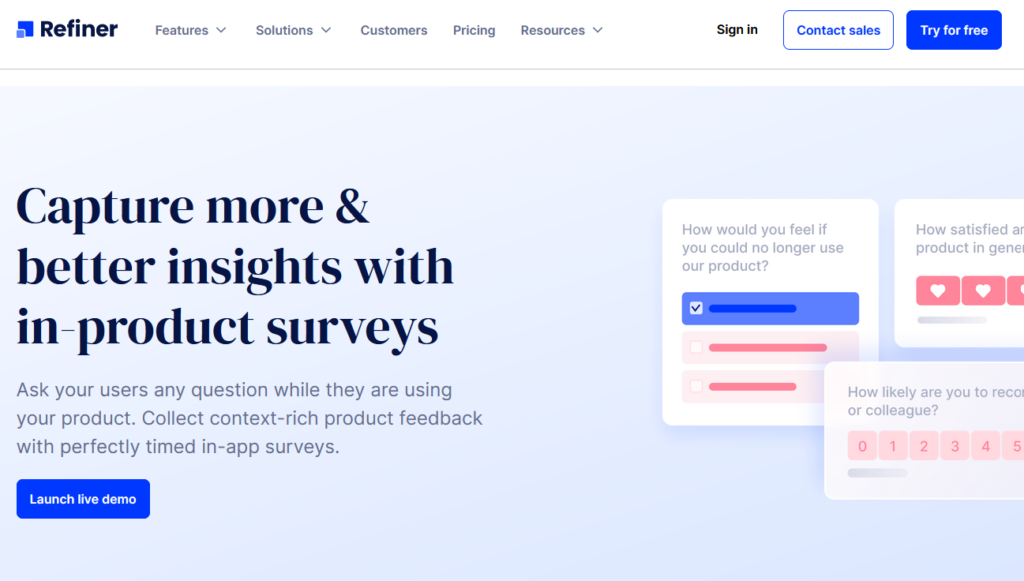 Refiner (disclaimer – this is my tool) is a customer feedback tool focusing on in-app feedback.
I created Refiner to help SaaS and digital companies close the customer feedback loop with perfectly timed in-app micro surveys. For that reason, Refiner is packed with all the features that you'd need to run in-app surveys, in-app NPS or CSAT surveys, and more.
Refiner features:
Precise targeting options allowing you to segment customers by traits or in-app behavior.
Timing and survey frequency opinions to launch your survey at the exact right time with advanced launch triggers.
Widget customization. Customize your widget and let it blend with your brand experience.
Branching logic to provide relevant experiences with branching and dynamic instructions.
Ready-made templates allowing you to get started in minutes.
Built for web and mobile. Launch surveys in web-based applications with our Javascript client, or use our Mobile SDKs for iOS, Android and React-Native.
Liquid tags that allow you to create more personalized surveys by using customers' names and information.
Follow-up mode, partial responses, and more to ensure that you collect as much feedback as possible.
Integrations, and more.
You can also add a video call to action to increase engagement with your survey even further.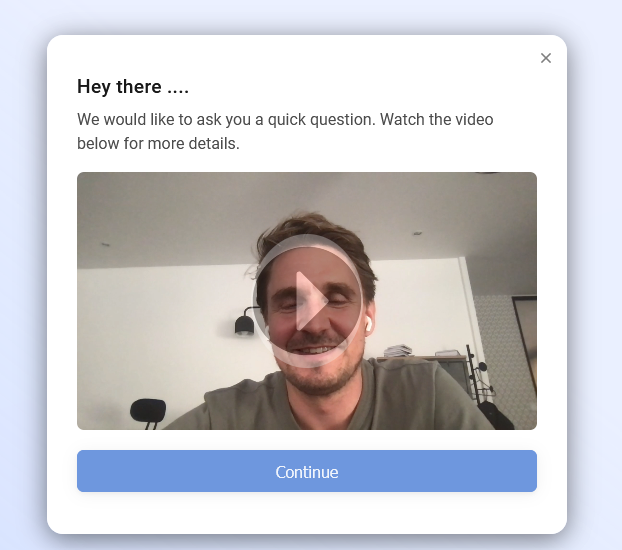 #2. Survicate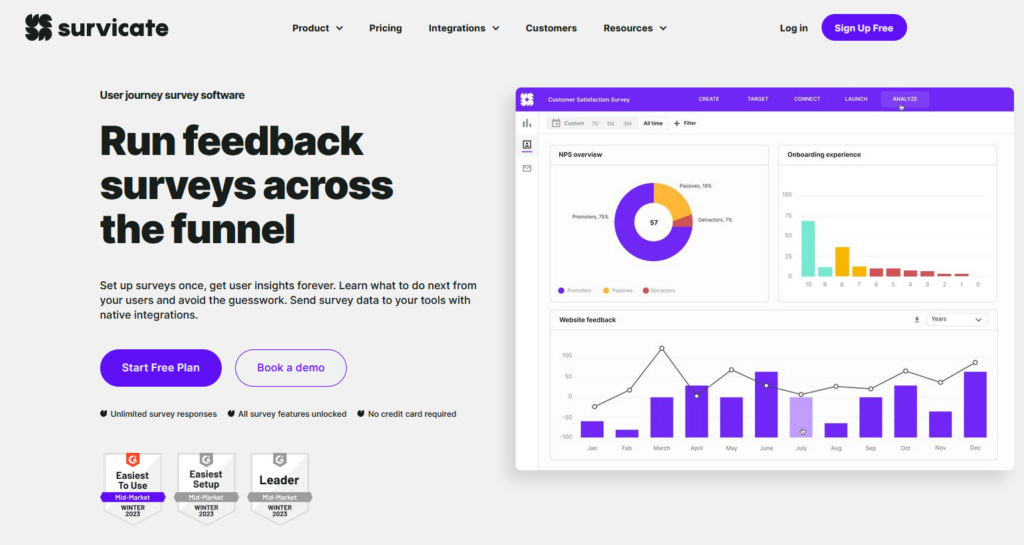 Survicate is a customer survey tool that doesn't necessarily focus on SaaS or digital products. Its core focus is to enable small to medium businesses to collect customer feedback along the entire customer journey. Having said that, the platform does offer the ability to trigger in-app surveys too.
With Survicate, you can launch traditional surveys, and NPS surveys but also collect ratings for your product, etc.
Finally, Survicate's in-app feedback capabilities include pretty much all the options you'd expect from such a tool – various targeting options that let you display surveys where your customers are, segmentation, and survey frequency.
#3. Hotjar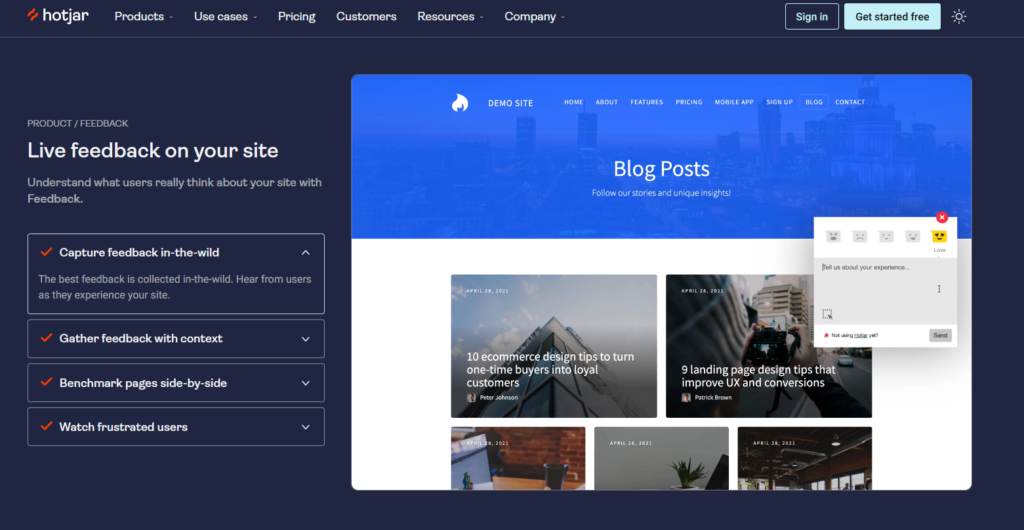 Hotjar offers a whole suite of tools to understand user behavior and preferences. Many of the platform's capabilities focus on passively observing and analyzing user behavior to discern their preferences. Having said that, the tool also offers the ability to place feedback widgets in the app and collect customer feedback this way.
These feedback widgets allow you to evaluate user sentiment with simple rating scale questions or ask for specific feedback. Moreover, if you use Hotjar's other features, you can correlate that data with other insights to build a complete picture of user preferences.
#4. Getfeedback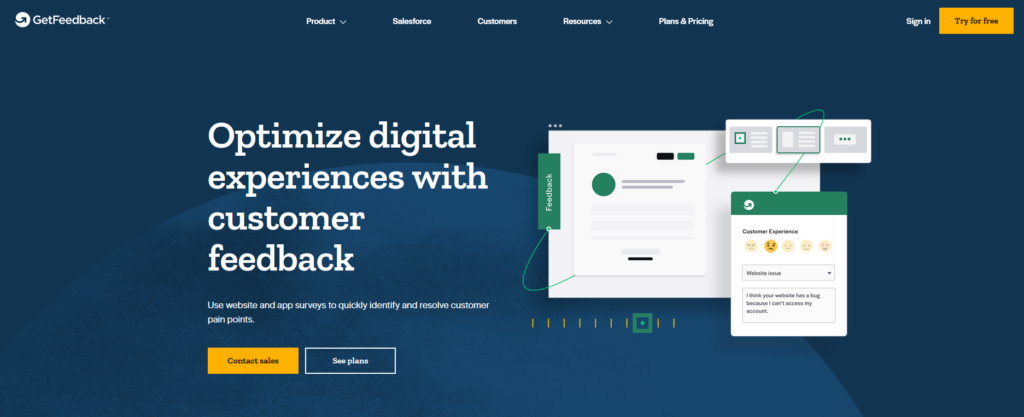 GetFeedback is another all-in-one platform, this one focusing on allowing you to evaluate and improve the customer experience. This also means that the tool offers a dedicated in-app feedback capability for web and mobile apps.
With GetFeedback, you can launch a website or in-app surveys, use various targeting options to reach specific customers, and also capture some metadata about users in the process.
#5. Apptentive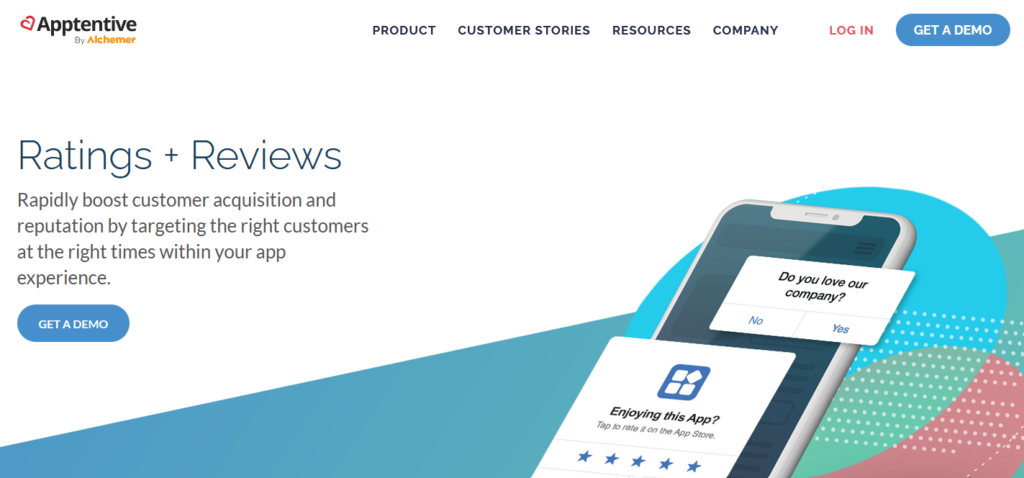 Apptentive is a voice of the customer solution designed specifically for mobile applications. As a result, Apptentive provides customers with a whole range of features to survey and evaluate their mobile app's audience's preferences.
With Apptentive, you can conduct sentiment analysis, ask users to rate your app, and trigger surveys inside your product. On top of that, Apptentive features powerful analytics capabilities to help you analyze feedback in real time, identify issues, spot at-risk customers, and more.
#6. Doorbell

Doorbell is a simple tool that allows you to place simple feedback widgets on your website or in the web or mobile app.
Doorbell's widgets are super easy to install (something reiterated in the app's many reviews,) and fully customizable so that they always match your brand and website or app style.
Doorbell also integrates with many products you might be using already, from project management apps like Trello or Asana, communication tools like Slack, to helpdesk software (i.e., Front, Zendesk, etc.) so that you can forward and act on your insights.
#7. Instabug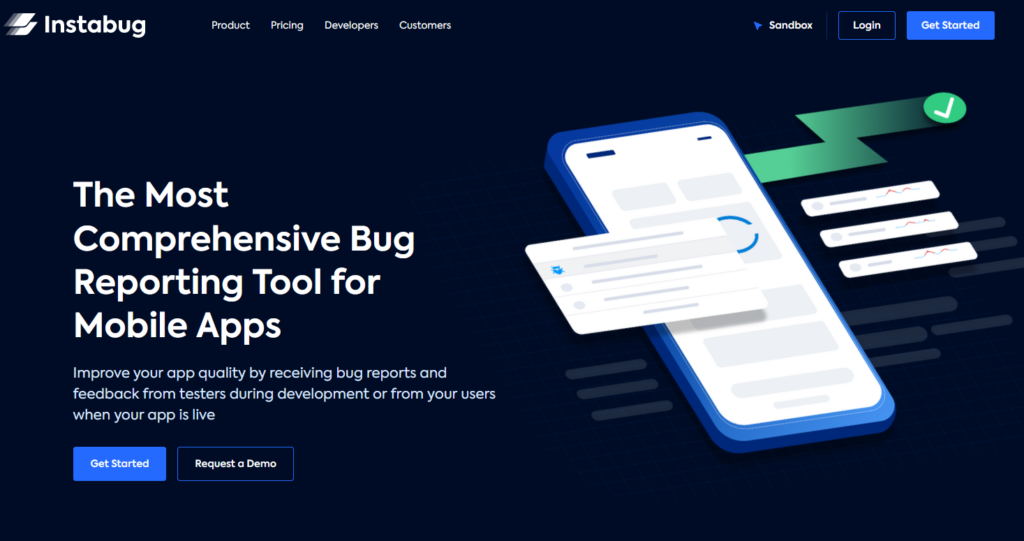 Instabug is all about improving mobile app performance. Among its many features is also the ability to place bug-reporting widgets inside the app. With these, customers can tell you about any bugs or issues with the product they've encountered while using it.
With Instabug, you can receive in-app bug reports, review those with detailed logs and metadata to dive deeper into the issue, reply back to those users and ask them for more information, and more.
But Instabug is super easy for users too. For example, users or beta testers need to just shake their mobile devices to invoke the bug reporting widget. To take a screenshot to show you the bug in progress, they just need to tap a floating button, and so on.
On top of the in-app bug reporting widget, Instabug also offers mobile performing capabilities, crash reporting, and more.
#8. Uservoice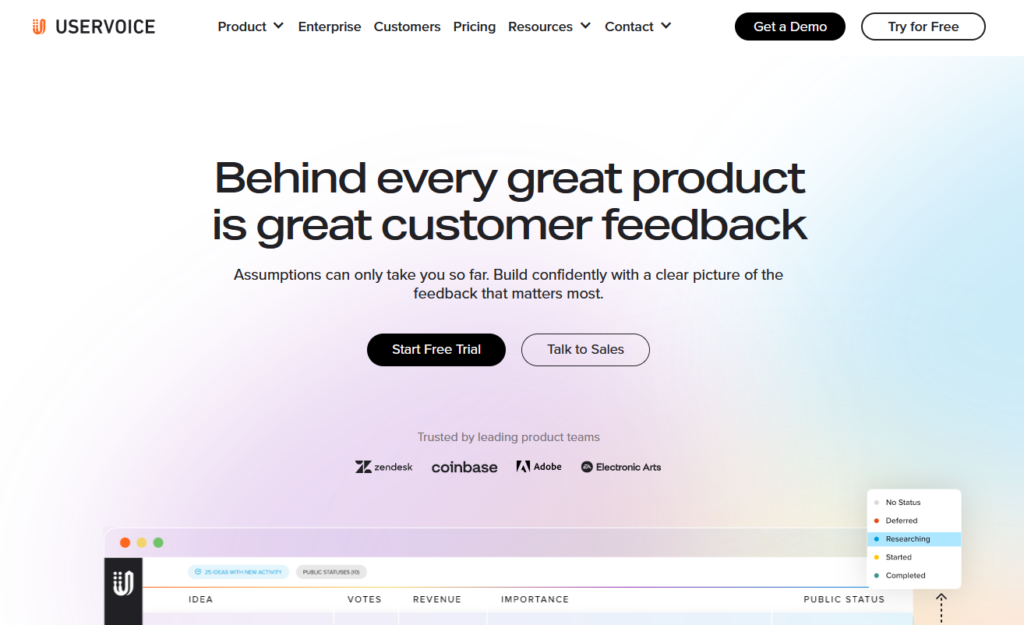 UserVoice is another product feedback tool allowing you to collect in-app feedback from customers.
But in spite of being quite a complex, enterprise-level platform, UserVoice offers relatively straightforward capabilities for in-app feedback.
With UserVoice, you can place simple feedback widgets in your web or mobile app. Then, you can use the platform to analyze the data and even distribute it to other stakeholders in the project to drive product improvements, product roadmap, and more.
#9. Usersnap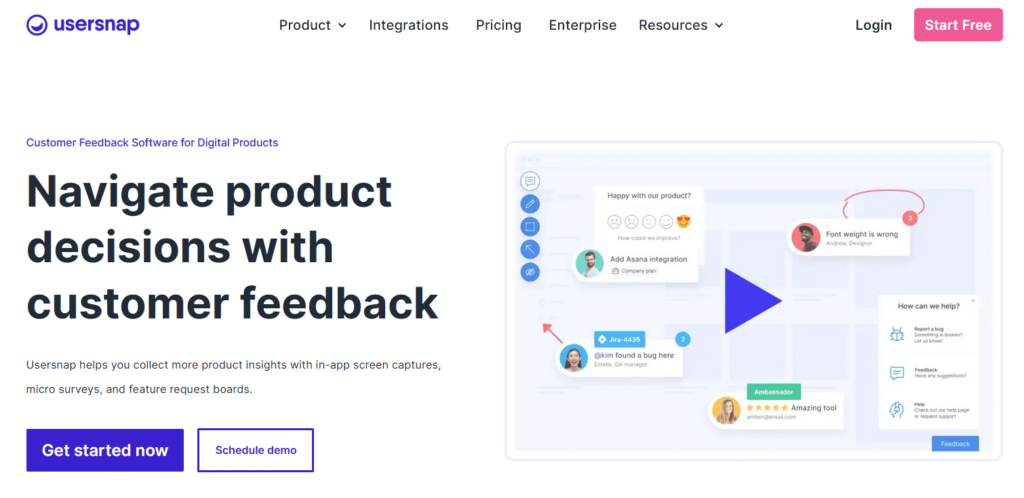 Usersnap is a voice-of-the-customer tool that, very much like Refiner, also lets you collect customer feedback through micro surveys.
But to be more specific – With Usersnap, you can display surveys in-app to collect feedback from users as they interact with your product. Or you can send your questions to them via email, and let them process their replies at the time of their choosing.
Aside from being a voice of the customer tool, Usersnap offers several additional features that help companies make better product decisions: feature request boards, new feature polls, screen captures, and more.
And that's it.
Considering collecting in-app feedback? Check out Refiner, the #1 tool specifically created for running in-app micro surveys. See the live demo or try Refiner for free now.