Look, I don't want to sound too pompous here, but there really is no other way to put it: User experience truly is one of the core pillars of your product's success.
Just think about it:
UX drives customer satisfaction, and that in turn drives everything from MRR to word of mouth.
It's also what boosts engagement with your product.
Hell, UX is what customers talk about when they praise your app (even if they don't use the term user experience while doing so.)
So, whether you like it or not, at some point you'll have to focus on UX, and the first step you'll have to take is to evaluate your current user experience by running UX surveys.
Now, I've written about user experience surveys already. I've also included some real-life examples of user experience surveys in that guide. And I recommend you read it to learn about how to evaluate your UX.
In this guide, however, I'll show you what tools to use to run those UX surveys.
But I have to start with this…
Why does having the right tool matter so much for UX research?
I'm the first one to admit it – Surveys are fantastic.
And true, I might be a little biased here. My product, Refiner, is a dedicated customer feedback and survey tool for digital products, after all.
But even speaking objectively, as a research method, surveys are:
Cheap to run
Scalable
And deliver incredible results
But they are also so easy to mess up. I once read a quote from Erika Hall, co-founder of Mule Design, who said:
"Surveys are the most dangerous research method."
Damn sure they are!
They can deliver amazing results. But at the same time, there are so many seemingly insignificant aspects to a survey that can affect its performance. From the questions you ask, the delivery method, placement, timing, or size of the survey… the list goes on.
Then, there's the fact that you actually have no way of telling whether you set up the survey right. I mean, there is no clear indicator of an error or a problem with a survey. Sure, a low response rate could suggest it, for example, but other factors could affect the number of responses you get too.
Often, you're almost in the dark about how your survey performs.
But note I said, almost…
This is where tools come into play. The right survey tool (and by "right" I mean a tool that matches how you work and what you want to get out of your UX survey) will make creating a successful survey easier. Here's how:
The tool will be optimized for the specific target market, type of product, or type of insights you want to collect.
As a result, it will have all the functionality that you need and none that you don't.
It will also offer ready-made templates that automatically increase your chances of success, etc.
That's why you need to review available tools and find the right one to match your product and the type of insights you seek.
In other words, the choice is highly subjective, and I can't really help you with it. But I can present to you the best UX survey tools on the market, so you can find the right software for you.
And here they are.
#1. Refiner – Dedicated UX and Customer Satisfaction Survey Tool for Digital Products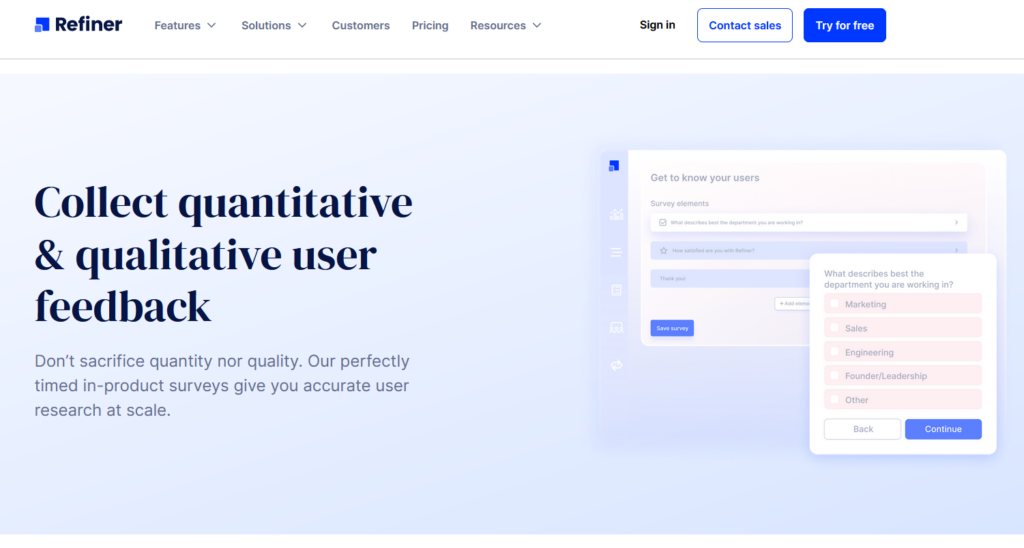 Refiner (disclaimer – this is my tool) is a customer feedback platform built to help you capture actionable product & user feedback with in-product micro surveys. I built Refiner with digital products in mind. As a result, Refiner is packed with all the features and capabilities that a digital product company or a SaaS brand needs to collect user feedback and measure the UX.
Refiner empowers you to run any type of survey and precisely target the right users at the right time. With Refiner you:
Collect more responses thanks to our highly configurable in-product surveys,
Automate actions based on answers, and
Quickly find gaps in the understanding of your users.
Here are just some of the Refiner's capabilities that will help you run better UX research surveys:
Extensive library of survey templates
Advanced widget customization options
Advanced audience targeting and segmentation
Launch triggers
Conditional logic
The ability to run recurring surveys
Follow-up mode
In-app, mobile, and email survey delivery
Reporting dashboard
Slack and email alerts
Integrations, and more.
#2. Qualtrics CoreXM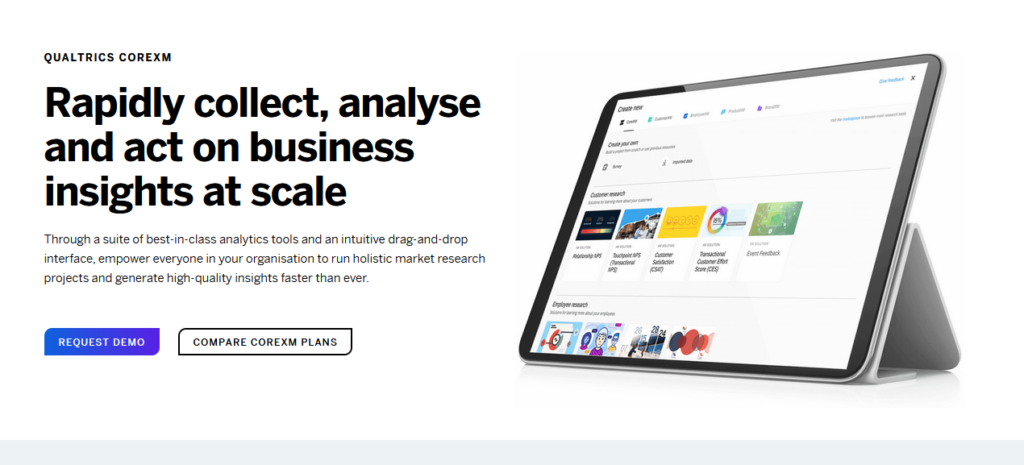 Qualtrics is an incredibly robust research platform that allows organizations to collect, analyze, and act on data in real time. Qualtrics offers a wide range of features that allows you to design and deploy various types of surveys, collect and analyze the data, and report on your findings.
One thing to say about Qualtrics is that it's a robust, enterprise-level platform, possibly more suitable for larger businesses than small startups.
#3. UserZoom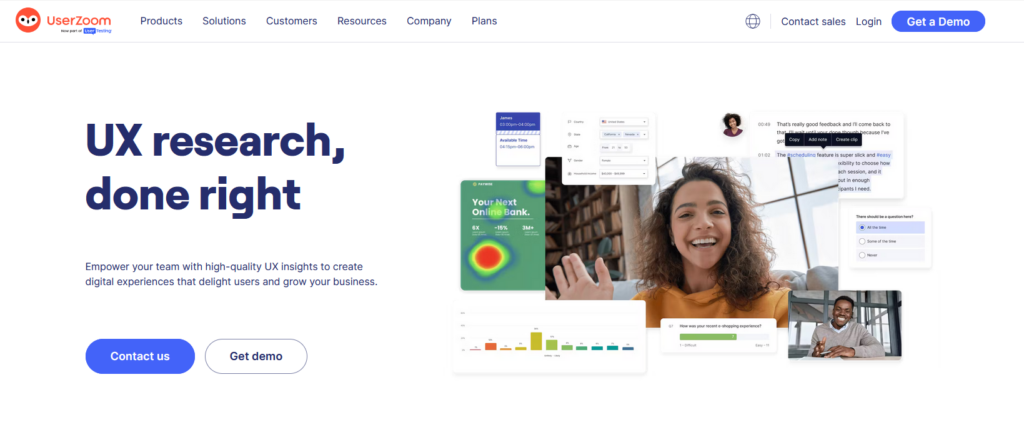 UserZoom is another user experience (UX) research and testing platform that helps businesses improve their digital products and services by gathering feedback from real users. With UserZoom, you can run various user research methods, including live video interviews and of course, surveys.
Because UserZoom was built primarily for UX researchers, you'll find many additional features among its tool stack – Research panel management, usability testing, and more.
#4. UserTesting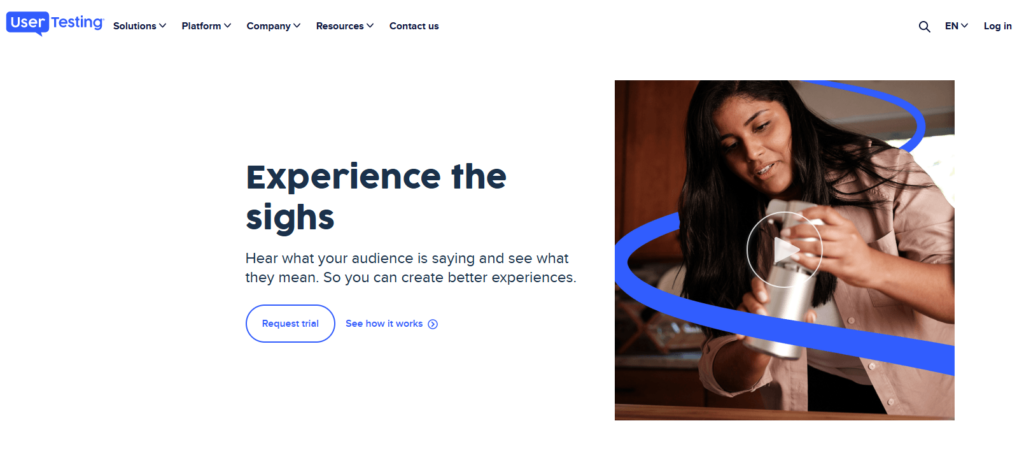 Very much like UserZoom, UserTesting is a complete UX research platform. As a result, you can expect it to help you manage almost all aspects of a typical user experience research beyond just surveys. With Usertesting, you can run a whole range of customer research, including live interviews, usability testing, card sorting or tree testing, and more.
UserTesting's core feature is the ability to use video to watch how users interact with your product or a prototype and experience it the way they do.
If you're also at the prototyping stage, you can use Usertesting to build a research panel, pay and manage incentives, and collect feedback before you even create the product.
#5. Hotjar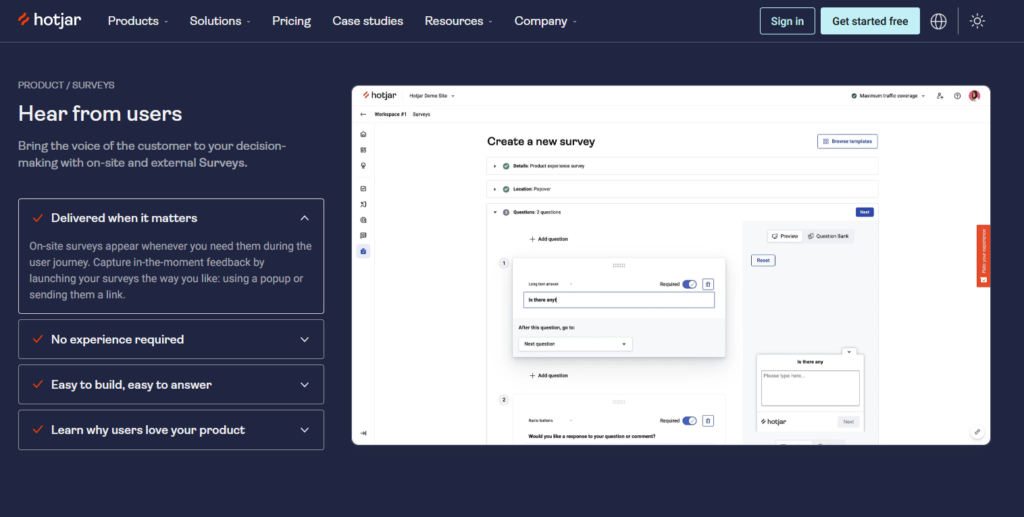 Hotjar is by far the most known customer and behavior analytics tool, at least when it comes to the SaaS world. It's famous for its heat maps, session recordings, and other insights. But Hotjar also offers users the ability to deploy on-site surveys to capture in-the-moment customer feedback.
Hotjar's surveys might seem simple at first. As I mentioned above, the company is more known for its behavior analytics tools. But if you want to collect simple UX feedback and couple that with additional behavioral data about your users, Hotjar might be the tool for you.
#6. SurveySparrow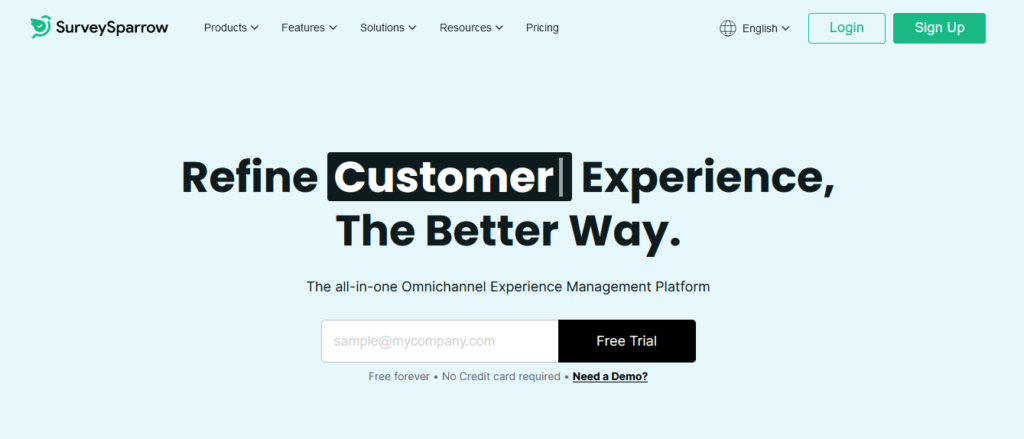 At first, the name, SurveySparrow, might suggest that this tool is all about launching and distributing surveys. But it's actually much more than this. SurveySparrow calls itself an omnichannel experience management platform, and its impressive feature set certainly lives up to it.
SurveySparrow focuses on helping enterprise-level companies in collecting customer feedback and monitoring online reputation and even gives its users access to pre-screened research panels to conduct further research.
#7. SurveyMonkey

SurveyMonkey is a robust and probably the most well-known survey software. Its capabilities cover a wide range of research projects, from user experience and academic research to employee experience and everything in between. For that reason, SurveyMonkey is ideal if you're just starting with UX surveys and don't have much experience with running such research. SurveyMonkey offers a whole range of templates that you can use to create your surveys and ensure that you avoid many mistakes from the get-go.
#8. QuestionPro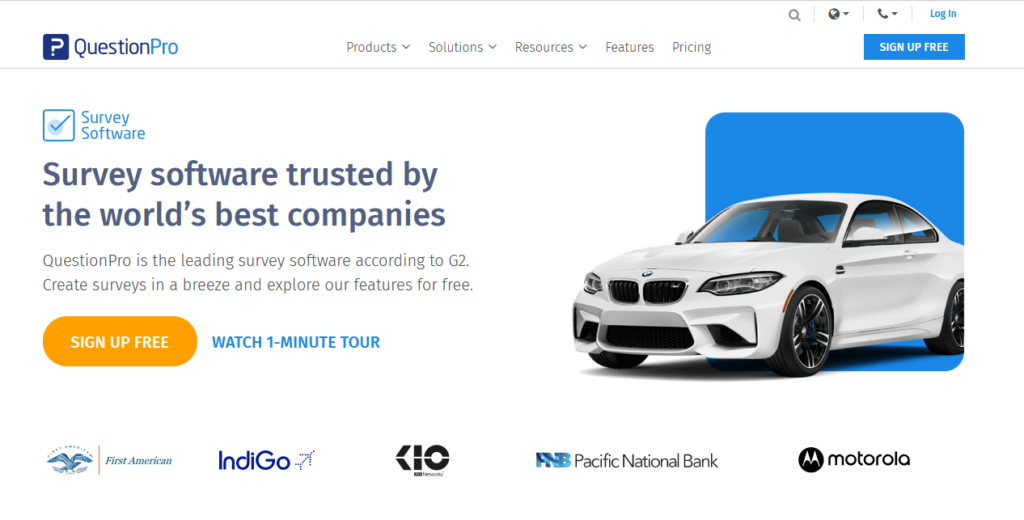 QuestionPro is another tool fully dedicated to surveys. Because of that, QuestionPro includes quite a number of capabilities that make it easy to run user experience research – from a robust survey editor that supports multiple question types, and survey logic to advanced reports to help you make the most use of your insights, and more.
The thing with QuestionPro, though, is that the tool was primarily built for the enterprise. This is first and foremost reflected in the tool's pricing but also in many of its capabilities, optimized for the enterprise level of use.
#9. Google Forms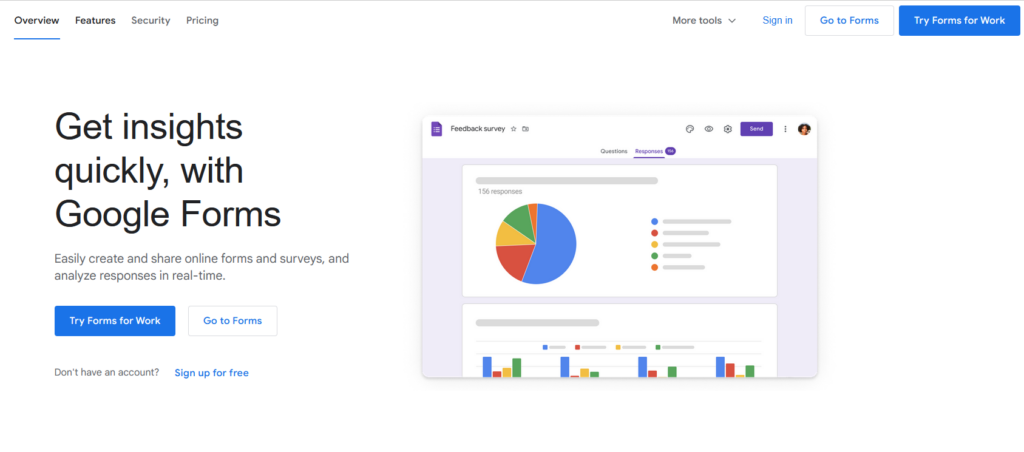 I admit – It's pretty impossible to compile any list of survey tools and not mention Google Forms. This is, by far, the most commonly used survey tool on the market, and one reason for that is that it's free. It's also easy to access and comes as part of your Google account.
But great as Google Forms is, it has its limitations. It's limited in feature sets, particularly when it comes to data analysis. It's not specifically designed for UX surveys. You often have to hack your way through it to make it work for your survey, and so on. You also can't brand it and make it a seamless part of your brand experience.
That said, if you're looking for a basic tool to get you started, Google Forms might be a good entry point.
#10. Alchemer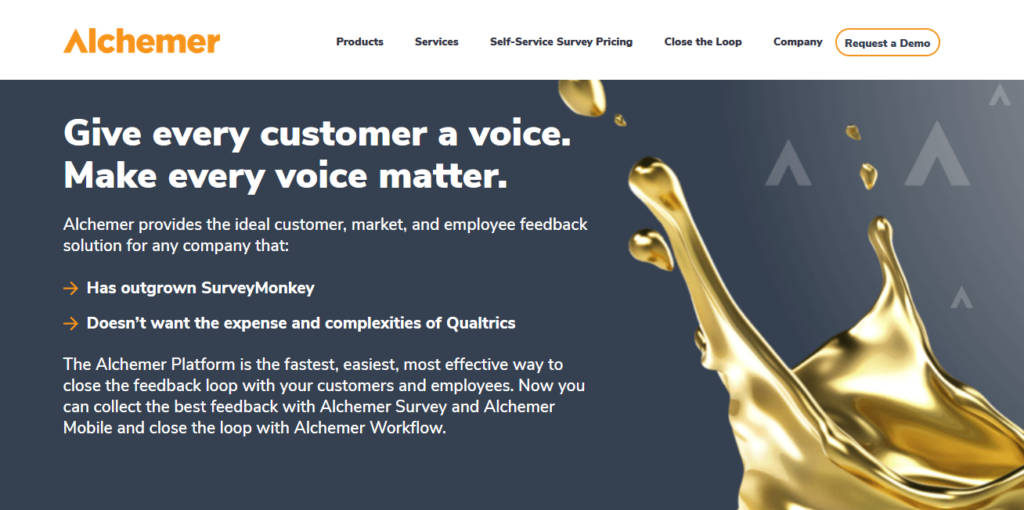 Alchemer is another enterprise-level survey software that prides itself as being a solid alternative to SurveyMonkey or Qualtrics. And its feature set certainly delivers on the promise.
Alchemer lets you create enterprise-grade surveys using all the features you'd expect from such a platform. Its other capability, Workflow, lets you take your UX research even further. Workflow lets you connect different surveys together into a single workflow, add logic to different steps of the workflow to personalize the survey experience further, and more. It's quite an impressive setup that's ideal for established digital products that need to review user experience across several touchpoints or product capabilities.
And that's it…
At least one of those ten tools should deliver the capabilities and features that you need to run your UX surveys.
What's next?
My tip: Review them all, pick the tool that matches your needs the most (or one that you basically enjoy using the most), and then launch your UX research.
Good luck!