User experience surveys are often the missing link in the growth story of SaaS companies. 
While analytics data shows you what users are doing on your website and how they're using your product, the "why" behind their action can only be uncovered through surveys and customer interviews.
So, to help you get started, we've put together a complete guide to running user surveys. You'll discover what user survey types you could run for your SaaS. We'll also share tips on how to create effective user surveys. You'll learn the types of questions to ask (and also, what makes a good question in a user survey), to using the insights you've gathered to grow your SaaS.
NOTE: We're sharing many user survey examples in this post. We've made all the effort to ensure that those examples are suitable for early-stage SaaS startups, as well as fast-growing scale-ups.
We start with a couple of user research survey examples, continue with user experience survey templates, and wrap up with churn prevention surveys.
So let's dive in!
User surveys vs. micro-surveys
Before we dive into the use cases and examples, a quick note on user surveys versus micro-surveys.
User surveys are, typically, more extensive and performed when you need to gather more in-depth customer feedback. Typical user questionnaires are more suitable for e-mails or interviews, as they touch upon several themes, and might seem complex feedback through open-ended questions, for example.
Most often, user surveys are a one-time effort and their purpose is to help you improve your UX, CX and adjust your long-term product strategy and roadmap.
Micro-surveys on the other hand are always-on and their purpose is to gather continuous user feedback.
User survey tools help you better understand who your users really are, track customer satisfaction, or get feedback on new product features.
Refiner is a user survey tool that allows you to launch high converting survey widgets (also referred to as popup surveys) right within your SaaS or send them to your users by email. They can be launched in minutes, are contextual, quick to fill out and have awesome response rates!
Moreover, you can use the collected data to power automations and to make informed decisions in an agile manner, without spending too much time or resources.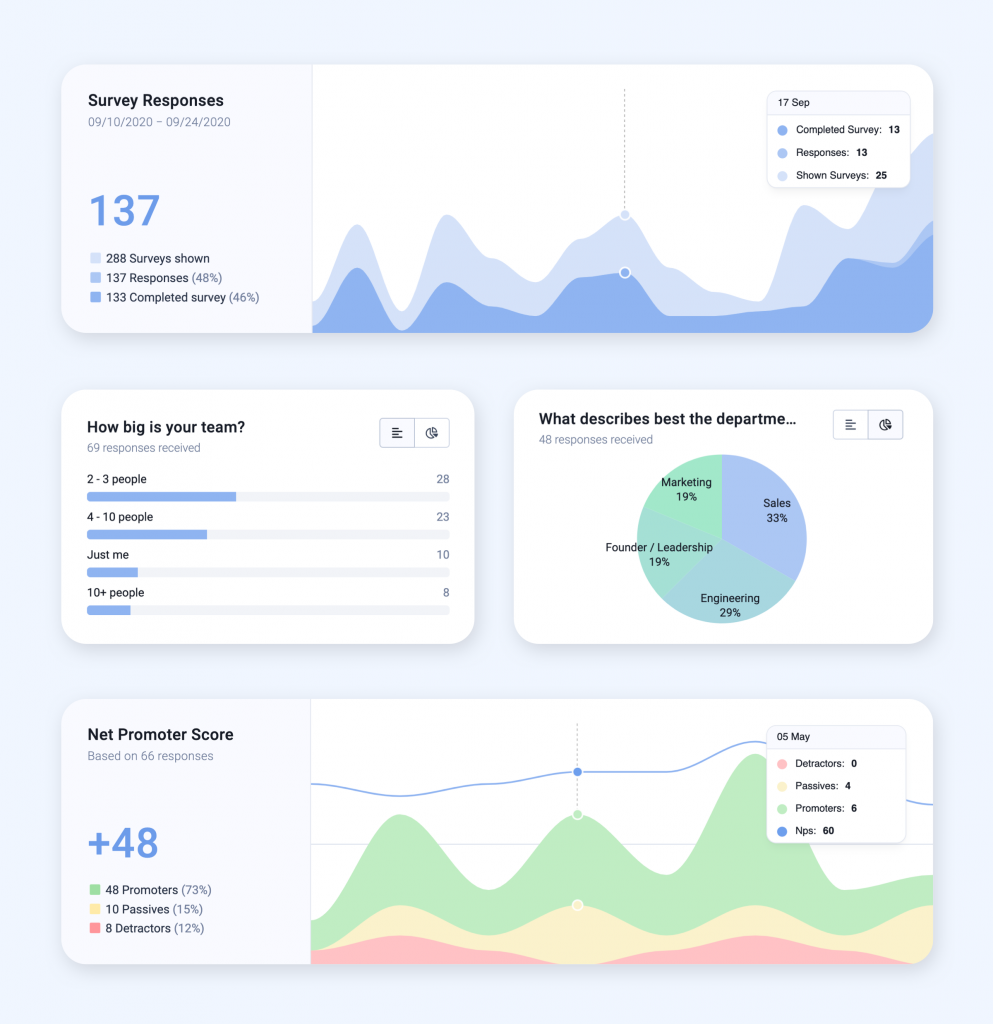 Make sure to check our live demo or create a free trial if you want to see how the Refiner surveys would look on your website on inside your SaaS app!
How to Create Effective User Surveys
Without a doubt, surveys are one of the simplest ways to gather feedback and insights about your users. And just like we've shown you above, running specific micro-surveys works particularly well for SaaS companies, and meets their requirements for data.
In spite of the differences between user surveys, other business run, and what you should be doing as SaaS, there are certain general rules to follow when surveying your users.
#1. Writing Survey Questions
Let's not sugarcoat it; the survey question will make or break your research. A good question will deliver reliable and insightful answers. A poorly chosen question, however, might deter people from even participating in your survey.
In general, you can use two types of questions in the survey:
Closed questions give participants a selected number of potential answers. Good examples of closed ended questions include multiple choice questions, yes/no questions, likert scale questions, and so on.
Closed questions work well when you're collecting quantitative data, using devices like rating scales to gauge general attitudes of your users.
The opposite of those are open ended questions which respondents can answer any way they want. Open questions ask the person to give the opinion or answer in their own words, and work best if you're conducting qualitative research. In this case, users can decide how they want to answer questions. They can write a long or short answer, provide examples and explanations of their decisions, and so on.
Both question types have their pros and cons, of course.
With closed ended questions, a question that's not easy to understand may lead to confusing answers that contain no insight you could use.
At the same time, open ended questions may lack responses in the available options a person might choose from.
#2. The Language
I've alluded at this above, but the issue of language and tone of voice warrants a separate discussion.
Your language – how you construct the question and what tone of voice you'll use will affect more than just the type of responses you'll get. For one, too complex questions (or available options) might deter a person from even wanting to complete the survey.
Similarly, confusing language will, most likely, lead to unusable responses.
As a general rule, keep the language simple, and explain what you are asking about clearly. Don't use jargon or any abbreviations. Although they might seem obvious to you, your respondents might only find them confusing.
Users surveys that help you understand your target market
The first category of user surveys is all about better understand your target market. Read on for detailed description or watch the video below for a quick overview.
1. Prospect and customer interviews in the early stages
When you acquire your first users, you may be tempted to already send a survey to understand what made them choose your product.
Yet, at this stage, it is usually more effective to interview your customers instead of asking for their feedback through email.
The initial interviews with prospects and customers serve three main goals:
they help you profile your ideal customer
they tell you which channels you should explore to speed up your growth
they help you identify your competition and differentiate your product
For example, if you're selling a B2B SaaS product, you may want to interview a couple of prospects or your first customers to find out:
What's the best way to reach them? Do they prefer cold calls or emails, do they read specific publications or follow specific accounts?
What are their decision-making criteria? What are they looking for in a product like yours? What would move the needle or make them go for a competitor?
What kind of sales collateral are more likely to convince them? Do they prefer to see product demos? Do they like to attend webinars, or just want to try the product before buying it?
What were they searching for when they found you? If they reply with specific keywords, or with competitor names, you know that your product is seen as an alternative to something.
Once your customer base is big enough, you can start collecting this type of information through surveys.
So when should you schedule these customer interviews?
As early as possible in the product lifecycle. If you have a prototype or MVP and you think your ideal customer is Performance managers in medium-sized companies, reach out to a few people with this job title and show them the prototype.
If you wait for too long, you risk investing a lot of time and money into something that is not needed, wanted, or just doesn't stand out.
2. SaaS micro-surveys that make customer segmentation easier
These surveys should be launched early on in the user's lifecycle, for example during a free trial. They let you segment your user based by common traits such as their industry, their role, team size and the department they are working. If you're selling a B2B product, ask mostly questions that will help you determine whether the currently is the end user or the decision maker.
For example:
What is your industry?
What describes best the department you are working in?
How big is your team?
What is your job title?
3. SaaS user surveys to identify high-value accounts
User surveys are an excellent tool for lead qualification or lead scoring.
If you're just starting and don't have the most complex CRM or automation flows in place, you can use SaaS surveys for the initial segmentation of your customer base.
Based on the company size and job titles of your respondents, you can split them into high-value accounts and leads that aren't hot prospects yet.
To do this segmentation, you can ask questions like:
How many hours do you save per week using our product?
How many colleagues are using our product?
Who else (job titles) do you think would benefit from our product?
What product did our solution replace?
Once you know which type of account finds your product more valuable and how exactly you're helping them, you can focus your marketing and sales efforts on companies that fit your ideal customer profile.
For example, instead of creating content for all potential customers, you can focus only on those content types and topics that correspond to the pain points of your ICP.
In the same way, you can create ad campaigns that target only companies that fit your high-value accounts.
Get to know your users
Refiner is a customer survey tool for SaaS & digital products. Collect more user insights with perfectly timed microsurveys, automate actions based on answers, and quickly find gaps in the understanding of your users.
Discover Refiner
User surveys to improve product features
The second category of user surveys is about improving your product. For a quick overview, you can watch our video on product surveys before diving into details further below.
1. Product-market fit micro-surveys for SaaS companies
This questionnaire aims to determine if you've achieved product-market fit (PMF).
Since Rahul Vohra from Superhuman shared their PMF survey publicly, it became quite standard as a growth marketing approach.
However, it can be a tricky one if you don't choose your words carefully.
The general guideline is to ask your customers how disappointed would they be if they could no longer use your product starting next week.
So your micro-survey could look like this:
How would you feel if you could no longer use our product?

Answer options: very disappointed, somewhat disappointed, not disappointed.
What type of people do you think would most benefit from YOUR PRODUCT?
What is the main benefit you receive from YOUR PRODUCT?
How can we improve YOUR PRODUCT for you?
If more than 40% of your respondents say they'd be very disappointed, then you've achieved P/M fit and your product has growth potential.
However, if you send this survey at the wrong moment, you risk scaring your customers away. So it's crucial to only ask for this feedback in the initial stages of product growth, before reaching the mainstream market.
As an alternative to the questions above you can try asking different follow-up questions.
For example, for finding out why someone said they wouldn't be disappointed, you could ask questions like:
What would make you change your answer?

You can give them some options, such as price change, other features, other integrations etc.
What features are missing from our product?
If you had to replace our product with an alternative, what would that be and why?
2. Pricing surveys for determining the best product price
Once you know that your product does have potential for growth, it's time to confirm that your pricing model is the right one.
If you've started with a free trial model, you might discover that most of the early adopters aren't actually interested in upgrading. So the next questionnaire will help you understand how much users are actually willing to pay for your product.
This user survey leverages the Van Westendorp's price sensitivity meter and can be sent via email or can be displayed inside the product. Choose the delivery method based on the channel where users are more engaged.
For example, if most customers use your product daily, in-product surveys might be a good idea. On the other hand, if the email engagement is good and your product is only used occasionally, you may want to opt for email surveys.
Here are the questions to ask:
At what price point would you consider our product too expensive?

Give them 3-5 options to choose from.
At what price point would you feel that you're getting the best value for money, from our product?

Again, give them 3-5 options to choose from.
3. SaaS user questions to collect feature feedback
A common challenge in the early development stages of a SaaS product is deciding what feature from the backlog to prioritize and what to postpone.
At the same time, as a SaaS owner or product manager, you might find it challenging to decide which feature to use as your product's main USP.
Which of the following product features are most important to you?

As possible answers, show 4-5 core features or your product.
In such cases, a quick micro-survey can help you collect feature feedback and understand which product feature your ideal customers consider more valuable.
You can also ask for importance of one specific features.
How important is [feature xyz] to you?

Provide a 1-5 scale as answer options where 5 means 'Very important".
The key here though is to collect this feedback in a structure manner and to associate the responses with the customer segments.
This way you avoid building or emphasizing features that are nice to have for most of your customers, but don't make a difference for your high-value users.
Regardless of the score, you can follow up with a question like "What other features would you like us to build?". Give them a few options to choose from, or leave it as an open question.
This way you're not only gathering feedback on your current features, but you're also gaining a better understanding of the product characteristics that would make you even more valuable for your target users.
4. User surveys to find UX gaps and determine the customer effort score (CES)
This type of survey has two goals:
On the one hand, it aims to show you how your customers perceive your product and the UX it offers;
On the other hand, it's a good predictor of customer churn; a product that's easier to use is more likely to retain its customers.
When should you send this type of survey? In most cases, you want to measure the ease of doing business with you, so this type of questionnaire is usually sent after a conversion (purchase, sign up, registration) or after a user contacted your customer support team.
You can ask questions like:
What were you trying to accomplish with our product today? Did you manage to do it?
On a scale of 1-5, how easy was it to accomplish your goal?
Was was the purpose of your visit today?
Was there anything that you didn't manage to accomplish today?

If they reply 'Yes': Can you tell us more?
SaaS surveys to measure customer satisfaction
The third category of user surveys is about measuring and keeping track of customer user satisfaction. For a quick overview, you can watch our video below, or dive into details further below.
1. NPS surveys to find promoters
NPS surveys help you measure your Net Promoter Score, thus they give you an indication of what percentage of users are likely to turn into promoters or advocates for your brand.
For a basic NPS survey, the common question to ask is
How likely are you to recommend us to a friend or colleague?
Give users the possibility to choose from a scale from 0-10, and regardless of their choice, follow up with a question that tells you more about the "why" behind their response.
A decent NPS survey tool should give you the possibility to customize your NPS question, as well as customizing follow-up questions.
Depending on your use-case you might want to ask a freeform text question as shown in the screenshot above, or follow-up with a multiple choice question.
At Refiner we are convinced that NPS surveys are not just about measuring "How good you are doing". We think that the real added value of NPS comes by (personally) following up on NPS feedback.
We've detailed NPS follow-up surveys in a separate article, where we've shared 17 templates that you can use right away. Feel free to copy-paste them!
Looking for a NPS survey solution for your SaaS?
Try Refiner for free! Track customer satisfaction and turn your SaaS into an automated growth machine
Learn More
2. CSAT surveys to evaluate customer experience (CX)
Customer satisfaction surveys (CSAT) enable you to gauge how your customers feel about your product and the experience it offers.
You can use the results of CSAT surveys to measure overall customer satisfaction over time, to segment users based on satisfaction score or to find opportunities for improving your CX.
Please note that in the context of SaaS the term "customer" and "user" are often interchangeable. CSAT surveys are often referred to as User Experience Surveys. Likewise, people tend to replace Customer Experience (CX) with User Experience (UX) and vice versa.
The most popular user experience survey question to ask is without doubt:
How satisfied are you with our product?
Give them a scale from 1-5 to choose from. If they choose 4 or 5, follow up with a second question along the lines of:
What do you value most about our product?
If their initial score is 1-3, you can ask them what they think you could improve.
User surveys to engage SaaS customers and prevent churn
1. Surveys to determine your most effective marketing channels
Although you can see which channels attract more users in your analytics dashboard, you may want to dig a bit deeper and find out what types of customers each channel attracts.
So you can run website or in-product surveys not only to profile your visitors and customers, but also to ask them how they found you.
In this case, your user survey can include questions like:
How did you hear about us?
Or the variant
What were you searching for when you found us?
How did you find us?

List 3-4 channels and add an empty field for 'Other' channels
Did anyone refer you to our product? If yes, who and in which context?
Would you tell your connections/friends about our product?

If yes, follow up with "How would you describe it? What channel would you use?"
2. SaaS surveys to activate users
If you have users who have signed up or registered for your product but didn't try it out, you can activate them with bumper surveys. These should be sent via e-mail and serve two goals: to remind inactive users why they've signed up in the first place, and what your product helps them achieve.
An example would be a welcome email where you ask the user "Why did you sign up to use our product?", and give them a few options to choose from. These options should be your main USPs, key outcomes or use cases.
You can follow up with activation surveys where you ask users what were they trying to achieve when they've signed up, and whether they received that value from your product already.
Depending on their answer, you can follow up with usage tips emails where you show them how to achieve the desired outcomes.
3. Surveys to collect reviews and testimonials
For a starting SaaS product, customer testimonials and reviews can really make a difference, so this is one of the most important category of micro-surveys that you should be sending out.
You can start by asking the following questions:
How likely are you to recommend our product to a friend or colleague?
Give them a scale from 0 to 10 to choose from. If they select a number in the 0-7 range, ask them 'What can we do better'?
If they select a number between 8-10, ask them to leave a review or testimonial.
On a scale from 0-10, how happy are you with our product?
What is the value that you are receiving from our product?
How does our product help you in your day-to-day work?
If you have users who wouldn't recommend the product because it's not clear enough how to use it, or because it doesn't satisfy their needs, ask if you can schedule a call to go a bit more into detail.
4. SaaS surveys to prevent churn of dormant users
These last two types of surveys should be sent by e-mail, and work the best when accompanied by phone interviews.
Their purpose is to help you understand why users aren't interacting with your product, as well as which segments or types of users are more likely to stick around or churn.
For dormant users, a simple but effective question to ask is "can you tell us why?". Here's an example:
Hey [user], I've noticed you haven't tried [product] yet, can you tell us why?
Does [product] live up to your expectations? If not, can you tell us why?
What can we do to make our product/your experience better?
If they say that the price of the product after the free trial is too high for example, you can try to win them back by offering a discounted price for the first months, or for referring a colleague.
5. Surveys to understand why customers churned
Similar to the previous questions, this SaaS user survey is meant to help you understand the reason behind customer churn.
Again, try to keep the initial questions simple and focused, and follow up with a request for a phone interview if you want to dig deeper.
Here are some sample questions you can ask:
What's the primary reason for cancelling your account/subscription?
Give them some options to choose from, such as "I found an alternative", or "The price is too high", or " I only needed it for a one-time project" etc.
Can you tell us why didn't you use our product and what would make you change your mind?
How can we make our product better? What features would make you give it a try?
Why did you initially sign up for our product? What happened since then?
Increase SaaS Conversion and Retention Rates with Refiner
We help SaaS & digital product teams to better understand the needs of their users. Make better product decisions, find upsell opportunities and send ultra-personalized campaigns to retain more customers.
What are the Go-to User Survey Tools for SaaS?
Obviously, there are many different types of User Survey Tools. Each with its own set of features and speciality.
In a nutshell, we see three types of user survey tools:
Survey software that tries to cover many different use-cases for a broad variety of customers.
Tools that focus on one single use case, for example a dedicated NPS survey tool.
Tools that support various use-cases but focus exclusively on one type of customer
At Refiner, we fall in the third category. We offer a versatile micro-survey tool for SaaS businesses who want to experience fast growth.
Choosing the right tool for your needs is important as there is no such thing as a one-size fits all customer survey tool.
This is why we've put together a full guide on How to choose the right Customer Survey Tool for your SaaS.
Let's wrap it up …
I hope you'll find the sample SaaS surveys in this post useful!
If you have any questions about user surveys or user user survey tools, please reach out to us. We are already looking forward to hearing from you!