Planning to learn more about your customers' experiences? Wondering what customer satisfaction survey tool to use?
FACT: Customer surveys are an ideal strategy to learn about your customer experiences, and engage your userbase.
But here's the catch: To uncover such insights, you must use a dedicated online survey tool capable of collecting feedback and delivering the insights you seek.
We know all about it; when we started building Refiner, we wanted to create a customer satisfaction survey tool focused mainly on SaaS companies. Being a SaaS business ourselves, we had a clear understanding of the struggles faced by software-as-a-service startups in their early stages.
So if you're a SaaS maker and you've just started researching the customer satisfaction software on the market, read on!
We'll tell you about different major customer satisfaction survey tools – Satismeter, Delighted, AskNicely, Wootric, and Qualtrics – and how our product – Refiner – compares with them.
Who are these customer satisfaction survey tools best suited for?
Although all these tools allow you to run CSAT, NPS and CES surveys, each of them has specific features that make the software better for certain industries and company profiles.
Here are the differences, in a nutshell.
Which customer satisfaction survey tool is the best for B2B SaaS businesses?
Refiner is the best option for small and medium-sized B2B SaaS companies who need an easy to set up, flexible and beautiful tool with great analytics and reporting features.
Satismeter is an enterprise solution and this is reflected in their pricing. They offer all the needed features and a nice UI.
Delighted is a good solution for SMBs, but they miss some key features that are essential for SaaS startups looking to test their product-market fit.
AskNicely is more expensive and requires some workarounds, although it does offer good customer feedback survey functionalities.
Wootric is a good option for SaaS companies, but quite limited when it comes to customizing the surveys to give them your brand's look and feel.
Qualtrics is an enterprise solution and seems to be a better option for companies in healthcare and education.
6 Customer Satisfaction Survey Tools for SaaS
#1. Refiner
Refiner – full disclaimer: this is our tool – is the complete customer satisfaction survey platform for SaaS. With Refiner, you can run NPS and CSAT surveys, star ratings, use skip logic, and conduct a ton of other research that will help you improve customer service and satisfaction.
Refiner allows you to send unlimited questions, and use various question types including rating and multiple-choice questions.
Refiner doesn't offer a free version. But you can choose from three paid versions, delivering all the functionality you'd need to run effective customer satisfaction surveys.
(NOTE: Later in this guide we will show you how Refiner stacks up against the other tools we describe here.)
#2. Satismeter
Satismeter is dedicated to collecting NPS scores, primarily, and focuses more on the enterprise end of the market.
The company offers a basic toolset for running NPS survey, and the ability to look and feel of the survey.
Satismeter integrates with Salesforce, Shopify, and other platforms through Zapier.
#3. Delighted
Delighted is a bit more advanced tool than Satismeter. Apart from NPS, the tool also allows you to get Customer Satisfaction and Customer Effort scores.
Delighted also offers more functionality than Satismeter and a whole range of useful integrations.
#4. AskNicely
AskNicely also focuses on NPS scores primarily, allowing customers to collect feedback via email, web, and SMS surveys. 
With AskNicely, you can also automate sending surveys, and integrate results with a CRM system to act on them further.
#5. Wootric
Wootric is another more advanced customer satisfaction survey tool, allowing you to run NPS, CSAT, and Customer Effort Score surveys. The tool can also monitor customer experience across the entire buyer's journey, to deliver better customer experience feedback.
#6. Qualtrics
Qualtrics is an all-in-one solution for various types of customer experience research. From customer satisfaction surveys, brand and employee experience insights, to product experience, Qualtrics offers a whole range of research capabilities.
How Refiner Compares to Those Tools
Refiner vs. Satismeter
Refiner is a customer survey platform for B2B SaaS companies specifically, and although we serve companies of all sizes, we believe our tool is best suited for small and mid-sized businesses.
We've built our tool with the needs of SaaS makers in mind, and you can see this is everything that our product offers, from installation options to the out-of-the-box survey templates.
Some of our clients have switched from Satismeter to Refiner because our tool is more affordable, offers better value for money and provides better branding options.
Refiner is superior to Satismeter when it comes to customization possibilities. We offer fully brandable survey widgets with branching and logic jumps and custom follow-up questions.
Our pricing model takes into account the needs of SaaS startups. The Essentials subscription allows you to collect up to 1000 responses per month, while the Startup package of Satismeter is more expensive and offers only 300 responses per month.
So if you're searching for a Satismeter alternative that offers beautiful customer satisfaction survey widgets at a really good price, Refiner is an excellent option!
Refiner vs. Deligthed
Perhaps the most important difference between these two user surveying tools is that Delighted only allows you to capture the CSAT, CES or NPS scores in its free plan.
If you want to also understand why users and customers gave you a specific rating, you'll need to upgrade to their $224/month plan. Refiner, on the other hand, offers all the features you might need as a SaaS startup in our Essentials plan.
Another significant difference between the two customer feedback software is the reporting dashboard. Delighted's free plan offers limited reporting capabilities, so you'll have to do some manual work if you want to extract more insights.
Refiner gives you the big picture and allows you to track your NPS, CSAT and CES scores while associating them with customer segments and external data. All in one beautifully designed, simple and intuitive dashboard.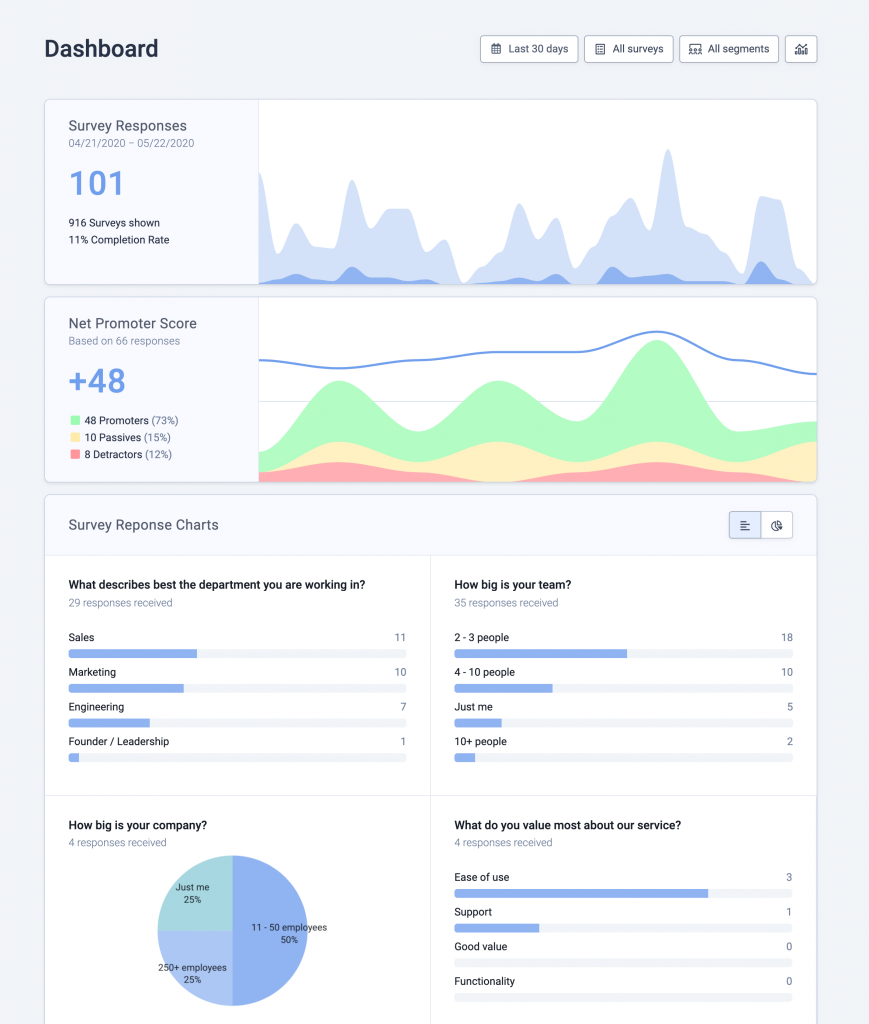 Refiner vs. AskNicely
AskNicely offers beautiful survey widgets and their UI is intuitive, so from this point of view, both tools are doing a great job.
However, Refiner is a better option if you're searching for customer feedback tracking software.
While AskNicely does provide CSAT, CES and NPS survey features, it is limited when it comes to giving your more insights into the "why" behind the scores.
Then, AskNicely offers email, website and SMS surveys, while Refiner focuses on website and in-app customer feedback widgets. For a SaaS company, these are essential in the growth stage, as they allow you to measure customer satisfaction while users are interacting with your tool.
Some of the customers who chose Refiner over AskNicely appreciated the possibility to add follow-up questions and branch logic to the surveys.
Also, a strong differentiator for Refiner is the customer feedback dashboard that displays data in real time and allows you to add custom variables as well, for a holistic view of your customer feedback per segment.
Refiner vs. Wootric
Wootric offers a couple of features that aren't available in Refiner, such as text and sentiment analysis capabilities.
These are definitely nice to have options, but they make the product more complex and more expensive.
Some of their users say that the tool is hard to set up, a bit limited in customization and segmentation options, and maybe not the best choice if you're looking for a more data-oriented customer feedback software.
However, is you're searching for a SaaS-specific tool that provides the best value for money, Refiner should be your first choice.
Our customers appreciate how easy it is to set up and customize the surveys, as well as the fact that you can easily push the NPS, CSAT and CES feedback to email marketing automation tools.
We offer integrations with multiple sales, marketing and analytics tools through Zapier and Segment, so you can use the data collected with Refiner to trigger automation and workflows.
Refiner vs. Qualtrics
Qualtrics seems to be a better choice for enterprises and mid-sized companies in the education and research niches. The tool is more complex than Refiner, which can be good or bad depending on what you're searching for.
Our customers appreciate the flexibility and customization options offered by Refiner, which are limited with Qualtrics. They like the fact that our software is so easy to setup and get started with, while our competitor seem to be a bit less intuitive.
Also, clients who've switched from Qualtrics to Refiner love our beautiful UI! We take pride in our beautifully designed survey widgets as well as in our customer support, which seems to be an area where Quatrics is lacking a bit.
The branding options in Qualtrics are more limited, and we feel that Refiner offers more in-depth analytics options as well.
Although our reporting dashboard looks simple, it is a powerful tool for data-driven companies, as it allows you to add your own data points and to segment and filter the feedback. This enables SaaS startups to extract really actionable insights and to make more informed decisions.
Update: We've put together a detailed Wootric vs. Refiner comparison page with more information.
What features are important in a SaaS customer satisfaction survey tool?
We believe that a CSAT survey tool should have a minimum set of features in order to really give SaaS companies visibility into the most important customer metrics.
So here are our must-have features:
CSAT surveys – Standard questions and the possibility to customize them as needed.
CES and NPS surveys – The two are an absolute must-have of any survey platform to give you the full picture and help you understand what your customers like and dislike about your SaaS product.
In-app and website surveys – Your customers are more likely to reply to in-app micro-surveys than to email or website questionnaires.
Branching logic to be able to segment your customer base and survey only specific clients.
Segmentation by user traits and behaviors, to personalize your customer surveys.
One-off and recurring survey options, so that you can control who sees the questions and when.
Reporting dashboard that allows you to filter and segment your data, or integrations with an analytics tool.
Integrations with marketing automation tool, to reduce the manual work involved in triggering workflows based on the feedback received.
Branding options or white label possibilities, to give the survey widgets your brand's look and feel and maintain consistency.
And here are some nice-to-have features for CSAT tools:
Star and heart ratings
Dynamic CTAs
Multiple slide-in positions
Localization options
Hosted survey pages
Email or Slack notifications
Page visit triggers
Time based triggers
Email embedding options
Downloadable exports
Multiple team members
Refiner checks all the must-have boxes, and our Essentials plan offers most of the nice-to-have features as well. You can see a detailed comparison of our plans here.
Get to know your users
Refiner is a customer survey tool built for data driven SaaS brands. Collect user insights on the fly with our beautiful Micro Surveys. Then, use that data to better segment your users and trigger automations.
Discover Refiner