You know – I'm sure you've heard it all…
The thing is…
Unless your company enjoys high customer satisfaction scores already, statements like these probably, just make you more and more anxious.
You know that without improving customer experience, you risk staying behind everyone else.
It's just that it's easier said than done, right?
Well, in this guide, I'll discuss something that might help you get started with improving customer satisfaction.
Basically, we'll look at what customer satisfaction software you should use to gather customer feedback, process survey responses and other data, and turn it all into actionable insights.
Sounds interesting? Let's get right into it, then.
What is the main goal of customer satisfaction?
Before we talk about the software, let's define why you'll actually be using it. Or, to put it differently, what's the ultimate goal of turning to customer satisfaction software in the first place?
And so…
When we use this term – customer satisfaction – we actually refer to various metrics that help determine how well products or services resonate with customers.
Note I said various metrics.
That's because customer satisfaction is not a metric in itself. It's more of a concept defining whether your product engages customers, meets their expectations, and delivers on their needs.
Many of us have a good gut feeling about customer satisfaction. But we rarely can pinpoint a single thing that proves it, right?
Luckily, we have different metrics that we can use to measure and monitor customer satisfaction, like:
On the whole, however, customer satisfaction is a concept that helps you define if what you sell aligns with what customers want.
Which brings us to this…
The goal of monitoring customer satisfaction is to ensure that you're constantly aligning the product and all associated experiences with customer needs and expectations.
And the key phrase there is "constantly."
You see – customer satisfaction is not a one-time thing. It doesn't just happen and doesn't remain forever (well, not unless you constantly work on it, of course.)
But doing so requires focusing on several aspects of customer satisfaction.
The biggest part is collecting customer feedback to uncover how satisfied those people are with your product. As you'll shortly see, you have several ways to collect that information.
Data processing to understand those insights, particularly if you've used several methods to collect it.
Defining next actions and long-term plans to improve customer satisfaction.
That's where customer satisfaction software comes in.
What is customer satisfaction software?
Just like customer satisfaction in itself is not a single, unified metric but a concept, there is no single tool to use when working on it.
For that reason, the term – customer satisfaction software – also refers to various tools that help streamline and optimize various aspects of the concept:
Running customer satisfaction surveys to collect customer feedback and insights
Sending customers CSAT and CES surveys to learn more about your customer service, for example, and collect transnational customer satisfaction data
Monitoring the voice of the customer and reviewing what customers say about your product online, and more.
And as a result, you often need to employ more than one tool when working on customer satisfaction.
Which brings us to this…
What to look for when selecting customer satisfaction software for your business?
Since your business will most likely, need more than one tool to manage the entire process, there really is no unified set of features to look for. Depending on its use case, each tool will offer different functionality, after all.
That said, I recommend that you look at these factors when building your customer satisfaction tool stack:
The tool's primary use case
In other words, pay attention to what the tool is usually used for. If that use case matches what you currently need to focus on or the capabilities you're missing in your stack, it's probably a good option to investigate.
Customizability
From branding your surveys to advanced segmentation and targeting options, the tool should allow you to collect customer feedback exactly as you want it. For some companies, that will mean just running basic NPS or CSAT surveys. But others might require the ability to precisely target their micro surveys to collect insights of a very precise customer segment.
Ease of use
I admit that this may seem like a little arbitrary factor. Then again, since you're going to be using the tool often, you shouldn't be struggling with it. Otherwise, you might get burnt out by the tool quickly, and simply give up on the whole process.
Price
I guess this goes without saying – The tool shouldn't be breaking your budget or putting your company at a financial risk. Simply.
So, with all that out of the way, let's review the customer satisfaction tools you could be using.
Here's what customer satisfaction software to use
#1. Refiner – Dedicated Customer Feedback Survey Tool for SaaS and Digital Products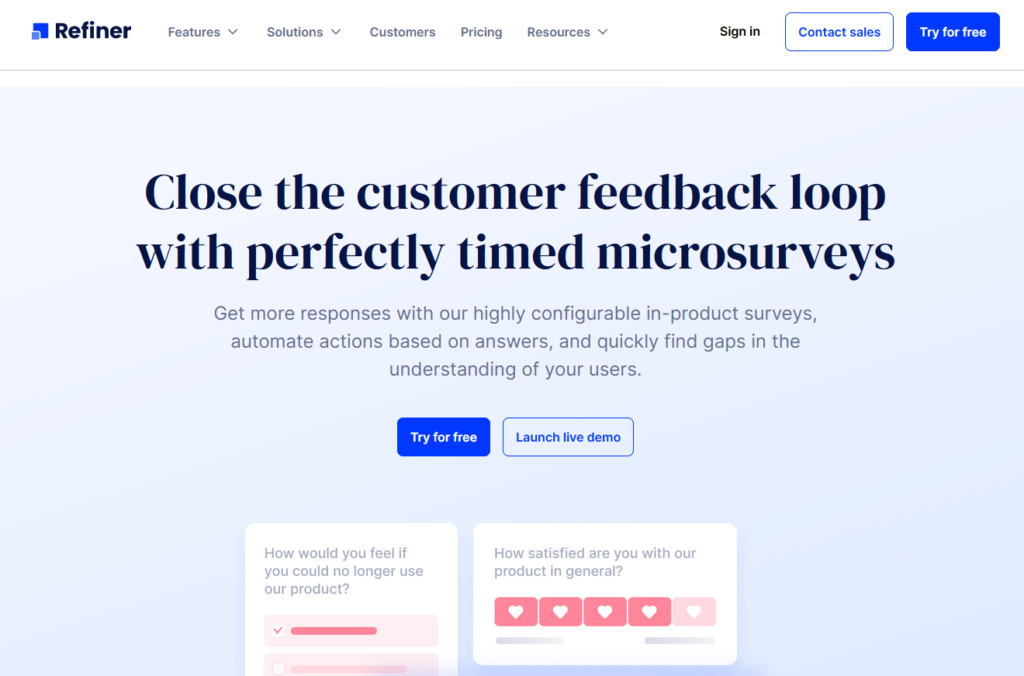 Refiner (disclaimer – this is my tool) is a customer satisfaction survey tool built specifically for SaaS and digital products.
We created Refiner to help people like you – product managers, product owners, and marketers and growth people at SaaS and digital products companies – run any type of survey and precisely target the right users at the right time.
As a result, with Refiner, you can:
Run NPS, CSAT, CES, and many other survey types.
Evaluate customer satisfaction and customer needs continuously.
Conduct product and user research surveys.
Identify product-market fit, and more.
With Refiner, you can send surveys through multiple channels, including web and mobile, run in-app surveys, and also distribute them via email or through a shareable link.
But unlike other survey solutions, Refiner focuses on "continuous feedback" campaigns for "identified users". It's a perfect tool to use to continuously research ways to improve product and customer satisfaction.
What's more, every survey you send with Refiner is:
Personalized. You can increase the response rate by using personalized survey questions and branching logic.
Brandable. You can also customize surveys to make sure that what customers see always matches your brand, product, or the website.
Contextual. You can use triggers and segments to launch the survey at the right time and to the right audience to collect even more precise feedback.
Want to see Refiner in action? Check out the live demo or sign up for a free trial now.
#2. Momentive

Momentive is quite a robust platform that combines several tools to let you gain insights from customers and your audience. As part of its toolstack, Momentive also offers survey and feedback collection capabilities that can help you evaluate customer satisfaction, and identify new ways to improve it further.
With Momentive, you can run NPS, CSAT, CES, and several other customer experience surveys, and convert your findings into actionable insights.
Worth to note – Some of Momentive capabilities are offered through integrations with other tools, some of which I'm also including separately in this guide.
#3. SurveyMonkey

If all you plan to do is send a simple one-time survey to your user base, then SurveyMonkey (this is one of the separate tools in the Momentive suite) might be the tool for you.
SurveyMonkey is, probably, the most popular such software on the market, with a widely recognized brand, and an impressive toolstack.
With SurveyMonkey, you can run surveys to evaluate your customer satisfaction levels, review customer experience, find out how engaged those people are with your brand or product, and more.
#4. SurveySparrow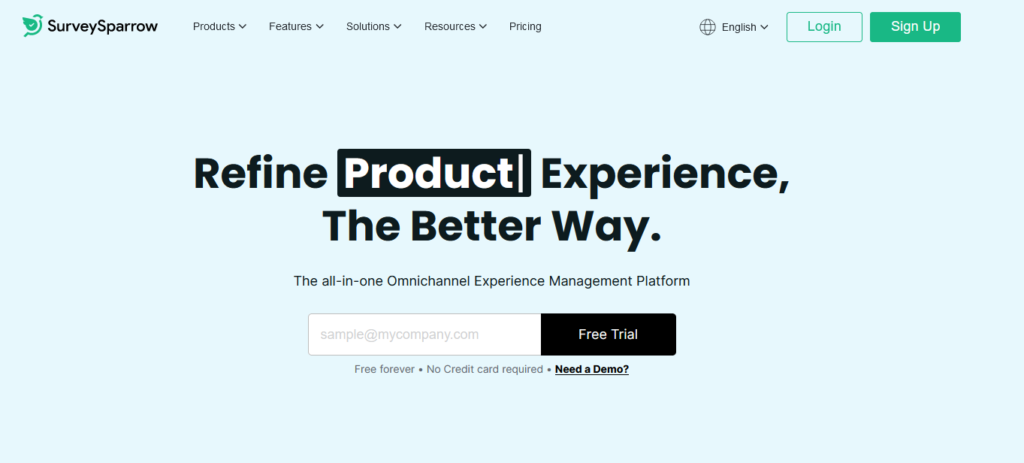 What makes SurveySparrow a solid candidate as your customer satisfaction software is the fact that, aside from surveys, the tool also offers some data analysis features.
With SurveySparrow, you can review insights collected from multiple channels, turn them into actionable tickets, and even track resolution.
In terms of insights collection, SurveySparrow lets you run all the usual surveys like NPS, CSAT, CES, and customer exit.
#5. GetFeedback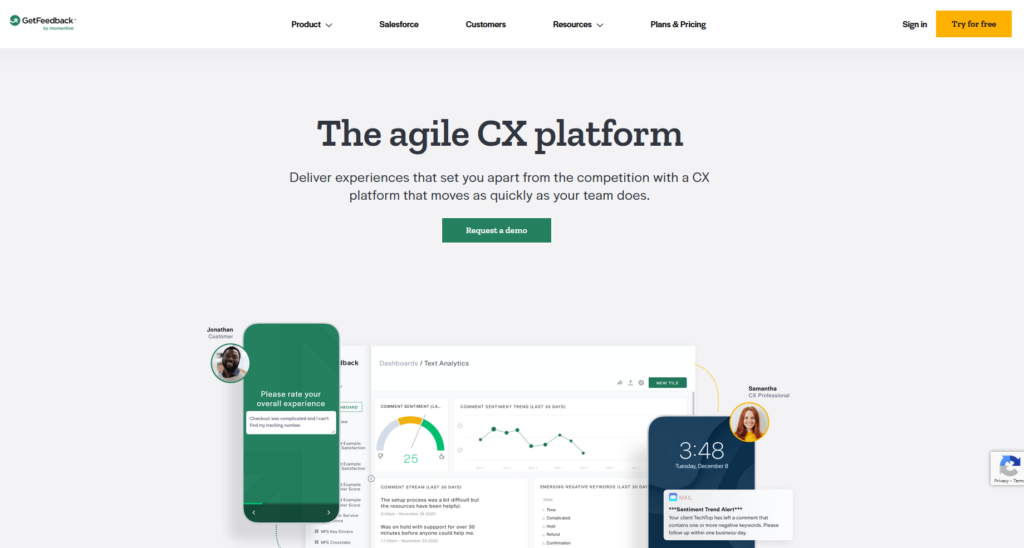 GetFeedback (another tool by Momentive) is a complete customer experience platform to build and manage a complete CX program for your brand. And just like with several other tools on this list, this also includes collecting customer feedback.
GetFeedback allows you to capture feedback across all channels, including email, SMS, website, and mobile apps. With its data analysis capabilities, you can analyze sentiment, and understand key drivers that are impacting your customer satisfaction, and more.
#6. Qualaroo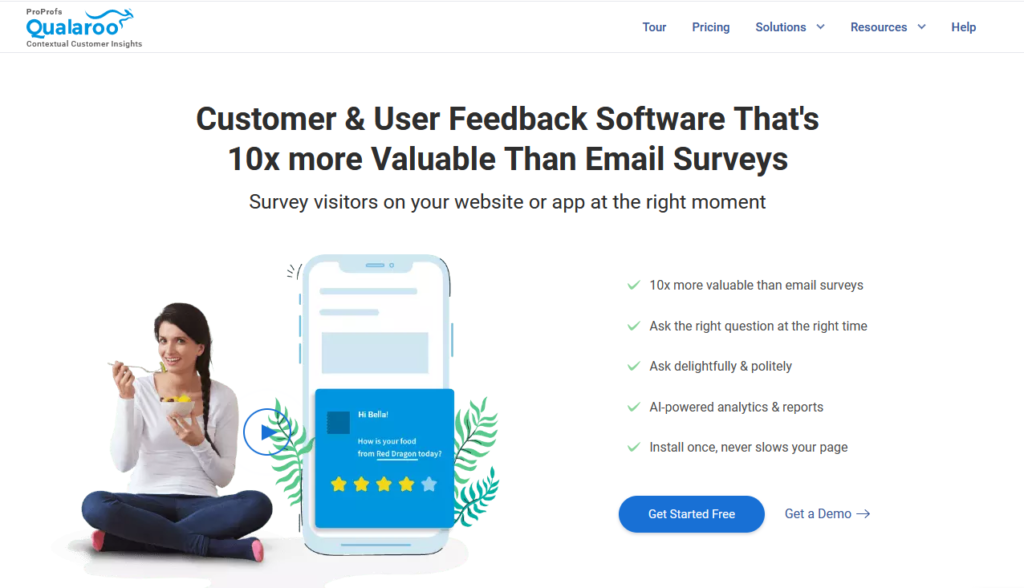 Qualaroo is another great customer satisfaction survey software to use when you need to evaluate your customers' attitudes towards your business. Qualaroo lets you trigger in-app and website surveys, run exit surveys, and more. The tool also offers all the targeting and personalization features you'd expect from a solid survey tool.
#7. Smileback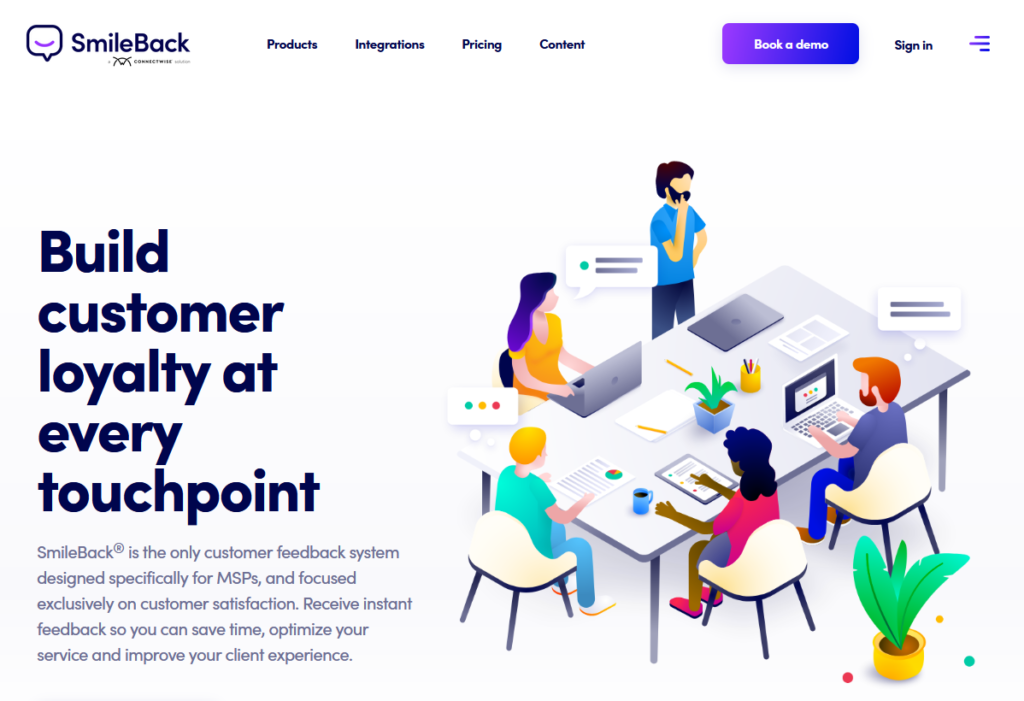 The first thing you, probably, notice about Smileback is the tool's quite unusual name. Then again, it's just one of the many things that make it stand back among other customer satisfaction tools on the market.
Smileback is a simple customer feedback tool focusing on allowing service businesses, primarily, to collect CSAT and NPS scores, and evaluate customer satisfaction levels. As many other similar tools, SmileBack offers great triggering and personalization options, dashboards to review the data in real-time, templates, workflows and automation.
#8. Simplesat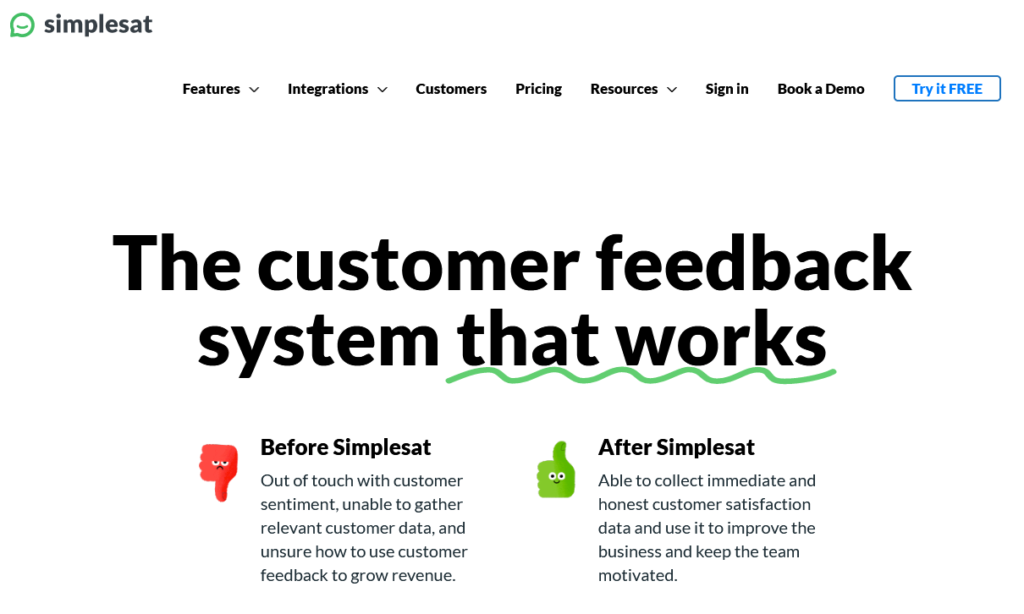 Simplesat is another survey tool focused on collecting customer satisfaction insights through NPS, CSAT, and CES email surveys. With Simplesat, you can email your surveys directly from the tool, or embed them in templates from your other email providers. You can also customize your surveys, change colors, add your logo, and ensure that the widget matches your brand. If you're sending emails from the tool, you can, then, also set up follow-up reminders to try collect even more feedback from your customers.
#9. Useresponse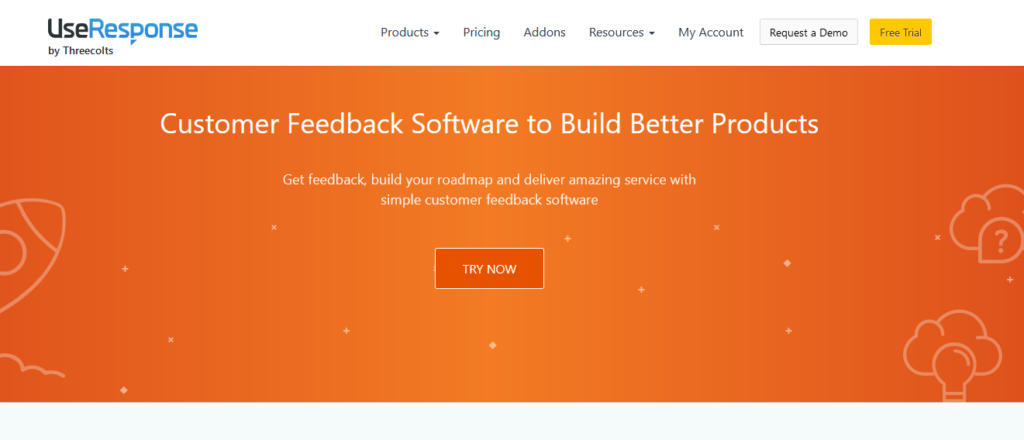 UseResponse is a robust, all-in-one customer service platform that helps businesses implement the support they offer customers. But as part of its impressive set of tools, which also include a help desk and live chat, UseResponse also offers customer feedback collection capabilities.
With UseResponse, you can launch a public customer feedback portal to let users share ideas and insights with you. You can also ask them to upvote new product or feature ideas, and transfer all that data to a product roadmap tool to plan and drive future product decisions.
#10. Survicate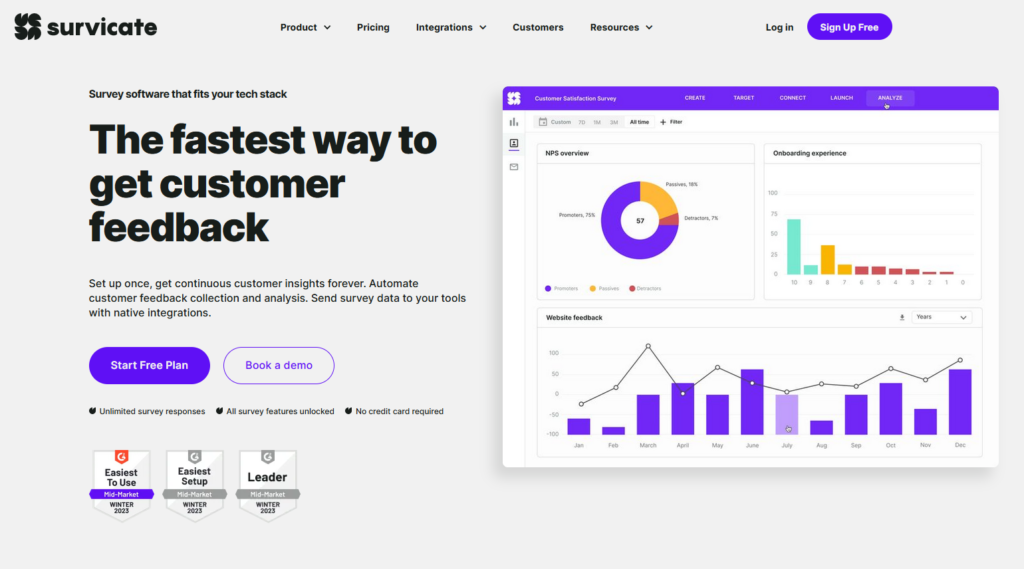 Survicate is a customer survey tool for small to medium businesses. Survicate helps you run surveys to uncover customers' preferences and needs, gather feedback from customers and collect actionable insights to help you drive the business and products forward.
Survicate supports several survey types like NPS and lets you distribute them through email, run website surveys, in-app surveys, and also embed surveys directly into Intercom Messenger.
#11. Delighted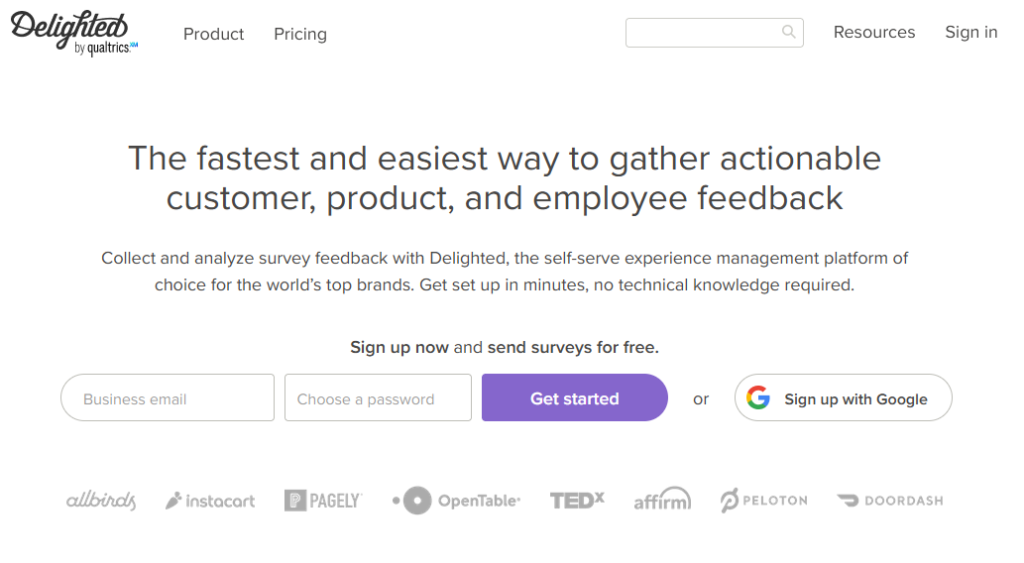 Delighted is a survey platform that lets you set up questionnaires to collect different types of customer satisfaction feedback. With Delighted, you can quickly set up and run NPS and CSAT surveys but also evaluate product-market fit and even research your employee satisfaction.
You can then distribute surveys through email, display them on a website through a dedicated widget, or use a shareable link to post questionnaires on social media, for example.
And that's it…
These are the best customer satisfaction tools to use when you're trying to:
Collect customer feedback and evaluate their satisfaction levels
Gain new ideas from customers
Find out what you're doing right and where your efforts might be falling short
Build a plan of action to start taking your customer satisfaction to a whole new level
All that's left is to review those tools more closely, and pick the ones that suit your needs the most.
Good luck!
Looking for a CSAT survey solution for SaaS?
Reach more customers with fully customizable in-app surveys and make accurate measurements of your customer satisfaction score.
Discover Refiner