Are you planning to launch a voice of the customer program (VoC) and wonder what tools and software you should use?
You know, cliche as it sounds, it's true – It's almost impossible to run a successful SaaS today without putting a huge emphasis on customer experience.
Customer expectations for what they get from us – and that means both the quality of our products and the overall experience those people have with our brands – are only going up, after all.
The only way to keep up is by gathering customer insights and monitoring and analyzing the voice of the customer.
And to do that, you need dedicated tools to help you collect customer feedback, process the VOC data, and close the loop.
In this guide, I'll show you exactly what is the best voice of the customer tool to use.
Before we get to the good stuff, though, I think we should cover some basics.
What are the voice of the customer tools, exactly?
There's a challenge with trying to define tools to capture the voice of the customer.
That challenge has something to do with the fact that a typical VoC program spans several different strategies, methods, and product categories.
Overall, however, we can define the voice of the customer tools as various software platforms that allow you to collect, process, and analyze customer feedback and opinions about you, your brand, products or services, etc.
Typically, VoC software falls under several categories – survey tools, platforms that measure customer support and customer service interactions, social media listening tools, etc.
These tools also help with several aspects of VoC data collection:
For one, many voice of the customer tools help automate and scale customer feedback collection. With those tools, you can run customer surveys at scale and evaluate sentiment across your customer base.
Many VoC tools can analyze user behavior and deliver insights based on the data collected and more. With such insights, you can understand your customers better and uncover what drives their loyalty and customer satisfaction.
Other tools can go even further and provide insights from unstructured data, conduct sentiment analysis, and more.
All in all, these tools can help you uncover customer sentiment toward your:
Customer and buying experience
If you think about it, customer experience is such a vast area. it includes every interaction customers have with your SaaS, and that means your brand, product, messaging, support, the sales and signup process, and more across every channel and device.
And that's a lot.
But there are also many elements where things can go wrong.
Various voice of the customer tools – in-app surveys, product surveys, net promoter score (NPS) and more – can help you uncover what drives a positive experience for your customers and where you might be falling short.
Product experience
In SaaS, our businesses and products are one. And so, we should also evaluate whether we meet our customers' expectations with our apps.
Once again, various voice of the customer tools can help evaluate that. I already mentioned various types of customer surveys. But you could also gain valuable insights by analyzing customer reviews and monitoring what those people say about your product on social media, to name a few VoC methodologies.
Brand experience
Much of the customer experience relates to tangibles – our product, the UI, the website, etc. But an equally major part of the total experience revolves around the brand. Things like our messaging and what we tell customers at different stages of their buying journey, what our brand promises them to deliver, etc. will affect their experience as well.
Needless to say, many VoC tools allow you to evaluate those less tangible aspects of your CX as well. From various customer satisfaction surveys like NPS, CSAT, or CES to review analysis and more.
But it all creates a serious challenge, doesn't it? With countless VoC tools available, how do you know which ones would work best for your SaaS?
So, I prepared the list below with that in mind. The tools I included focus on delivering insights that SaaS companies like yours will find useful.
So, without any further ado, here are the best tools to collect the voice of the customer in SaaS.
(A super quick note before we begin, though – I organized the list by the types of insights these tools collect. This should help you quickly identify which tools you'll need without having to sort through the entire list.)
Best voice of the customer tools for customer feedback collection
Collecting customer feedback is by far the most important part of any voice of the customer program. By asking your customers to rate their experience and provide further clarification as to their ratings, you gain unparalleled insight into what works and what doesn't.
And here are the very best tools that can help you collect such feedback.
#1. Refiner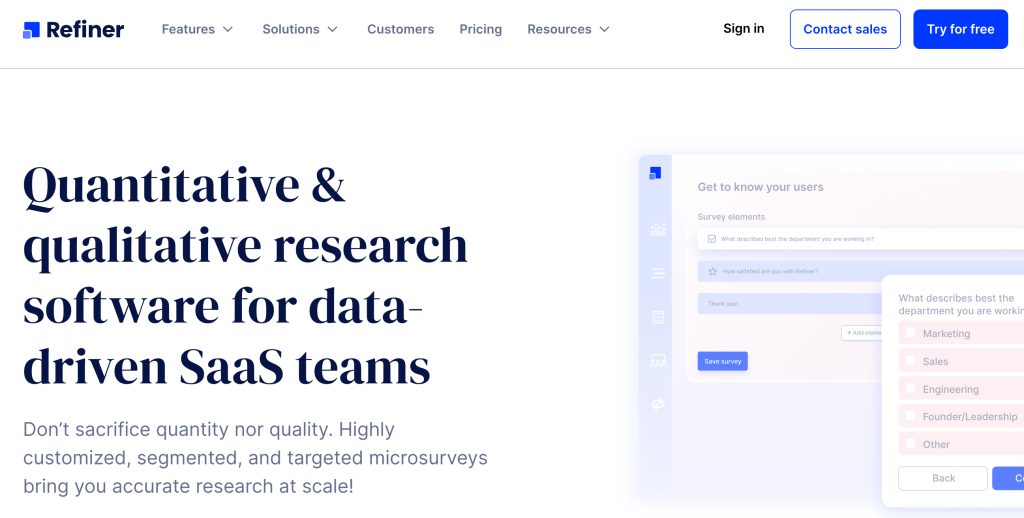 Refiner (full disclaimer – this is my tool) is complete customer feedback and survey software built specifically for modern SaaS companies.
With Refiner, you can collect customer feedback through micro surveys, in-app surveys, and more.
Our customizable micro surveys are used by hundreds of happy SaaS companies to track customer satisfaction metrics, profile users, and yes, also collect the voice of the customer through numerous survey options:
On top of that, Refiner offers advanced features to deliver surveys, capture customer feedback, and analyze results:
Deliver the survey across multiple channels – email, website widgets, in-app surveys, shareable links, and more.
Measure customer experience and collect data that will help you prevent customer churn.
With Refiner's integrations, you can trigger automations & workflows to close the customer feedback loop quickly.
Survey templates allow you to launch NPS surveys quickly, while branding options let you customize the survey and ensure that it matches your brand, app, or website.
Triggers and a powerful segmentation engine let you target specific users based on events, traits, survey responses, and more.
Branching logic means that you can send relevant follow-up questions based on the person's feedback.
Here's just one piece of feedback about our tool from a satisfied customer:
"Refiner changed the way we operate. As a data-driven SaaS, we needed a way to collect feedback unintrusively at scale. Their tool helped us reach this goal in no time. Bonus: it fits super well in our growth stack (Segment, Customer.io)" Greg d'Aboville, Head of Growth, Merci App.
Interested to see Refiner in action? Launch our live demo or sign up for a free trial and test-run the tool yourself.
#2. Usersnap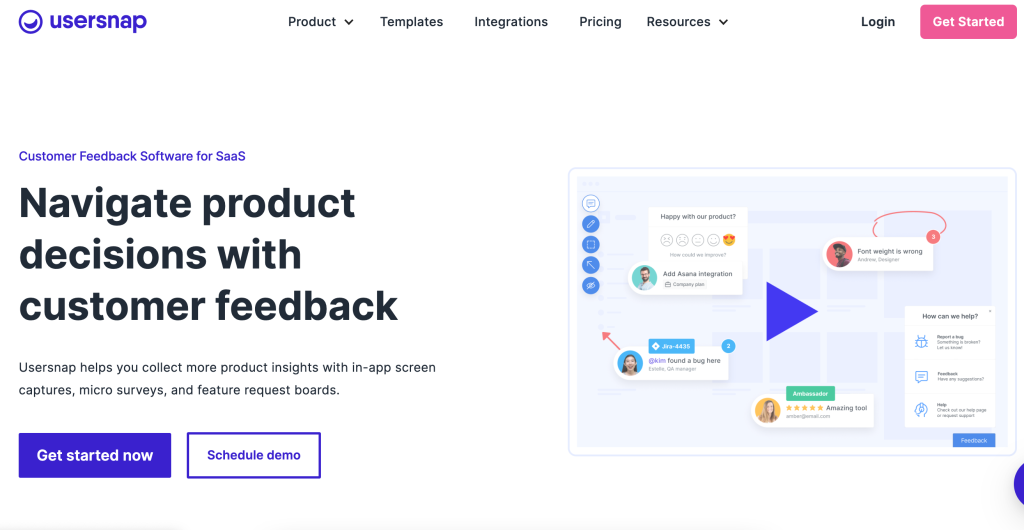 Usersnap is a voice of the customer tool similar to Refiner. With Usersnap, you can also collect customer feedback through micro surveys.
Usersnap lets you display surveys in-app or send them to your audience by email. And then, you can use the tool to collect their feedback, track responses, and gain whatever insight you seek through the campaign.
But aside from being a voice of the customer tool, Usersnap offers several additional features that help companies gain insights to make better product decisions. And so, with Usersnap, you can also launch feature request boards, poll users about new features that you might consider developing, use screen captures to collect data on bugs and issues customers face with the product, and more.
#3. Survicate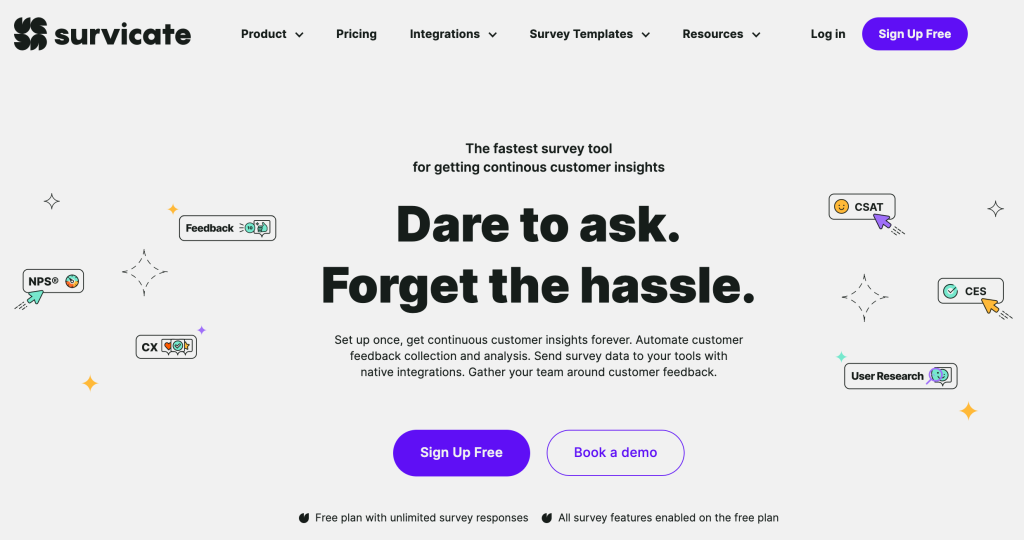 Survicate is a customer survey tool helping primarily small to medium businesses collect customer feedback on different channels.
With Survicate, you can collect all kinds of customer feedback. What's more, Survicate lets you trigger website surveys with different events, such as the exit intent or the user scrolling past a certain space on the page. You can also time-delay your surveys and use various custom triggers to ensure that you get the survey in front of a visitor when they're the most likely to act on it.
Like most customer feedback survey tools, Survicate can also analyze responses and provide you with the gist of your customer base's sentiment toward the product or the brand.
#4. AskNicely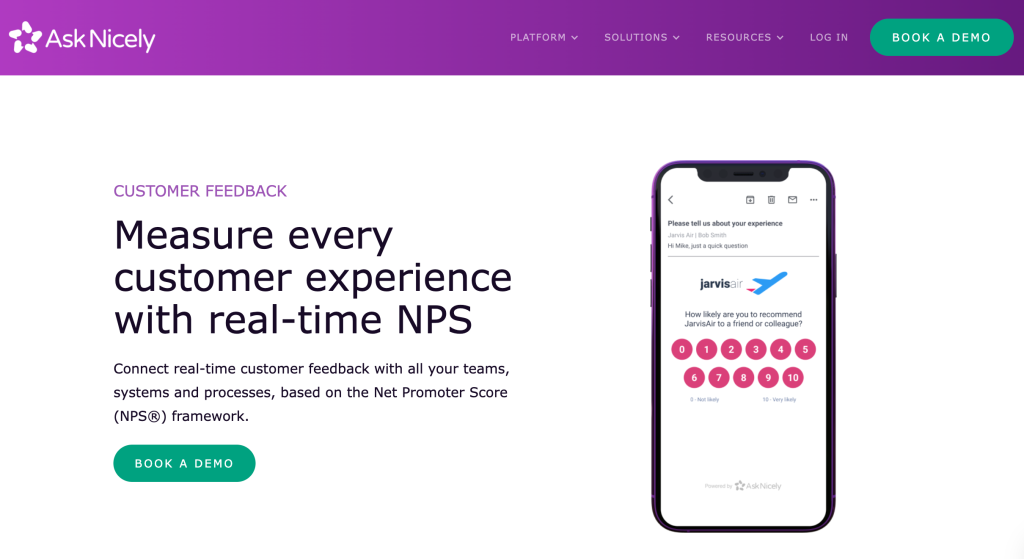 AskNicely focuses on helping service businesses collect the voice of the customer. The platform lets you research and evaluates your customers' experiences with the company or its services, also in real-time, right after the service delivery.
AskNicely offers a mobile app that your teams can use to collect NPS surveys, for example, right after they've completed the customer engagement. All the person needs to do is rate your company on your employee's smartphone without having to log into the survey on their device.
#5. Qualtrics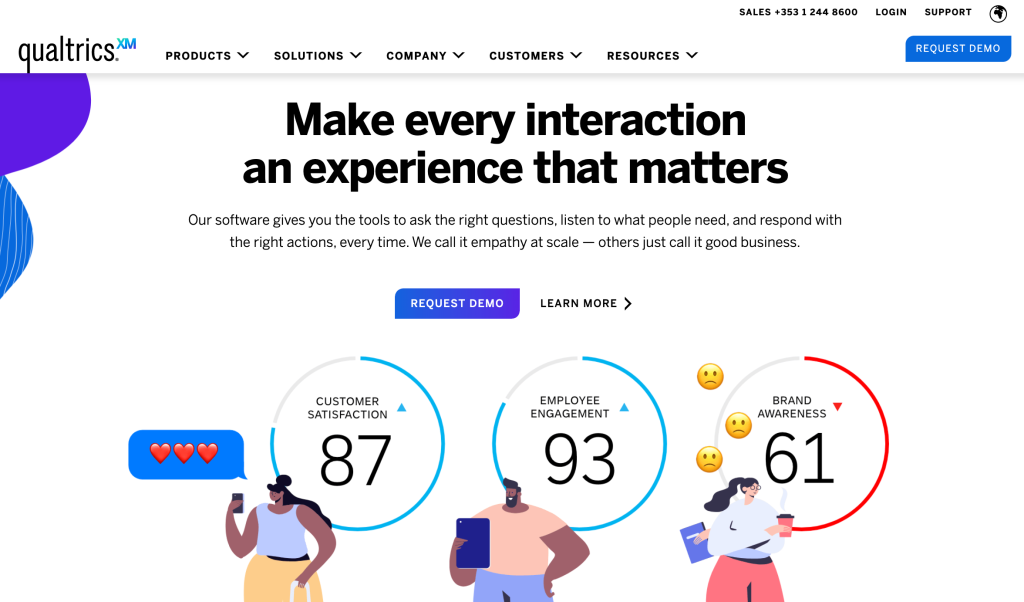 Qualtrics is by far the most advanced customer research platform on the market today.
(This means that it's an ideal voice of the customer tool for some companies, but its extensive feature set might be far too much for others.)
Qualtrics offers an impressive number of tools and capabilities to evaluate your customers' interactions with you across all touchpoints and more.
When it comes to collecting the voice of the customer, you can use Qualtrics' surveys and feedback features to create and send customer surveys and deliver them to customers using several channels – apps, websites, email, SMS, chatbots, and even run offline surveys. You can then measure and analyze the results.
But what's particularly impressive about Qualtrics is that the platform allows you to integrate your survey data with insights from its other capabilities. As a result, you can gain an even deeper insight into your customers' satisfaction, experience, and loyalty.
#6. Feedier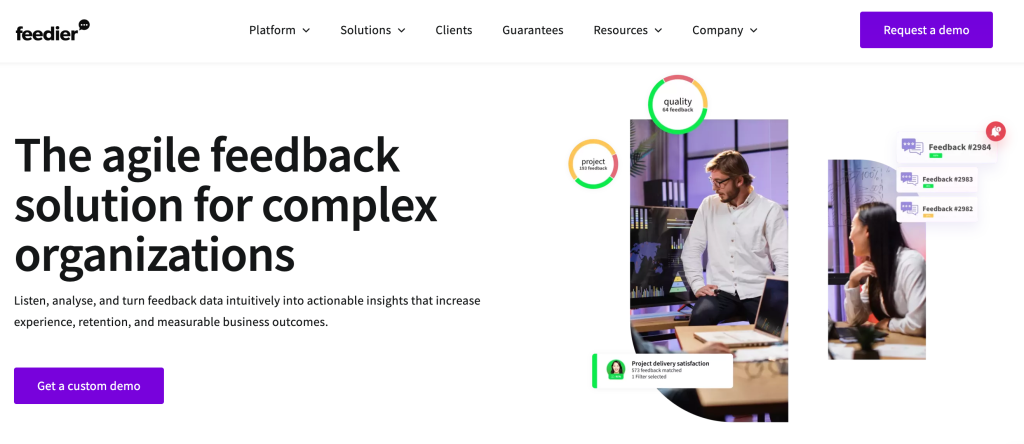 Feedier is a powerful voice of the customer platform that allows you not only to collect different types of VoC data but also analyze and make sense of them.
Feedier lets you create different surveys and send them to customers. On top of that, you can also import other feedback data like reviews, support tickets, and so on. The tool will then analyze and deliver insights from all this data, allowing you to process more than just feedback data to learn more about your customers' experience.
However, because of its complexity, Feedier is probably, best suited for large companies with multiple products, units, teams, etc., and an equally large data set that needs processing. If you only plan to run and analyze survey data, then the other tools I've mentioned on this list are probably, a much better fit.
#7. Mopinion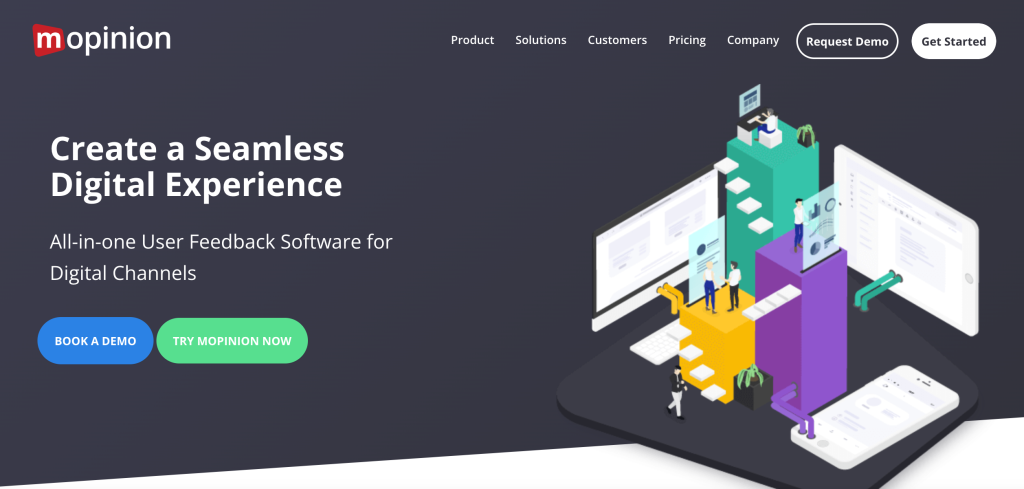 Mopinion is another customer feedback tool that allows you to build surveys and place them in front of your website visitors in the app and send it to them via email. What's interesting about Mopinion is that the company's three core capabilities allow you to launch question-based surveys. This way, you are not restricted by the standard format of surveys like NPS or CES but can inquire directly whether customers have enjoyed your product, achieved their goal on the website, etc.
Every day, customers talk about their experiences and often also woes with products. In the previous section, you discovered tools to help you proactively ask them about those. In this section, I'll show you what tools to use to discover, listen to, and analyze what they say about you on social media, etc.
#8. Mention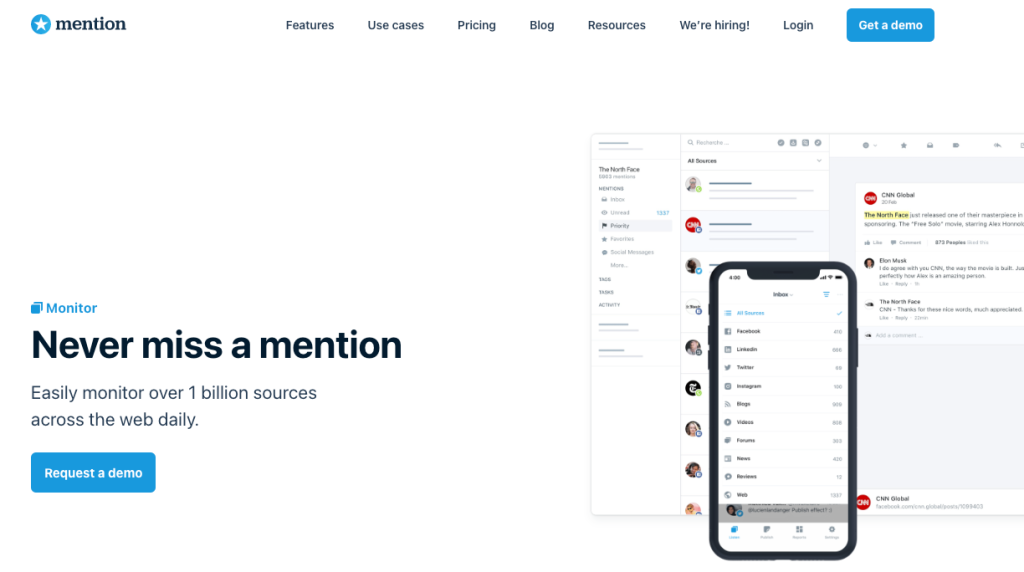 Mention is by far the most well-known tool for listening to customers on social media and the web. With Mention, you set up alerts for different keywords – these could relate to your brand, products, or anything else that would help you identify that a conversation is about you.
The platform, in turn, will continuously monitor social media and the web for any such mentions and alert you of those.
With such data, you can monitor the overall sentiment towards your brand, see directly what customers say when they're telling others about you, etc. You can also uncover trends in those conversations, see what customers enjoy about you, and what experiences leave them a little cold.
#9. Hootsuite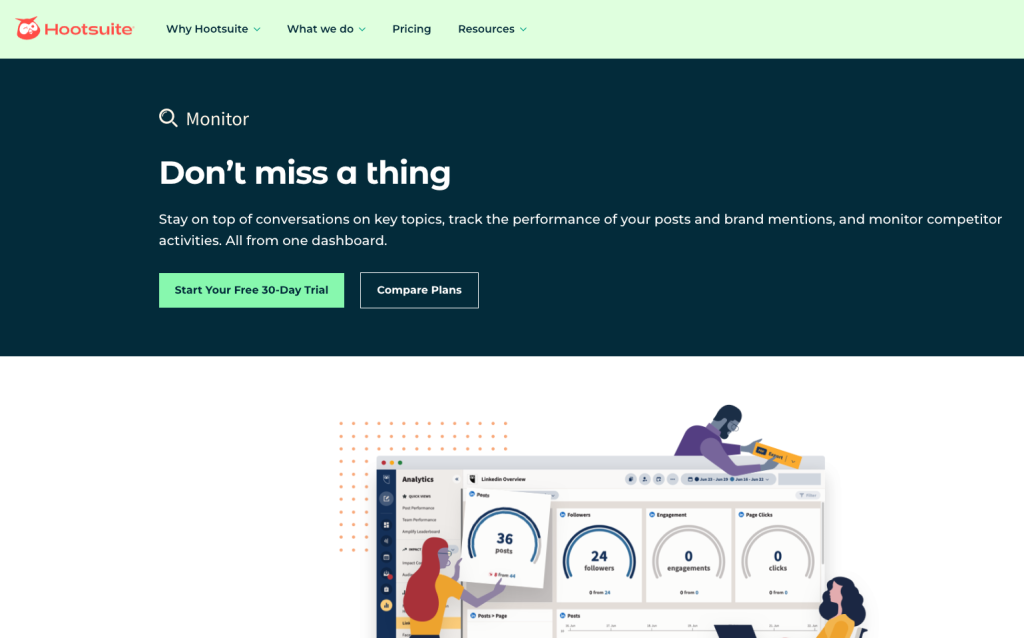 Hootsuite is an all-in-one platform for managing social media presence. At its core, the tool focuses on allowing you to post, publish, share, and analyze your company's social media presence. But as part of its impressive suite of tools, Hootsuite also offers a social monitoring tool. This capability allows you to monitor social media for specific topics, mentions, and so on.
Much like with insights delivered by Mention, you can use this tool to keep track of what customers say about you online, how they refer to your product, how they describe their experiences with you, and so on.
#10. Brandwatch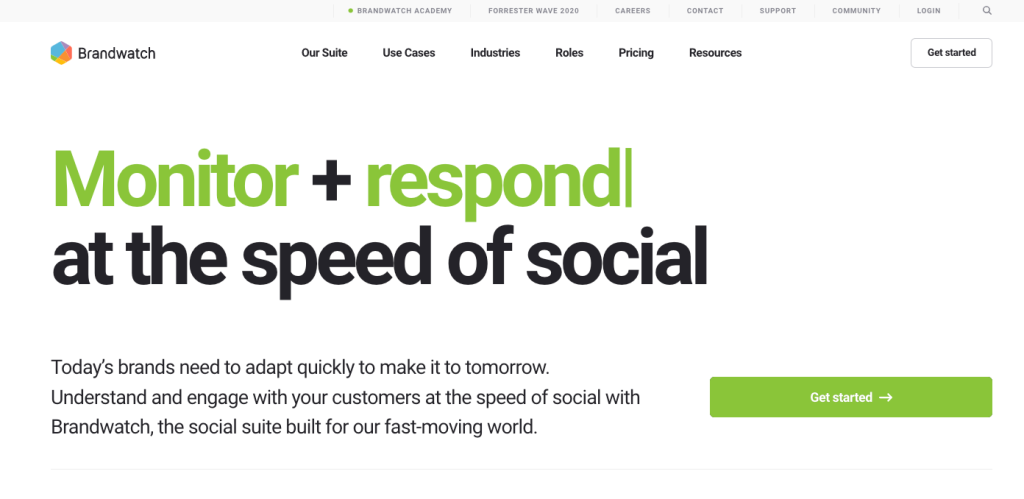 Brandwatch is another social listening tool that's perfect for collecting valuable voice of customer insights. And the platform offers some incredible features for that. With Brandwatch, you can monitor and collect all the posts, comments, and conversations that are related to your brand or product. You can filter and categorize those to start gaining insights. Brandwatch also gives you access to AI-powered analytics that can help you spot trends and gain valuable insights at scale. Finally, with powerful integrations, you can share what you've learned with relevant people in your organization and turn this customer feedback into actionable insights.
Best options to analyze customer reviews
#11. InMoment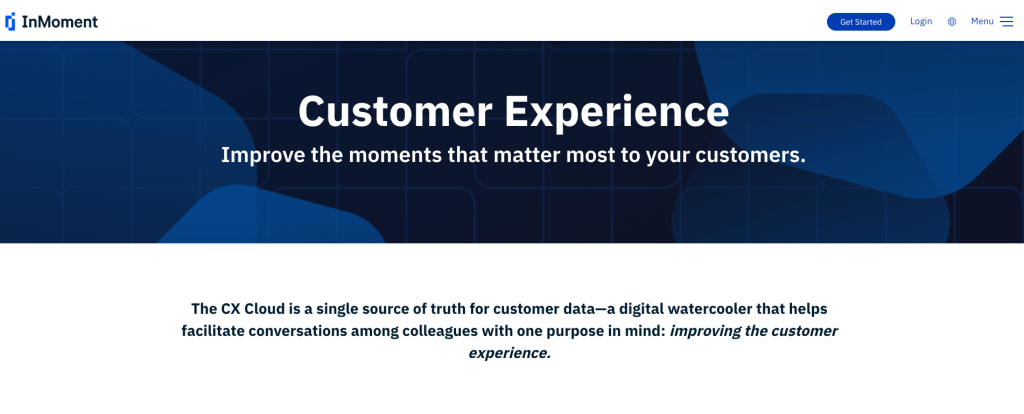 Tools like Mention or Brandwatch are perfect for monitoring what customers say about you online. In some cases, this might also mean reviews they leave on the web. However, if you want to dive really deep into those, and uncover trends and insights that could help you improve customer experience, then InMoment might be the right tool for you.
InMoment is an incredibly powerful voice of the customer tool. It's also one of the leading such platforms on the market, offering its one proprietary methodology called Experience Improvement (XI).
InMoment describes XI as "a unique combination of leading-edge technology and decades of human expertise combined to help businesses create effective and profitable programs that improve experiences at the intersection of value—where customer, employee, and business needs meet."
Best voice of the customer tools for data analysis
Collecting feedback – be it through surveys or by monitoring what customers say about your brand online – is just part of the voice of the customer program puzzle. Another part is being able to analyze all this data and discern meaningful and actionable insights from it. The tools below are some of the products you could use to analyze your data.
#12. MonkeyLearn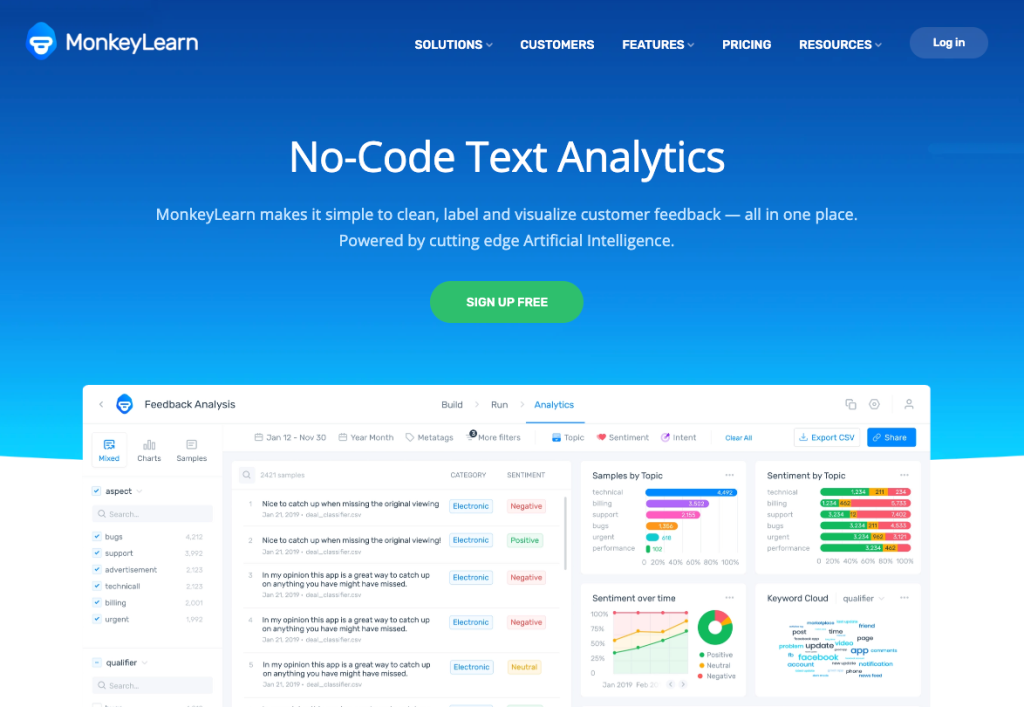 MonkeyLearn is an Ai-powered text analytics tool that makes it super easy to clean, label, and visualize customer feedback. With MonkeyLearn, you can quickly make sense of the large voice of the customer data sets. You can spot trends, go granular and discover specific sentiments, categorize your feedback, look for specific mentions or issues, and more.
When using MonkeyLearn, you get access to pre-built machine learning models, topic classifiers, sentiment analysis tools, and more. In short, MonkeyLearn is a true powerhouse for analyzing text-based feedback and making sense of it all.
#13. CustomerGauge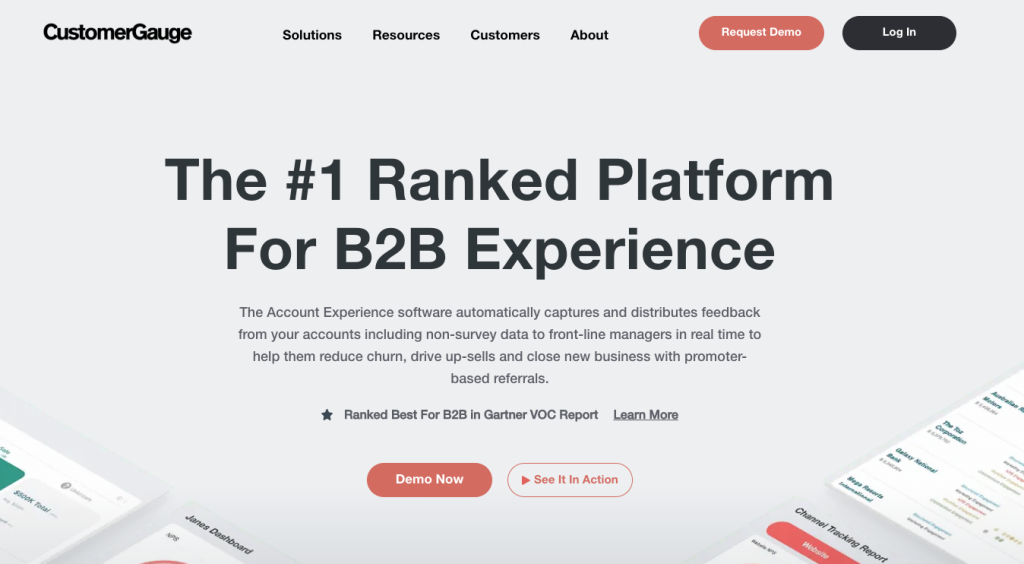 CustomerGauge is another tool dedicated to taking all your voice of the customer data and analyzing it.
However, aside from delivering powerful and actionable insights, the tool's primary VoC platform that they call, Account Experience does one other amazing thing. It automatically distributes all key data to your front-line managers and does so in real-time. As a result, you and your team can make crucial decisions, the ones that can help you prevent churn, drive more revenue, and more.
That said, just like several other tools on this list, CustomerGauge's complexity makes it an ideal solution for large companies. In fact, the platform's ROI tool doesn't even have an option for calculating the return on investment of revenue lower than $10M annually. That's something worth considering when evaluating this tool as a potential voice of the customer platform for your business.
Best all-in-one voice of the customer tools
Most tools I discussed so far focused on one particular aspect of the voice of the customer program. Some of those tools help you collect valuable feedback through surveys, widgets, and other formats. Other tools let you monitor what customers say about you when they chat with others online, monitor their reviews, and so on. And another group of tools makes it easy to put all this data together and make sense of it all.
However, several tools combine all of those objectives and more, and below, you can find out which all-in-one voice of the customer platforms is worth checking out.
#14. Verint ForeSEE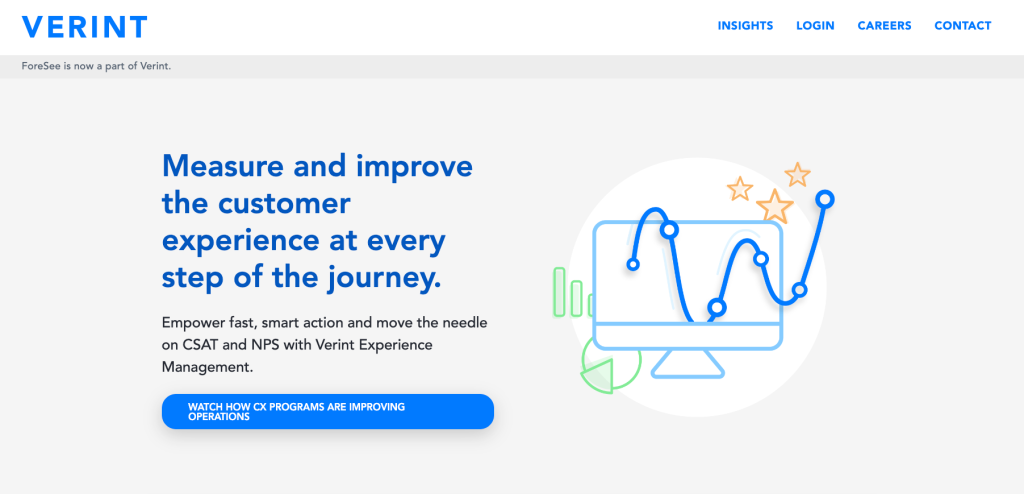 Verint ForeSEE is a complete voice of a customer tool that allows you to track, analyze, and improve customer experience across the entire buyer's journey. As a result, ForeSEE is a huge and complex platform with several products under the hood. As the company states on its site, "The missing element isn't one thing; it's seeing everything. Verint Experience Management can provide you with the data, structure, and clarity to drive operational- and strategic-level decisions across departments."
To do that, ForeSEE allows you to capture experience data across all channels, including social media. With the platform, you can run various types of surveys too and bring other data from across the organization – contact center, chat sessions, customer-initiated web feedback, flexible surveys, and digital behavior on web sessions – to get a complete, holistic view of the customer experience.
And then, you can analyze the data with the help of the company's proprietary Da Vinci AI.
#15. Medallia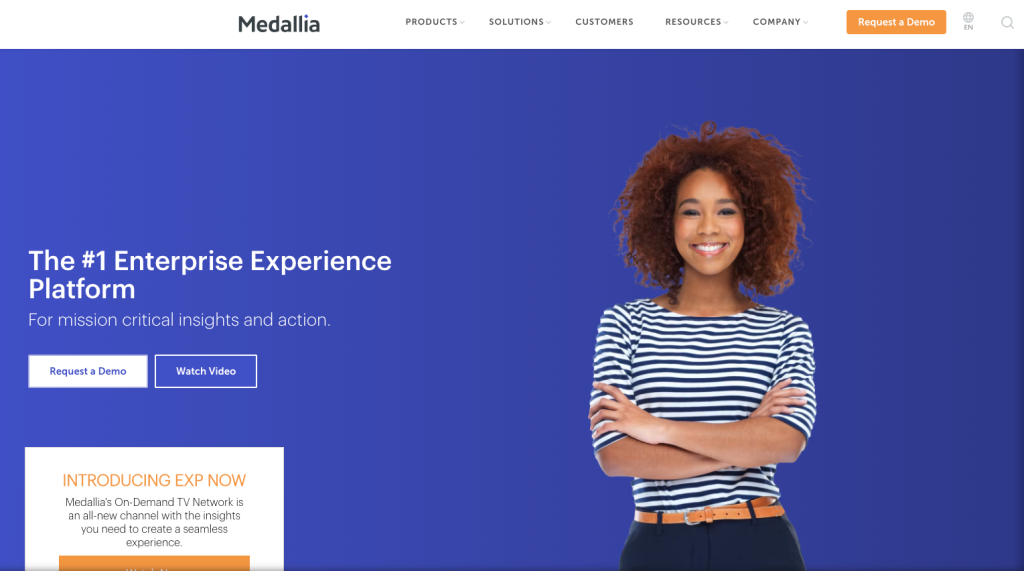 Medallia is probably the most well-known all-in-one voice of the customer platform, and for a reason. The tool offers an incredible amount of features and capabilities that allow businesses to gain actionable customer experience insights across the entire buying journey.
With Medallia, you can capture insights – both operational and experience data, engage with customers on every channel (even including IVR systems,) analyze all that data, and use it to predict customer behavior, all to improve and design incredible customer experiences.
And there you have it…
Fifteen amazing voice of customer tools that can help you learn more about your customers' experience discover what you're doing right, and what aspects of their experience you should improve.
So, all that's left is to go through those tools, pick the ones that sound like something you'd like to use, and give them a try.
Good luck!
Get to know your users
Refiner is a customer survey tool for SaaS & digital products. Collect more user insights with perfectly timed microsurveys, automate actions based on answers, and quickly find gaps in the understanding of your users.
Discover Refiner