Were you planning to run surveys with Refiner but got that nagging feeling that maybe there's a better alternative out there?
Refiner is a great survey tool. I know, I created it, after all. But I'm also the first person to admit that, just like pretty much every other survey tool, it may not be an ideal solution for everyone.
Refiner laser focused on helping collect feedback within web and mobile products, for one. Sure, hundreds of happy customers use our microsurveys to track customer satisfaction metrics, profile their users, or research product features. But if you're running a different type of a business, then Refiner's feature stack might simply not be what you're looking for.
Refiner is a highly advanced tool, too, offering more capabilities than most generic tools (but it also means that it might be too much for a casual user.) 
With that in mind, I decided to share with you various alternatives to Refiner, and help you pick the right tool to collect customer feedback.
But just so that we cover all aspects of this, let me tell you a bit about Refiner, too.
So, What is Refiner, Exactly?
Refiner is an advanced survey software for SaaS and digital products helping them collect customer feedback and insights with perfectly timed microsurveys.
Or to put it more bluntly – Refiner is the perfect survey software if you want to ask your web or mobile app users something or uncover their attitudes about your product.
And Refiner has several amazing capabilities that help you do that:
It can collect a wide range of surveys. With Refiner, you can run NPS, CSAT, CES, and many other surveys. You can evaluate customer satisfaction, conduct user research, evaluate your audience, and more.
TIP: Launch the Refiner's live demo to see all the potential use cases.
Refiner offers advanced design and customization options. I don't want this to sound like I'm boasting but it's a fact – Most survey solutions lack good customization and display options, resulting in a low response rate. Refiner, on the other hand, allows you to customize surveys to look great and be displayed everywhere.

You can also set advanced targeting options. Because let's face it; unless you target the right users, whatever insights you collect won't be worth much. But Refiner surveys can be configured to trigger precisely for the right users to deliver actionable and meaningful results.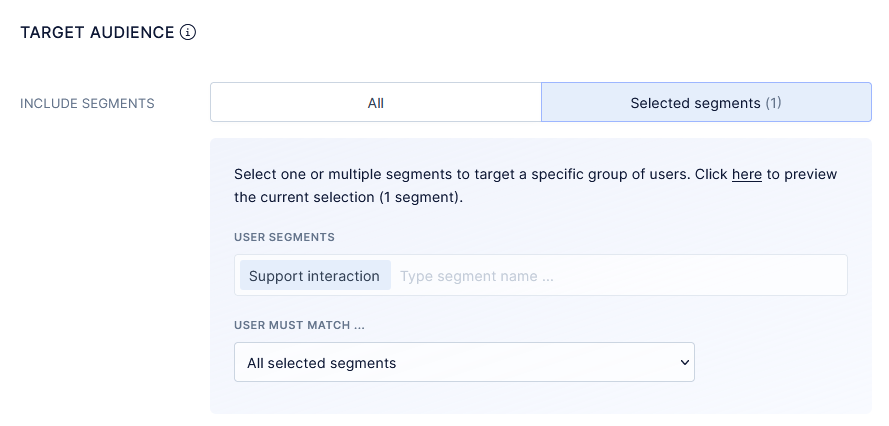 Refiner supports multi-channel delivery. Refiner focuses on web or mobile in-app surveys. That said, you can also send your surveys via email or share them with a shareable link, meaning that you can always reach your desired participants, no matter what.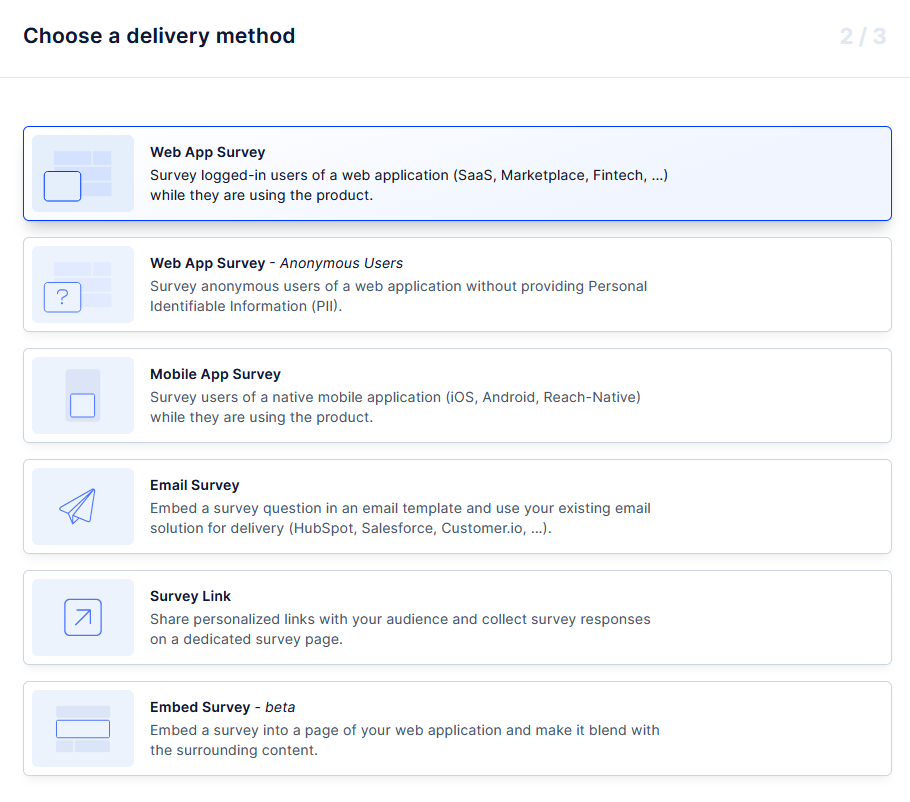 Finally, Refiner integrates with all the tools you most likely use to run your business. Segment, Rudderstack, Amplitude, Mixpanel, Customer.io, Userlist, a whole range of CRMs, Zapier, you name it. In fact, see all Refiner's integrations here.
But as I said, I acknowledge that all these amazing features might not be what you're looking for.
So, with that in mind, let me tell you what alternatives to Refiner to evaluate…
13 Refiner Alternatives for Customer Surveys
#1. Survicate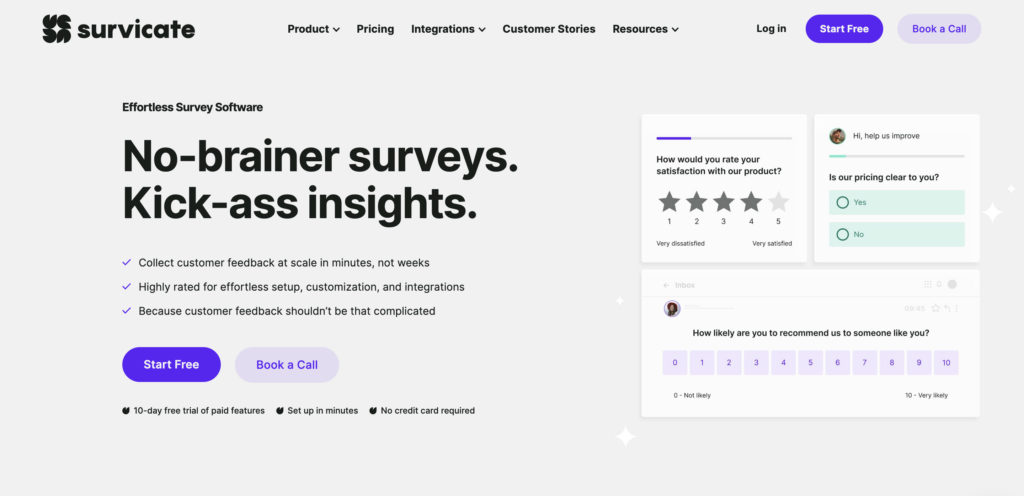 Type: General survey tool
Ideal for: Small to mid businesses
Overview:
Survicate is a robust customer survey tool for small to midsize businesses. Survicate does not focus on any particular industry or use case. Instead, this particular Refiner alternative allows users to collect a variety of feedback using different channels – website, email, shareable link, etc.
This wide focus makes Survicate a perfect solution for a business that wants to run surveys and collect user feedback, but doesn't need to align their survey strategy with the overall customer journey, for example.
#2. GetFeedback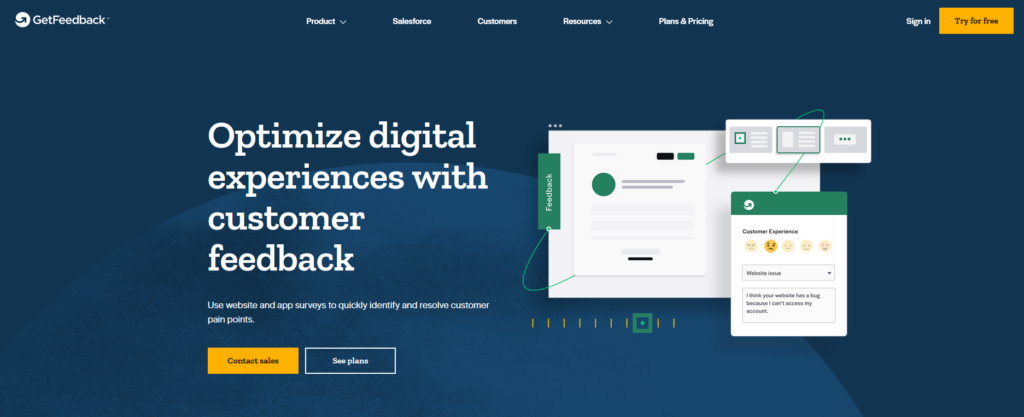 Type: Customer experience research tool
Ideal for: Larger companies
Overview:
GetFeedback (acquired by SurveyMonkey, another Refiner alternative we'll cover in this list,) is a powerful survey tool with a strong focus on providing insights to help improve customer experience.
With GetFeedback, you can build beautiful, on-brand surveys that get good response rates and can collect the most typical survey types, like NPS or CSAT.
Having said that, just like Refiner, GetFeedback might not be for everyone. The tool focuses largely on the needs of, and the scale usually achieved by larger companies. Small businesses might not need the tools' impressive feature set, or its primary focus on customer experience.
#3. Delighted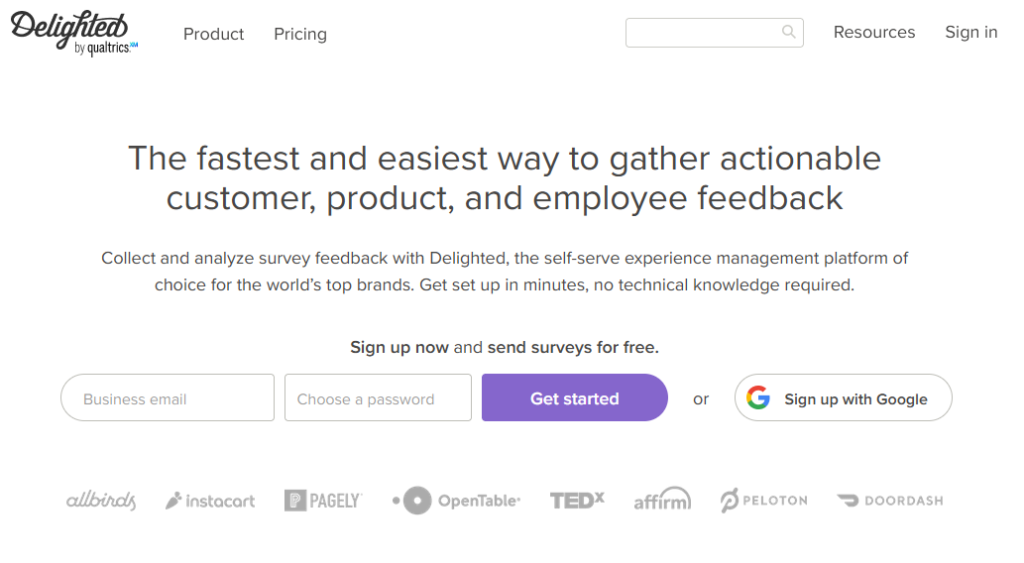 Type: Customer satisfaction survey tool
Ideal for: Companies where teams have the autonomy to launch and run survey projects.
Overview:
In truth, Refiner and Delighted are quite similar tools. For one, they share the same focus on collecting customer feedback. Both tools also work particularly well for teams that have the autonomy to run survey projects. This is because both Refiner and Delighted are primarily self-serve systems, where you need to set everything up to run the survey.
So, what makes Delighted a solid Refiner alternative? One word answer – Simplicity.
Delighted focuses on a slightly smaller set of use cases than Refiner. Delighted is great if you're looking for a tool to run NPS or CSAT. But it's not always ideal if you want to go beyond and run in-app microsurveys to uncover more granular insights from your users.
#4. Qualtrics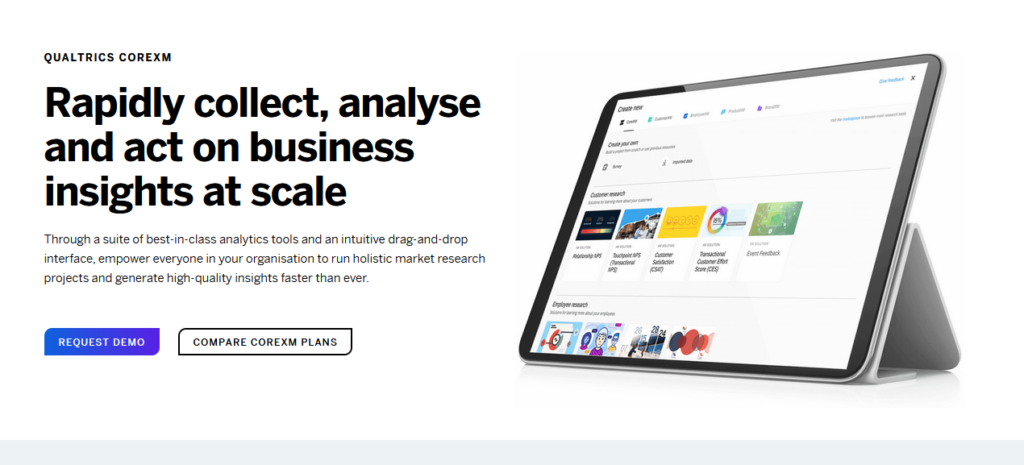 Type: Customer experience platform
Ideal for: Large businesses
Overview:
Qualtrics makers refer to their tool as a "customer experience management platform," and I think it's the perfect label for it. First, Qualtrics is a massive platform that comprises several distinct capabilities. These let you run anything from simple surveys, track brand performance, conduct pricing research, and even test your advertising campaigns.
In other words, Qualtrics allows you to test, track, evaluate and monitor almost all experiences a person might have with a brand or product.
But that also means that the platform is ideal for larger businesses that seek to add a serious powerhouse to their customer research ops.
#5. Qualaroo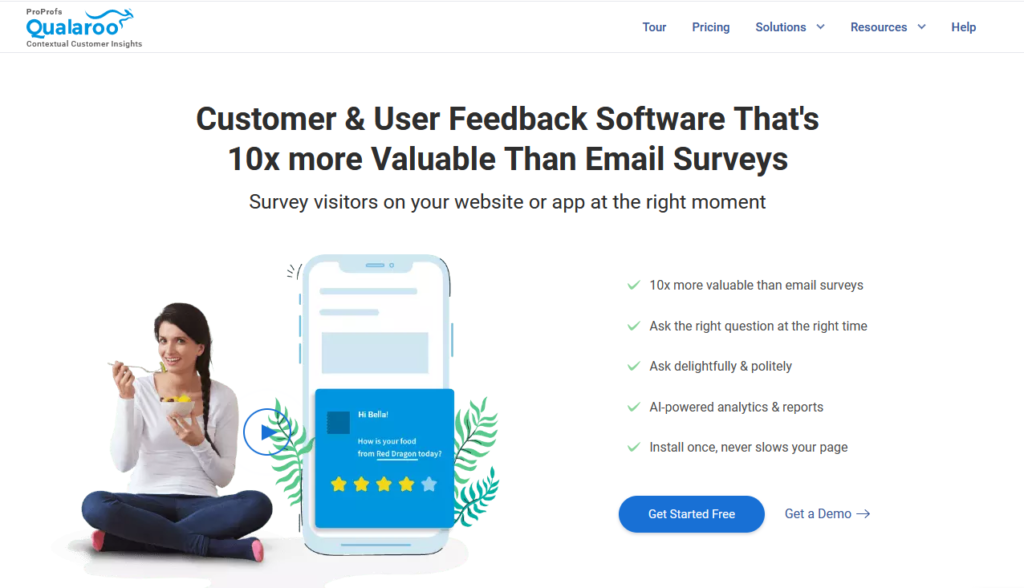 Type: User research and customer feedback tool
Ideal for: Web and mobile apps
Overview:
I admit that Qualaroo can be a difficult business to define. For one, the company has been bought and sold several times, with the current owner (ProProfs) being the fourth company to own it. During that time, the product has developed significantly, too. And currently, Qualaroo focuses largely on helping companies conduct real-time in-app surveys and offers all the capabilities you'd need to achieve it – Branding, branching logic, alerts, triggers, and more.
#6. Wootric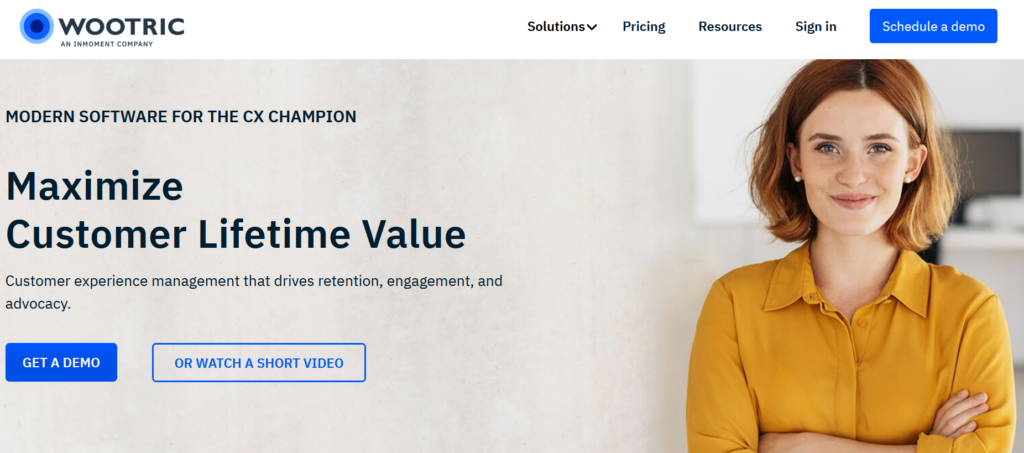 Type: Customer experience platform
Ideal for: Larger companies that need a tool to manage the complete CX research process
Overview:
Wootric is another robust customer experience research platform on the list. However, in the case of Wootric, the primary focus is not on managing the entire process but on providing insights and capability to analyze them to drive better business decisions. For that reason, Wootric focuses on helping companies run NPS, CSAT, or CES surveys through different delivery channels – Email, SMS, Intercom messenger, or in-app. With Wootric, you also get access to robust dashboards to analyze and act on the data, and drive your customer experience further.
#7. Jotform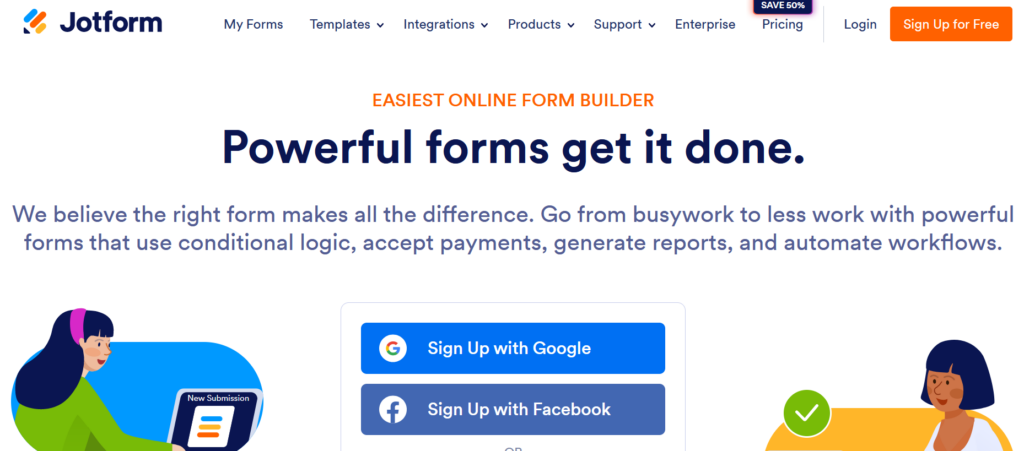 Type: Online form builder
Ideal for: SMEs that need to build various forms, including surveys.
Overview:
Unlike other Refiner alternatives on the list, Jotform isn't primarily a survey tool. Instead, the tool offers the ability to create professional-looking forms. These can include anything from registration forms, product order forms, event registrations to surveys. And its that last element that makes it a solid alternative to Refiner.
Because if you're looking for a simple tool to create a basic survey, an NPS or CSAT but also a student or customer survey, a support satisfaction one, etc., and don't need the bells and whistles of a robust survey platform, then Jotform might be for you.
#8. AskNicely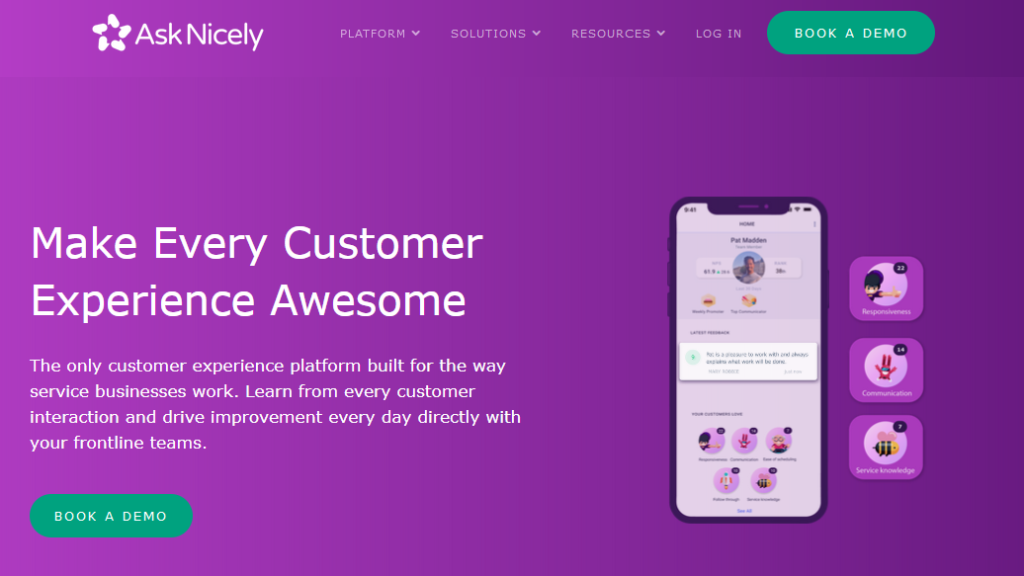 Type: NPS survey tool
Ideal for: Field service teams
Overview:
AskNicely is a powerful NPS survey tool with a twist.
You see – Instead of focusing on the typical delivery channels like email or in-app, AskNicely primarily helps field service teams collect feedback after a successful service delivery. AskNicely provides companies with a mobile app through which field teams can collect NPS feedback from customers right as they wrap up the engagement.
That said, AskNicely also provides customers with the ability to deliver surveys with email, web, and SMS.
#9. SurveyMonkey

Type: General survey tool
Ideal for: Small to large businesses
Overview:
SurveyMonkey is, probably, the most well-known survey tool on the planet. And no, I am not exaggerating here. It really is the tool that practically everyone has heard of, and a brand name that is often synonymous with surveys.
SurveyMonkey is also a generic survey tool. This means that it's ideal if you want to run a whole range of surveys, and do not need any advanced features specific to your industry. But as said, if you're just looking to run a simple survey, and Refiner's advanced capabilities seem a bit too overwhelming, then SurveyMonkey might just be the alternative option for you.
#10. Typeform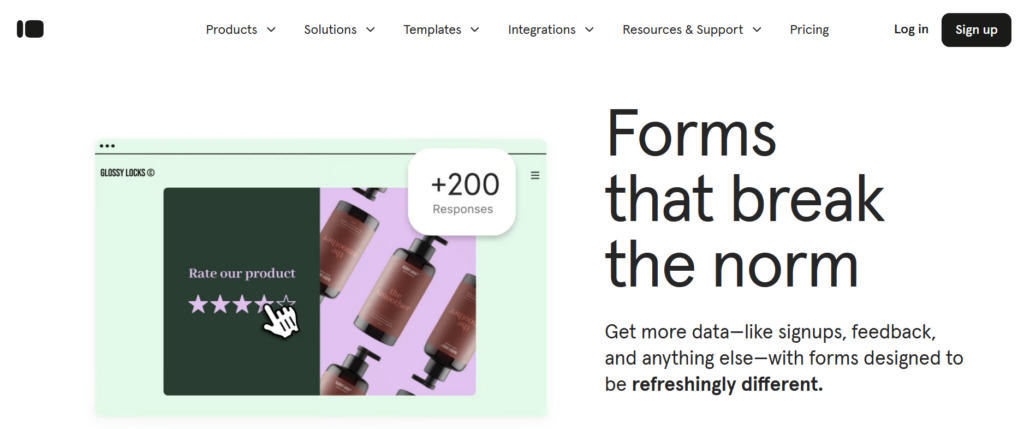 Type: Form builder
Ideal for: All types of businesses
Overview:
Typeform is another home brand when it comes to online forms and surveys. It's the tool many companies turn to when they need to create anything from simple registration forms, sign up forms to forms collecting user feedback.
A capability that makes Typeform stand out from other similar tools is VideoAsk. This functionality helps create video forms and collect valuable data in engaging, interacting, and very personal way.
#11. SurveySparrow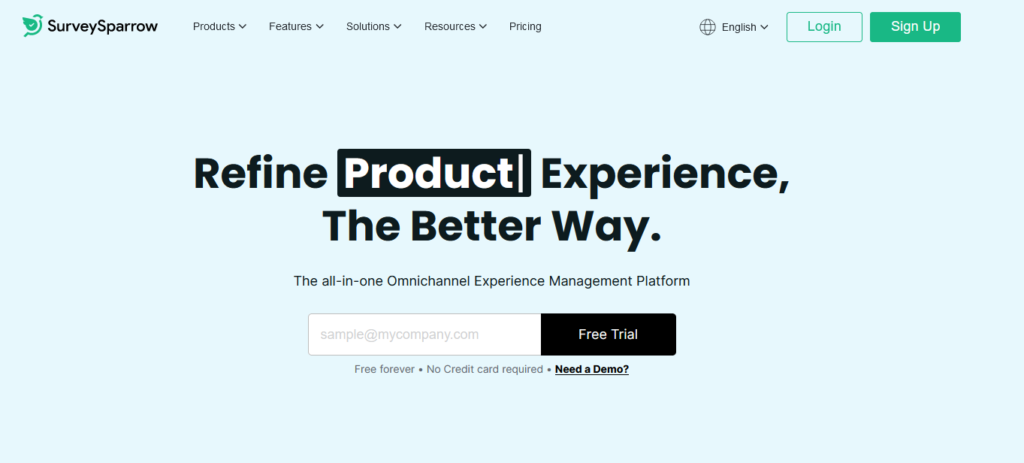 Type: All-in-one customer experience platform
Ideal for: Large businesses
Overview:
I guess the name, SurveySparrow, may be causing some confusion for the tool's customers. Why? Because SurveySparrow is far from being just a survey tool. It may have started as such, I really don't know its history, but today, it's a powerful platform for researching customer feedback, managing the company's reputation, managing support tickets, and more.
As a result, SurveySparrow is a far more powerful alternative to Refiner than my tool could ever become, but it's also more ideal for larger organizations than startups or SaaS brands.
#12. Shout (formerly KwikSurveys)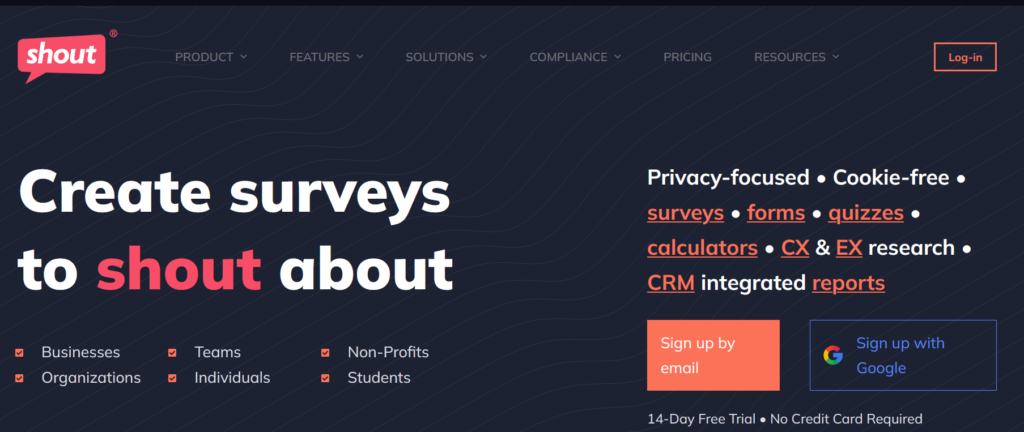 Type: Privacy-first survey software
Ideal for: Enterprise companies conscious about compliance
Overview:
It's easy to just discount Shout as yet another survey tool. There is more to it, though. For one, Shout puts huge emphasis on survey compliance. Now, to be fair, all tools on this list, Refiner included, meet all the compliance criteria. However, Shout seems to be taking it one step further, and offers surveys with no cookies, no Google Analytics code, and responses that are anonymized by default.
#13. ProProfs Survey Maker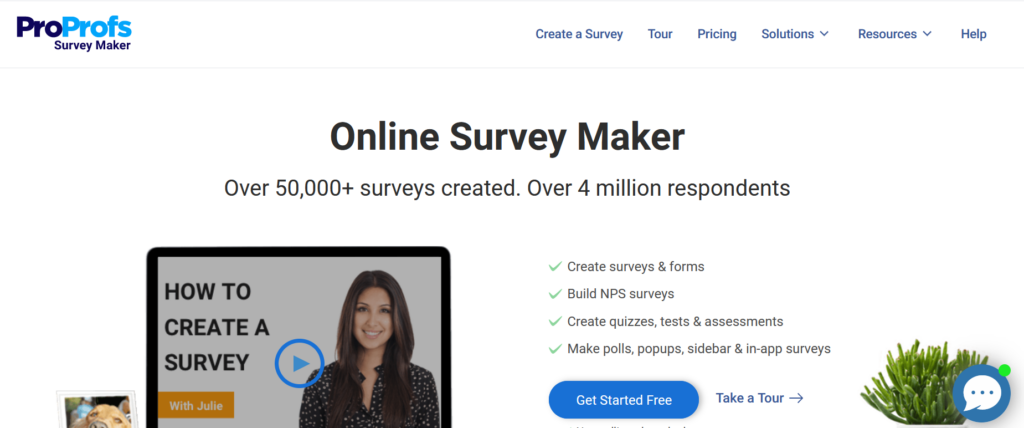 Type: Online survey maker
Ideal for: All types of businesses
Overview:
The last Refiner alternative I want to highlight to you is ProProfs Survey Maker. As the name suggests, this is a generic survey maker software that you can use to create all kinds of surveys and forms – NPS, tests, assessments, you name it.
ProProfs Survey Maker may not have the laser-focus and advanced capabilities of Refiner, but it's an ideal tool if you're just looking to create a survey, and collect some basic data from users.
And that's it…
These are the best Refiner alternatives in my humble opinion.
Naturally, I'd still love for you to give Refiner a try (hint – you can do so here,) but if my product isn't what you're looking for, then these other apps on the list should satisfy your needs.
Good luck!