You know – The chatter in SaaS circles about the voice of the customer programs is getting louder by the day, and I couldn't be more excited about it.
We, SaaS founders, have always been tuned to what our customers feel and think. So we'd regularly listen to their experiences with our products or services or what expectations we might be failing to deliver.
But now, we seem to really go for it when it comes to collecting customer feedback.
The only thing is that many of us still struggle to figure out how to listen to the voice of our customers, collect their feedback, and turn it into an actionable plan.
The good news is that this is what I'm going to help you with today. We'll discuss six absolutely must-do best practices for the voice of the customer. These best practices will ensure that not only do you collect the right data, but you also use it to your fullest advantage.
So, let's get right to it.
[A quick note before we begin – If you're new to the idea of listening to the voice of the customer, start by checking out my guide to voice-of-the-customer programs in SaaS. The guide will introduce you to the concept of collecting customer feedback, show you the most common VOC methodologies, and teach you how to set up a VOC program for your SaaS. Then, once you've covered all the basics, come back to this page to learn what best practices will help you turn your program into a much bigger success.]
#1. Run the program across multiple channels and methodologies
A VOC program is all about listening to customers and acting on what they say about your brand, product, experiences, customer expectations, and more.
This also means that for the program to deliver meaningful insights, you need to run it across more than a single channel and collect feedback from at least several sources, if not more.
Now, there is a whole range of channels to use. However, personally, I've found the following to deliver the most insightful data for SaaS:
Customer surveys. Surveys like Net Promoter Score (NPS), Customer Satisfaction Score (CSAT), or Customer Effort Score (CES) help you figure out how satisfied customers are with your product.
Customer interviews in which you sit down with your product's users to chat about their customer journey so far, experiences, feelings towards your brand, and more. Unlike surveys and other VOC methodologies, interviews allow you to collect direct and indirect feedback and create a more empathic environment for customers to share their experiences and opinions.
In-person surveys. Surveying customers in person bridges the gap between surveys and interviews. You do meet the person face-to-face. However, you also ask them specific questions, like in a survey, rather than conduct a free-flowing conversation.
In-app surveys. Customer surveys usually reach recipients by email or another similar channel. In-app surveys, on the other hand, display directly in your product. Because of that, these are perfect for collecting highly-contextual information about your product.
Social media. Platforms like Facebook, Twitter, Instagram, and others allow you to passively listen to and monitor what customers say about your brand online. But also, you can join those conversations and uncover deeper insights behind their comments.
Forums and online communities. Similarly to social media, customers often use these channels to discuss products they use and share their opinions about those with others in the community.
Online reviews. Customers also regularly leave feedback on SaaS products on sites like G2 Crowd, GetApp, Capterra, and others. And needless to say, each of those platforms is a true treasure trove of customer feedback. Plus, because these review sites structure app profiles similarly, reviewing them and collecting meaningful feedback from there is relatively easy.
Feedback forms on the website. Feedback forms allow your customers and web visitors to share their opinion about your product or service when they choose to do so. Their power lies in the fact that it is the customer who initiates the feedback. Surveys, in-app surveys, and other methods prompt them to answer your questions. Feedback forms do no such thing. In this method, it is the customer who decides that they have valuable feedback for you and want to share it.
#2. Capture feedback regularly
It sounds obvious, right? And yet, I often see companies running their VOC program once or launching surveys, or tapping into social media conversations on a whim. They might collect some feedback one month, even leave the survey running for another, and then do nothing with it for weeks.
Granted, doing so might still help you collect some useful feedback. But for the VOC program to work, you need to collect this feedback more often.
Customers use your product every day, after all. They might also interact with your brand equally regularly, and each of those interactions affects their experience and satisfaction, builds their customer loyalty, and more.
By collecting customer feedback frequently, you get to hear about it when it happens, remain connected to your customer's needs, and can spot and eliminate problems quickly.
#3. Respond to VOC feedback quickly
Here's the thing about the VOC program – It should matter to your customers as much as it matters to you.
Confused? Well, let me explain.
You see, as customers, we aren't really prone to leaving feedback. It's a fact confirmed by various research studies as well. According to one study, for example, only 1% of customers leave a review daily. Further, 5% leave one review a week, 21% less than once a year, and 20% never leave any feedback.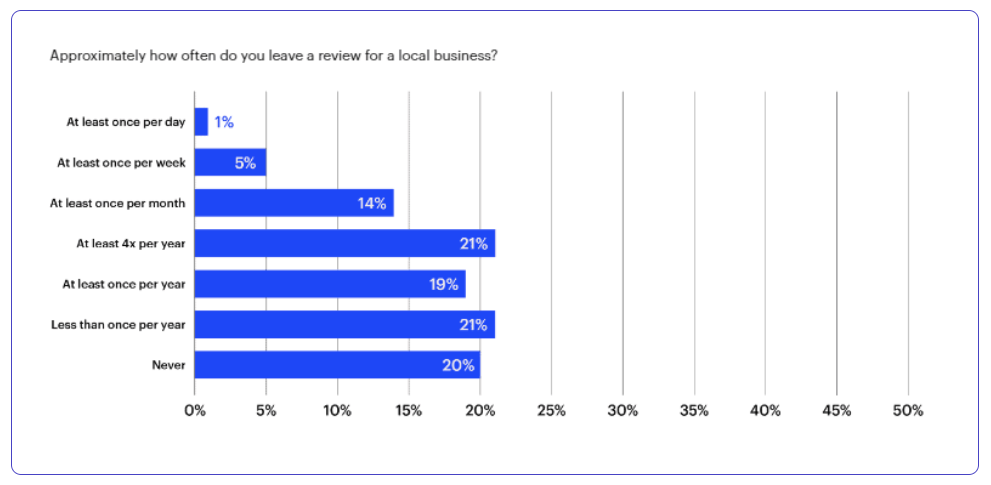 Often, this is because customers don't believe that their voices are being heard. According to the same data source, it is more likely that a company responds to positive feedback than to negative one. And 16% of businesses don't respond to feedback at all.
So, make sure you always respond to VOC feedback. This will make customers feel more confident about sharing their impressions and feedback with you.
One VOC best practice I recommend is to plan and develop a repository of meaningful responses for various types of feedback you might receive. Sure, you can't predict all types of insights you'll receive. But you could envisage at least some of them and have short snippets ready to post to customers quickly.
#4. Share the feedback across the company
It's easy to act on the voice of the customer if you're a solopreneur or work with a handful of people only. I know; I'm in that boat myself.
But it's getting harder when you have teams scattered around the globe, working on their projects in silos, etc.
That's why, I always remind customers that it's as crucial to set your user surveys and other VOC channels right as it is to ensure that everyone in the company has access to those insights.
TIP: Most survey software, like Refiner, for example, would allow you to create reporting dashboards and share them with the team.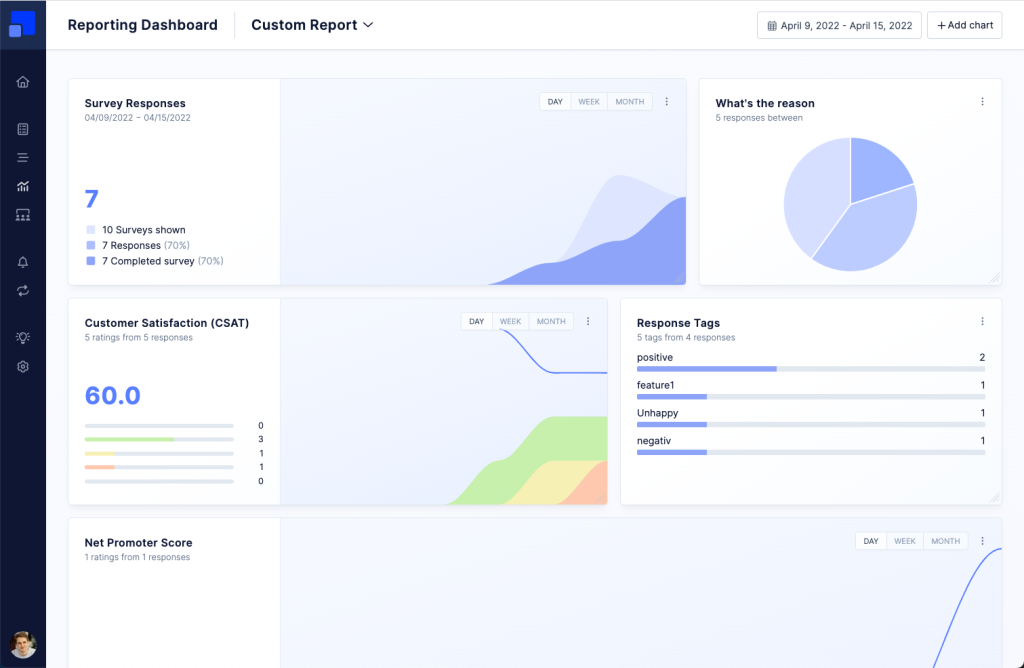 #5. Be strategic with feedback timing
Often, running a voice of the customer program feels a lot like having a dialogue with your customers. In some cases, you initiate the conversation – You pose questions with surveys or polls, send in-app messages, and so on. In others, customers talk first through social media, on forums, on review sites, and by using feedback forms.
Nonetheless, in the end, the process often feels like a dialogue.
That's also why, on your end, you should be quite strategic as to when you're going to initiate the conversation. Bombarding customers with surveys at random is never a good idea. Nor is inquiring about specific aspects of your product or company when customers haven't had any dealings with those recently.
So, be strategic about the timing of your program. Time your requests so that they tie in with specific events that affect customers:
After the onboarding process
After launching major features or product upgrades
Shortly after interactions with your brand, like talking to your customer service team, etc.
After completing pre-defined goals or reaching an activation point, and so on.
#6. Act on the feedback
Now, I hear you: Of course! Duh!
Then again, I often see brands focusing all their attention on collecting insights but spending little time analyzing the data and turning it into an action plan.
Unfortunately, all this data is useless unless you act on it.
So, make a habit of regularly reviewing your VOC insights. Segment them into different categories, like information relating to the product, sales, customer services, and so on.
Then, prioritize items in each category, building an action plan of what you need to improve, implement, or maybe eliminate from each area.
And that's it…
Do these six things, and your voice of the customer program will deliver amazing insights and drive your business forward.
Good luck!