Customer surveys can be an incredible growth instrument for SaaS companies.
If done right! With a customer survey tool that is cut out for the job.
In this article we'll take a quick dive into how customer and user surveys can help you grow your SaaS, and what to look out for when choosing a customer survey tool.
Let's get started ….
Customer surveys are boring? Not so fast please …
Annoying, boring, low response rates, useless response data, …. traditionally customer surveys have a bad reputation.
We are aware of that. And we understand where those resentments are coming from.
But you know what?
We are convinced that customer surveys – if done right – are a fantastic growth tool for B2B SaaS companies.
We are not talking about long form questionnaires, asking tons of boring questions.
We are talking about contextual "micro surveys", shown at the exact right time to the right users, boosting users engagement and conversion rates.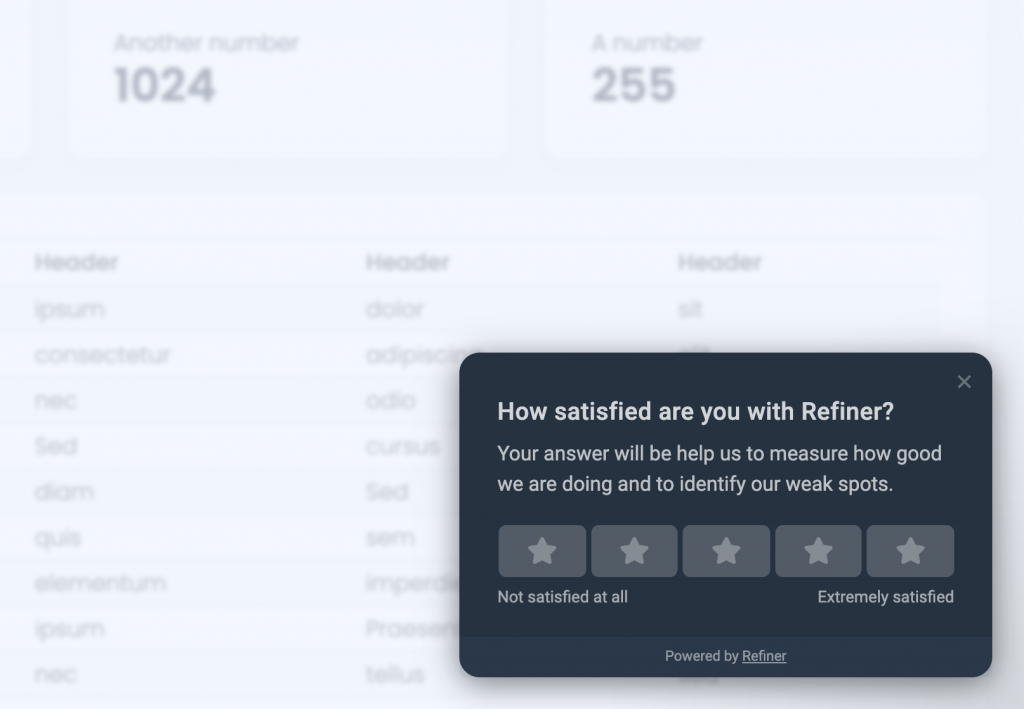 Let's take a step and forget for a moment everything you know about customers survey software. Instead, let's look at four ways customer feedback can help you grow your SaaS.
Four ways to grow your SaaS with customer feedback surveys
B2B SaaS companies can leverage customer surveys in many ways. At Refiner, we identified four essential use-cases for customer surveys in SaaS.
#1 Track customer satisfaction
Identify your biggest fans and users at risk of churning with NPS & CSAT surveys. Learn how to improve and delight your users.
#2 Market research
Discover what your most successful users have in common, what they think and how you can acquire more of them.
#3 Product research
Learn what your power users value most about your product, where you can improve and what to build next.
#4 Enrich customer data
Create better customer segments, identify upsell opportunities and drive ultra-personalized nurturing campaigns.
This is just a quick overview of different use cases. We will go more into detail in upcoming blog posts.
Now that we know how customer surveys can help us grow our SaaS, it's time to choose the right solution.
What to look out for when choosing a customer survey tool for your SaaS
SaaS businesses are a special kind of online business. The inner workings of a B2B SaaS business are completely different than the ones of a B2B eCommerce store selling sandals.
But you know that already.
Still, we witness it over and over again:
Modern SaaS companies choosing a customer survey platform that is not a good fit for them.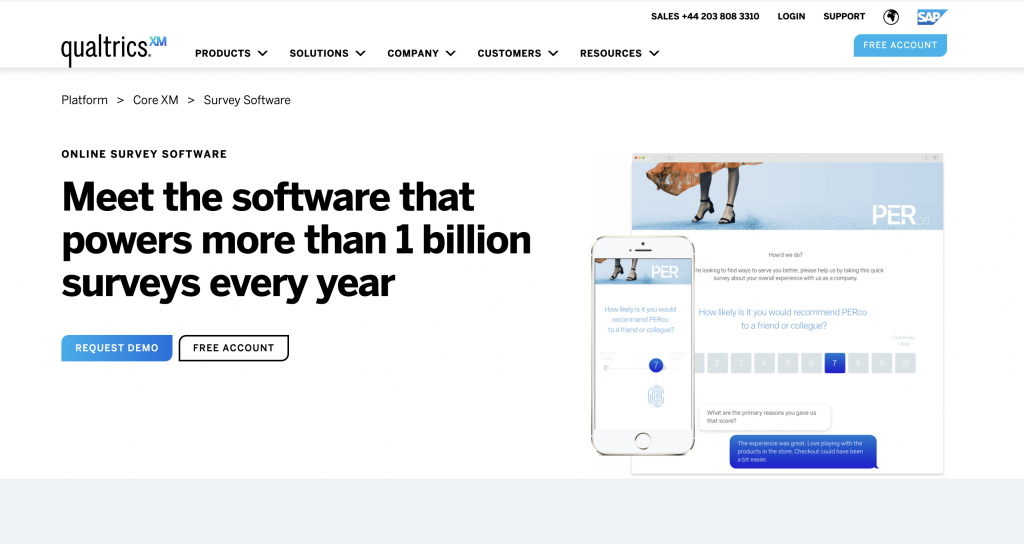 Most of the time it takes them weeks of trying to make everything fit together until they realize that they chose the wrong solution.
The problem with most customer survey software in 2020
The customer survey solutions we know of fall in one of the two buckets.
Generic survey solutions that caters to everybody and nobody at the same time.
Rigid mono-task solutions allowing only one specific use-case (e.g. NPS surveys and nothing else).
Don't get us wrong.
Survey solutions like Typeform are great. And specialised customer satisfaction survey solutions also have their merit.
But guess what … as a fast growing B2B SaaS company, none of the two options are likely a great choice.
What you should do instead is to choose a customer survey tool built from the ground up to meet the needs of a data-led SaaS company.
What makes the perfect customer survey tool for SaaS?
Capturing actionable customer feedback while providing a great user experience is hard. Really hard actually.
Ask the wrong questions at the wrong time and you users won't bother answering your survey. You'll end up with not just low response rates, but also with low quality data.
To get things right, you need a specialized tool.
A tool which lets you ask questions to the right people, at the right time, in the right setting.
But not only.
According to what our we learned since launching Refiner and talking with hundreds of customers, a perfect survey solution for SaaS has the following traits:
Allows you to create any kind of survey (multiple choice, NPS, star ratings, …) and customize it to match your brand colors.
Allows you to target the right customers at the exact right time on the right channel. With in-app survey widgets, email surveys or hosted survey pages.
Supports multiple use cases (see above) and can be used by different teams in your organization (Marketing, Product, Sales, …)
Has a "real time data" approach, allowing you to push survey responses to other tools with integrations
Allows you segment your users and deep dive into your survey data with beautiful dashboard
Provides a quick access to individual survey responses allowing you to act on feedback accordingly (e.g. send the right NPS follow-up emails)
Let yous tie survey responses to individual user profiles and then sync the data to your CRM or ESP
Support "one-off" as well as "always on" survey campaigns. The latter are especially valuable for SaaS companies as they create a constant stream of user feedback.
How does Refiner stack up to those Requirements?
At Refiner, we are trying to build the perfect customer survey tool for data driven and fast growing SaaS companies.
From time to time we get asked why we would develop YET ANOTHER customer survey software.
The answer is simple …
None of the online customer survey tools we know of was designed to meet the needs of scaling B2B SaaS companies.
So let's see how our solution stacks up to the requirements outlined previously in this article.
Our beautiful survey widgets are easy to integrate and fully customizable. They are designed to achieve highest completion rates and get you all the customer feedback you need to grow your SaaS. Promised!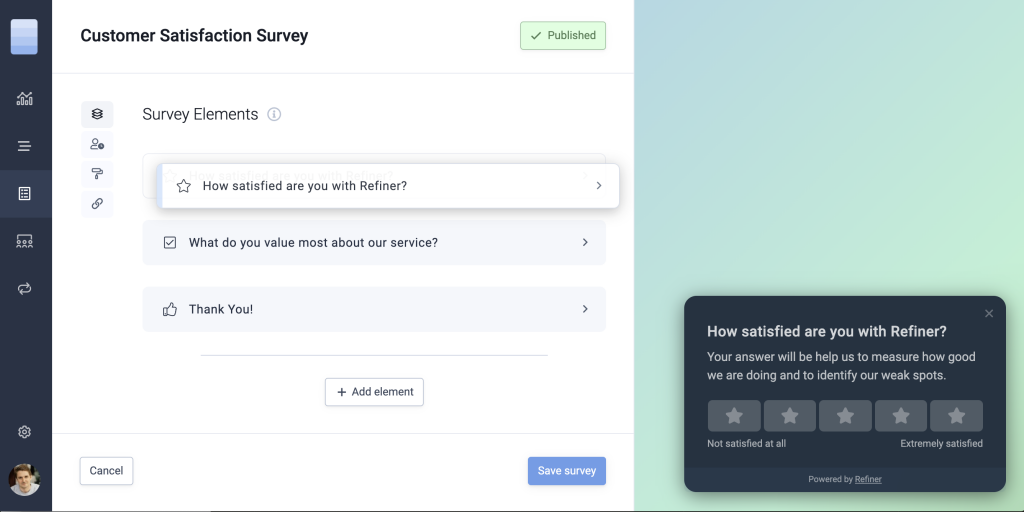 What gets us really excited though are all the ways you can leverage survey data.
Our dashboard lets you drill down into user feedback, correlate it with data from other sources, connect the dots and surface new insights easily.
Our integrations help you turn individual survey responses into real-time actions. Enrich CRM records, trigger personalized campaigns, alert your sales and customer success team, … the list goes on!
This is why we love building best in class survey software tailored to the needs of ambitious data driven online businesses.
Get to know your users
Refiner is a customer survey tool built for data driven SaaS brands. Collect user insights on the fly with our beautiful Micro Surveys. Then, use that data to better segment your users and trigger automations.