Micro Surveys: What they are and how to create your first one
Creating a micro survey with Refiner is easy and takes a couple of minutes only. Before we go through each step of the creation process, let's talk a bit about Micro Surveys first.
What is a Micro Survey?
Micro surveys are surveys that can be completed with only a few clicks. They are usually embedded in a website or shown as a popup survey. They are also commonly referred to as "survey widgets" or "user surveys".
Micro surveys can be used for a variety of use-cases. For example tracking customer satisfaction, market research, as well product feature research.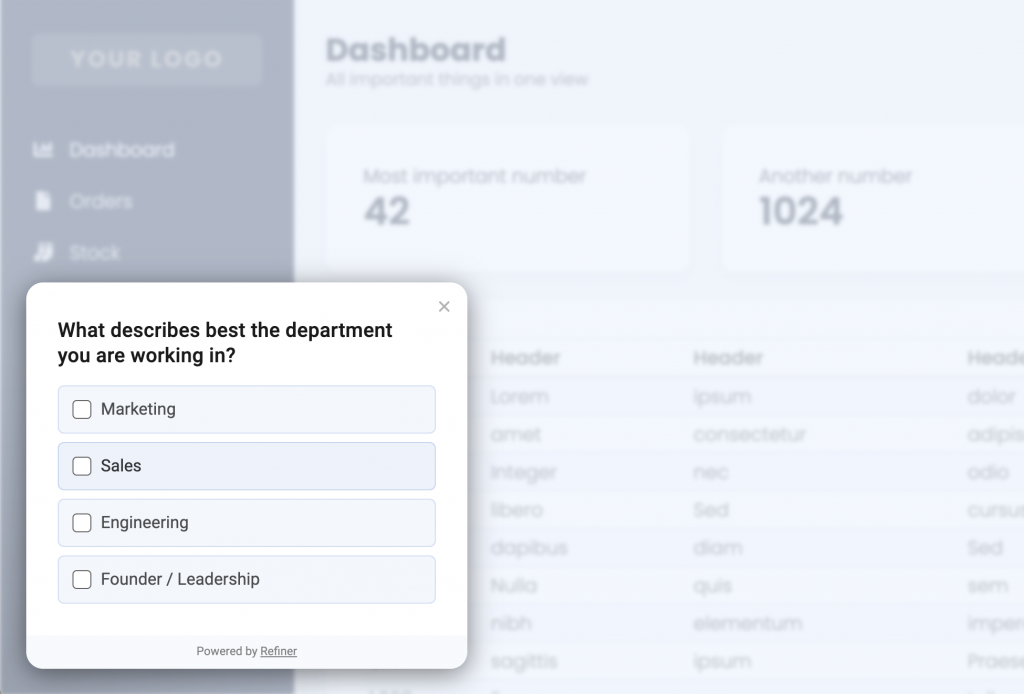 As the word "micro" suggests, they are usually composed of only one or two questions.
At Refiner, we usually recommend that a micro survey should not contain more than 2-3 steps. This is important to keep in mind because each additional question you'll see slightly lower completion rates.
Why you'll love Micro Survey Widgets …
Having the right customer data allows you to increase conversions, better retain your customers, improve your product and much more.
However, capturing accurate and actionable customer data is not that easy.
User analytics tools cannot tap into the users' minds, and collect insights about their impressions or ideas.
Enrichment APIs have low hit rates and usually provide only high level demographic data.
Long form surveys and chatbots have terrible low responses rates.
Even worse, ask the wrong questions at the wrong time and you'll struggle not just with low response rates, but also with low quality data.
This is where decent customer survey tools can help you!
Micro survey widgets allow you to capture contextual and actionable customer data – all while providing a great user experience.
Micro surveys are a great tool to capture all the customer data you need to grow your business.
How to create a Micro Survey with Refiner?
Creating a micro survey with Refiner is easy and usually takes a couple of minutes only. The creation process is composed of the following steps:
Choose a Survey Playbook
Customize your questions if needed
Choose when the micro-survey should be shown to your users
Adjust brand colors and overall appearance
Let's look at each step more in detail.
Choose a Survey Playbook
In this first step you basically choose the purpose of your survey. As mentioned, Refiner supports a variety of use cases. You can also skip this step and create your Micro Survey from scratch.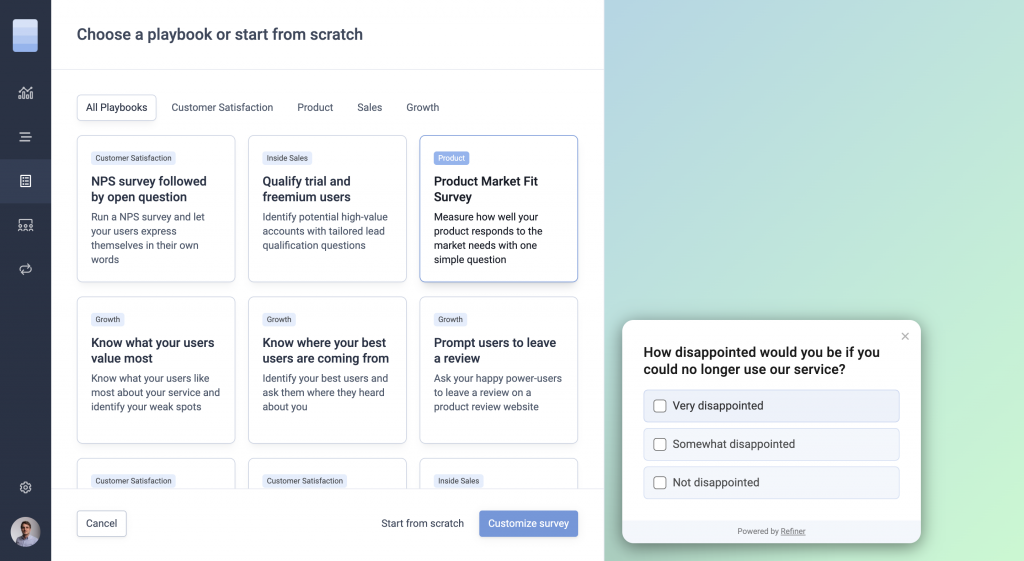 Customize your survey question
If you chose a Playbook in the previous step, your survey already contains questions that you can customize. Clicking on an existing survey question reveals all customization options.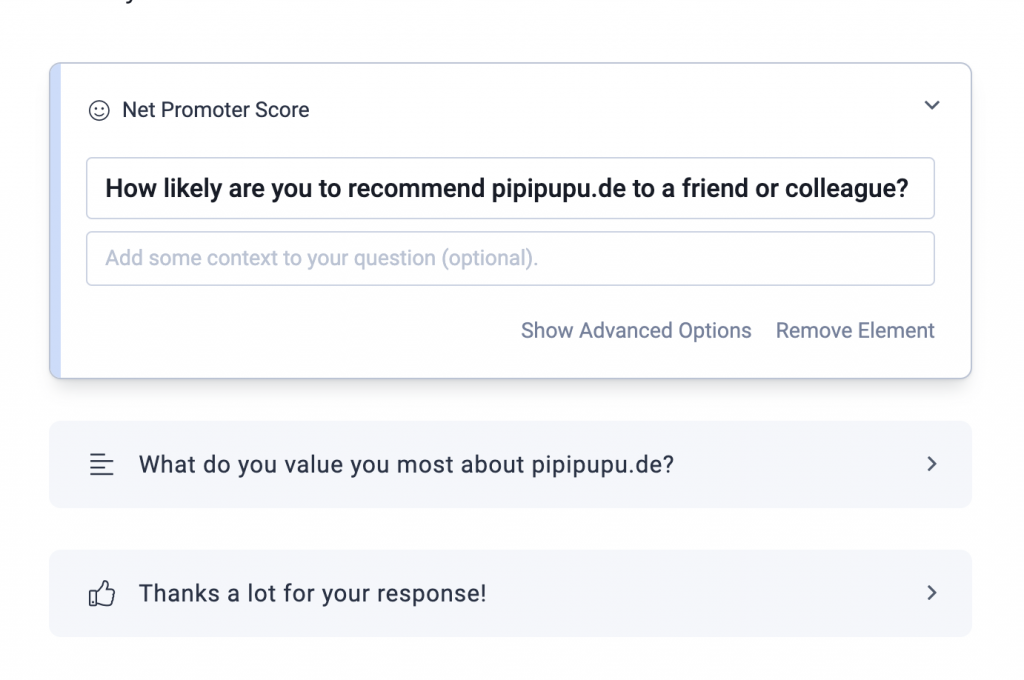 You can also add new survey questions by clicking on "Add element".
You can then choose between different question types, such as Multiple choice, Open ended, Star Rating, and so on.
You can also add Logic Jumps if you want to provide a more sophisticated survey flow to your users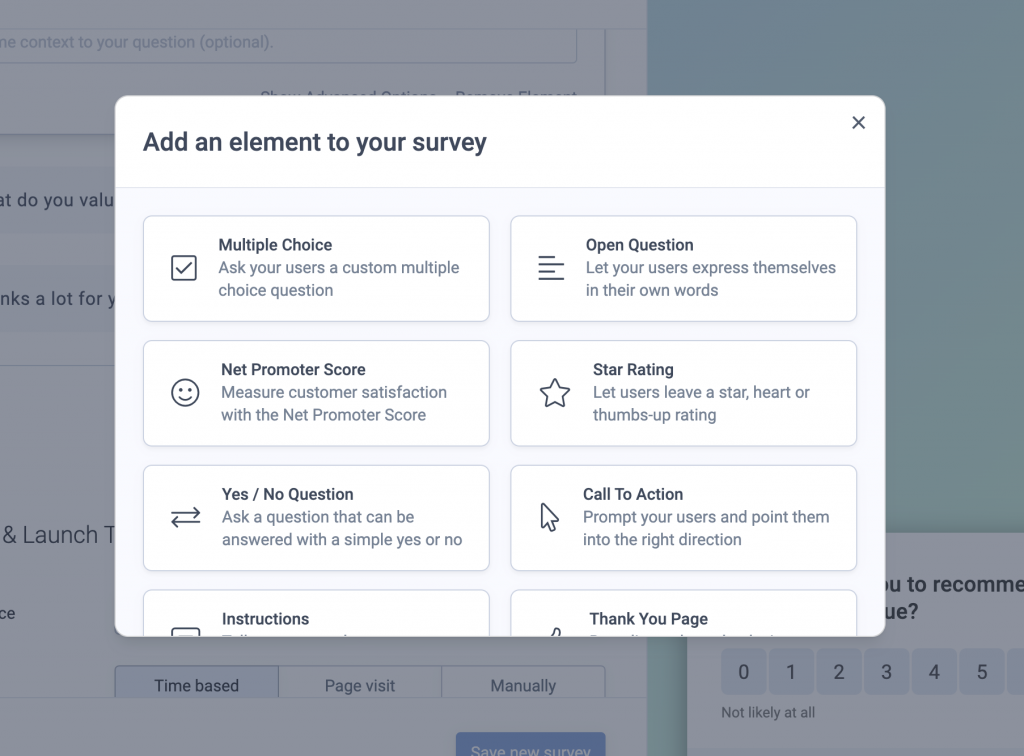 If you scroll down the panel shown in the screenshot above, you can also choose a question from our library.
In upcoming posts we'll cover each question type more in detail.
Choose who should see the survey and when
Surveying the right users at the right time is crucial if you want to achieve high responses rates, collect accurate data and provide a good experience to your users.
This is we dedicated an entire chapter of our documentation to "Targeting & Triggers". For now, let's just stick with the default settings.
Design your micro survey
Next to timing and targeting the right users, the design of a survey can also be a critical factor of a successful survey campaign. Refiner offers various design options and you can learn more about them here.