A simple yet effective method to fine tune the survey experience of your users is to show surveys only on specific pages of a web-app or screens in a mobile app. For example, right after checkout or when they are exploring a new section of your app.
Refiner makes it easy to define on which pages a survey should appear. You can either define a set of "Allowed Pages", or a set of "Excluded Pages". You can also combine the two options to make the targeting even more precise.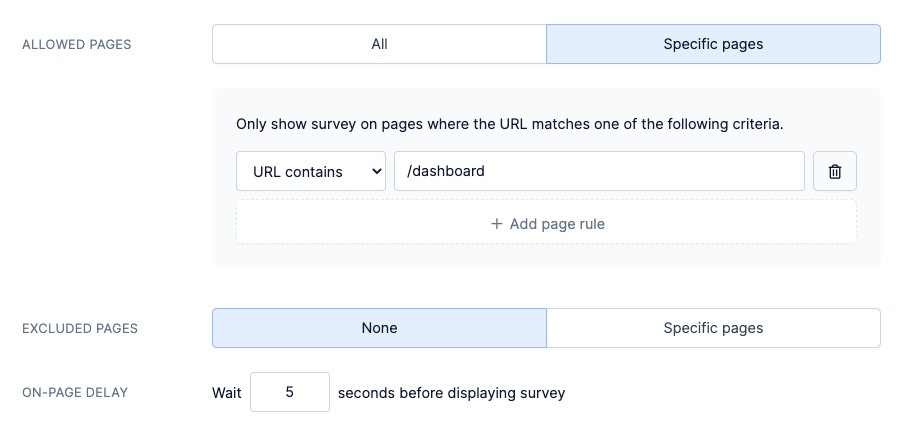 Each rule has a comparison method followed by a comparison value. The supported comparison methods are:
| | | |
| --- | --- | --- |
| Method | Description | Example Value |
| Equals | Triggers on pages where the full URL equals exactly the provided value. | https://app.domain.com/account/billing |
| Starts with | Triggers on all URLs that start with the provided value. | https://app.domain.com/account |
| Contains | Triggers when the provided value is located somewhere in the page URL. | /account/ |
| Matches Pattern | Triggers on URLs that match a provided wildcard pattern. You can use * to indicate that variable parts of a URL. | https://app.domain.com/*/something/* |
When you add multiple rules, a match occurs when at least one rule returns a positive result.
In the Page Rules section you'll also find an On-Page Delay option which gives you the possibility to slightly delay the display or your survey. Usually, setting the delay to 3-5 seconds is a great way to give your users some time to settle in, without risking lower response rates.