Get your Embed Code
Refiner is not sending emails on your behalf. Instead, we provide you with a HTML code snippet that you can use with your current email marketing solution (Mailchimp, Customer.io, Drip, Hubspot, …).
Generating an HTML embed code for your survey is easy. In the survey editor, navigate to the tab "Embed Code".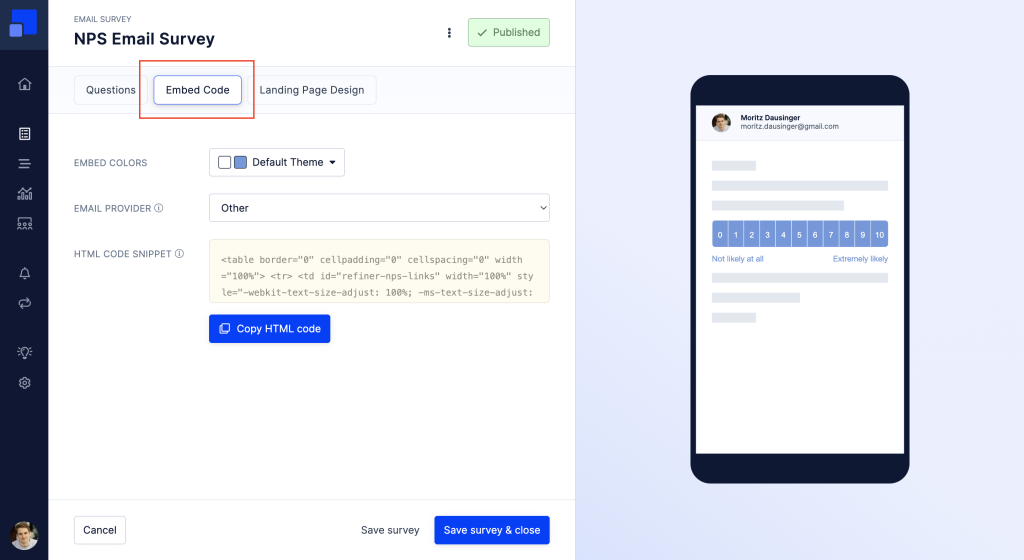 If you don't see the "Embed Code" tab, please make sure that the distribution channel of your survey is set to "Email Survey".
You can choose the color scheme of your embedded survey. When changing colors, you'll see an updated survey preview on the right side of the screen.
As a next step, choose your Email Service Provider (ESP) and copy the HTML code to your clipboard. Choosing your ESP will ensure that the HTML code contains the right tags to identify the recipients of your emails.

If the solution you are using is not listed below, don't worry. You can still embed our surveys in your emails as explained below and here.
Finally, paste the HTML code to a template in your email sending solution. The process of using HTML code snippets in an email differs for each provider. Below, you'll find a list of all supported providers and with links to more information.
List of supported providers
When generating your email survey HTML code, you can select one of our supported email services.
When you select a supported provider, provider specific tags will be added to the HTML code. More specifically, a tag which will include the email address of your recipients is added to all links in the HTML code. Doing so allows us to identify your users when they fill out a survey.
Here is a list of email services for which we can automatically generate a provider specific HTML code:
Drip
Klaviyo
Mailchimp
Mailjet
Sendinblue
Sendgrid
Zoho Campaign
Zoho CRM
Your provider not in the list? Don't worry!
Embedding the survey HTML code snippet works with any email marketing solution that supports HTML email. So basically all of them.
If your email service is not in the list, let us know and we'll check if we can easily add it. You can generate a generic HTML code snippet by selecting "Other" as email provider.
The difference between the generic and provider specific HTML code snippets is that the generic one doesn't include tags to identify your users. All survey responses will show in Refiner dashboard without an email address or name attached to them.
If you still want to make sure that survey respondents are identified correctly, continue reading about how you can customize the email survey embed code.