Introduction
There are many use-cases for which in-app survey widgets don't work and where email surveys are the next best option. For example if you want to survey users that stopped using your SaaS app.
Refiner allows you send surveys by email we'll cover everything you need to get started in the following sections.
But before we dive in, there is one important thing to mention: Refiner does not send emails on your behalf.
Instead, we generate a HTML code snippet for you which you can copy & paste into any HTML email template.
We think this method is far superior than letting Refiner send emails. You can read more about our reasoning below.
How do email surveys work?
As mentioned above, Refiner does not send email surveys on your behalf. Instead, we provide a HTML code snippet which you can use with your current email sending solution.
Once you inserted our HTML code snippet into your emails you can send them to your contact list like any other email campaign.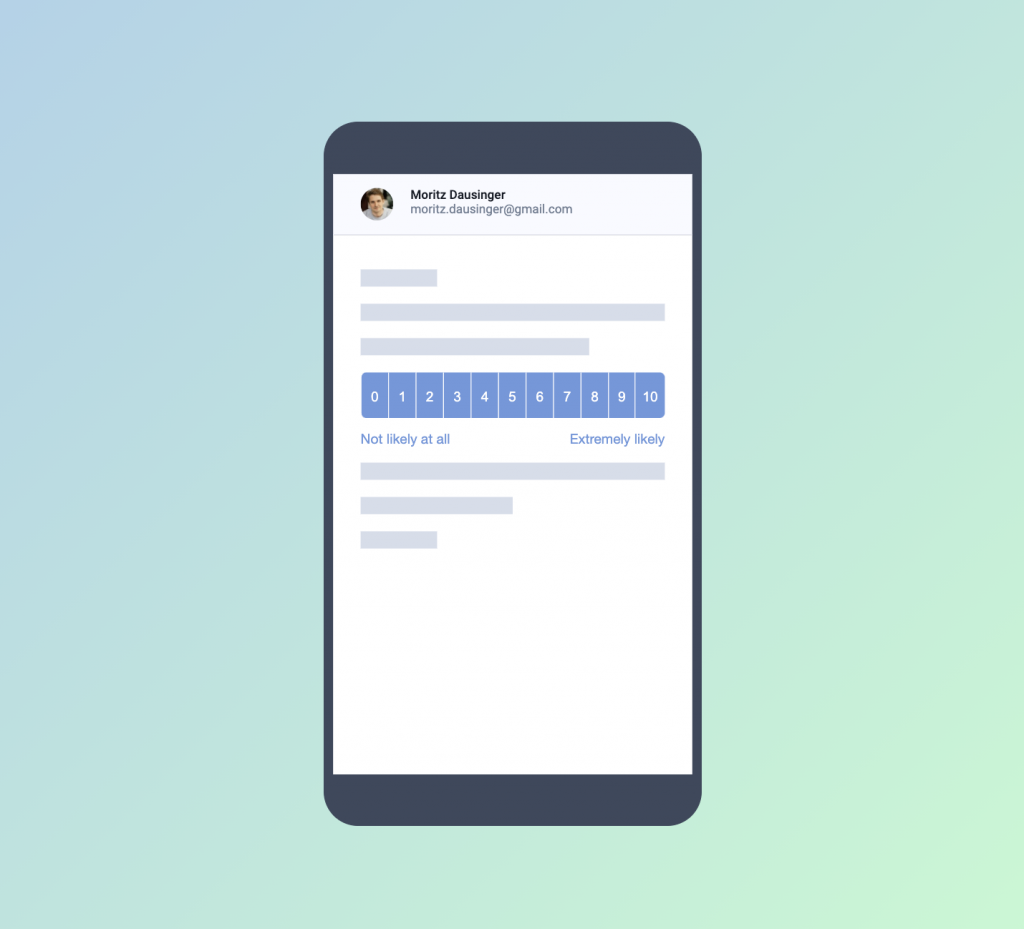 Your users receives an email coming from you – using your branding and email address – with an embedded email survey as shown in the example above.
Users then click on one of the responses of the survey, which then brings them to a survey page hosted by Refiner.
Unlike using a simple link pointing to a survey, clicking on an embedded email survey will automatically prefill the first question on the survey page and also identify your users. In other words, you are collecting data right from the first click and you'll know which user responded.
Advantages of using your own ESP
There are a number of reasons why using your own Email Service Provider (ESP) makes much more sense than letting Refiner send emails for you.
First of all, you most likely already have and email marketing solution (e.g. Mailchimp, Hubspot, Customer.io, Drip, …) in place. Adding yet another solution to send out emails is just adding unnecessary overhead.
Secondly, providing a reliable email sending service is hard. There are great solutions on the market and we have an utmost respect for their work. Let's not reinvent the wheel.
Third, when sending emails through your existing emailing solution, you can leverage all the assets (templates, visuals, …) and contact data you already have on record. You basically continue doing what you already do, but with the super power of embedding a survey to your emails.
And finally, the method we provide works with literally any email marketing provider that allows you to insert a piece of HTML code.