Introduction
Our Customer.io integration makes it easy to send survey data from Refiner to your Customer.io environment. The integration allows your to track survey interactions (saw, dismissed and completed survey), as well as adding survey response data as traits to contact profiles.
Use survey data in Customer.io
Many customers of Refiner are launching microsurveys not only within their SaaS apps, but also leverage other distribution channels, such as sending surveys by email.
Sending a simple email survey campaigns with Refiner and Customer.io is quite straightforward. All you need to do is to create a new email campaign in the email tool that you are already using and embed a HTML code snippet provided by Refiner.
But what if you want to go one step further and send perfectly timed survey campaigns based on previous survey interactions?
This is when integrations like the one with Customer.io come into play.
Having all survey interaction information and survey responses in your Customer.io accounts opens up a ton of powerful use-cases.
One popular use case would be to track when a user saw an in-app survey, but didn't complete it. You could use that information to send an automated follow-up email – containing the same survey – a couple of days later.
Another popular use-case is to segment users based on their survey responses and send targeted follow-up campaigns. For example to send personalized NPS follow-up emails.
Push survey data to your Customer.io account
Setting up data synchronization from Refiner to Customer.io is simple. To get started, click on "Connect Customer.io" in In the Integrations section of your Refiner project.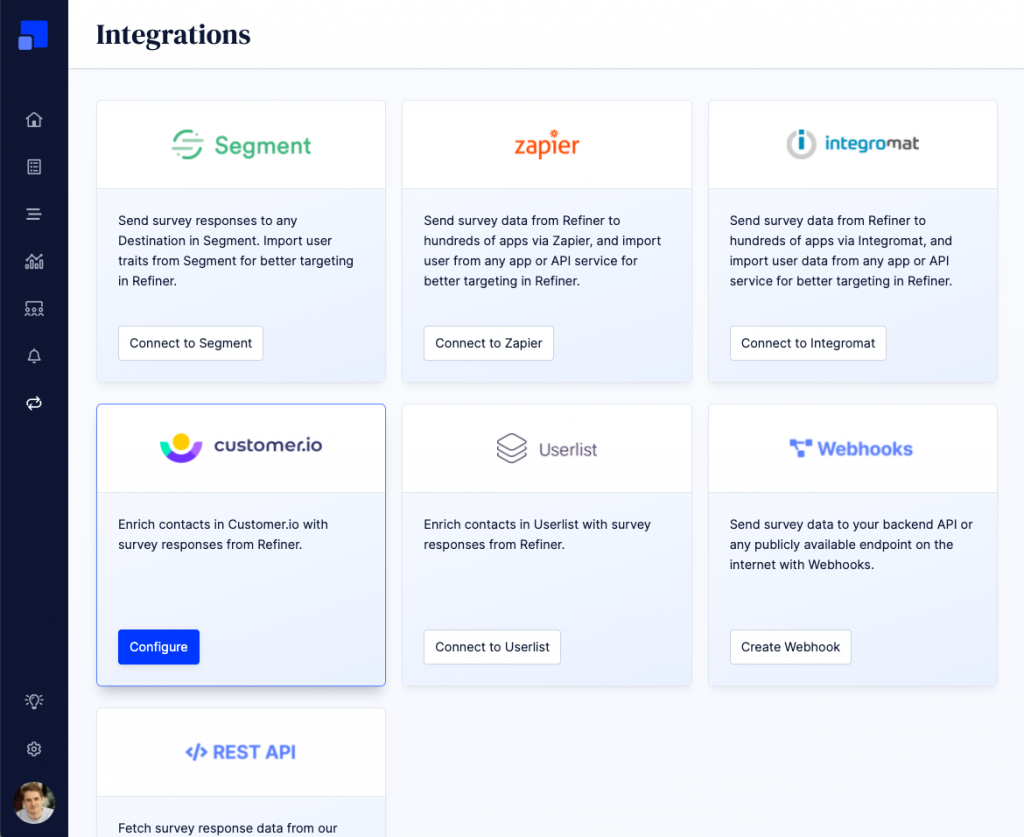 You'll be prompted to copy & paste your Customer.io Site ID and API Key. You can find your API credentials in the settings of your Customer.io environment.
Next, you'll need to tell us which data attribute in Refiner holds the User ID that you are using in Customer.io. In most cases, the User ID you are using to identify users in Refiner and Customer.io are the same. If this isn't the case you can choose any attribute in Refiner as the unique identifier for your user, for example the user's email address.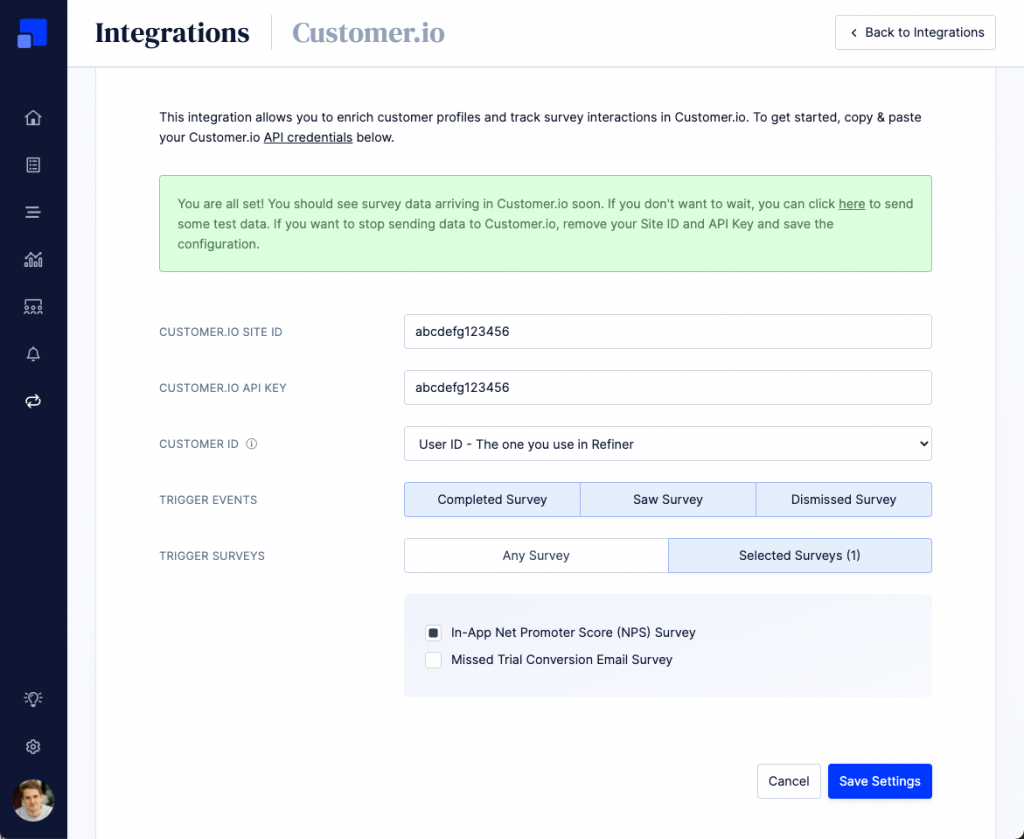 Finally, you can choose which events you want to track (saw survey, dismissed survey, completed survey) and for which surveys we should activate the data synchronization.
Send Email Surveys with Customer.io
Refiner does not only provide a data integration with Customer.io, but also makes it easy to actually embed surveys in emails sent with Customer.io. Learn more in our dedicated guide on how to send surveys with Customer.io.