What are data driven segments?
A data driven segment, is a group of users that is dynamically updated based on conditions you define. Data driven segments are updated automatically, whenever we receive new user data. Users enter or leave a data driven segment as soon as they match the conditions of the segment. If they don't match the conditions, they'll be removed from the segment.
What data can be used to create a segment?
You can add as many filters as needed to define your segment. We also support filter groups that allow you to create deep user segments based on various traits.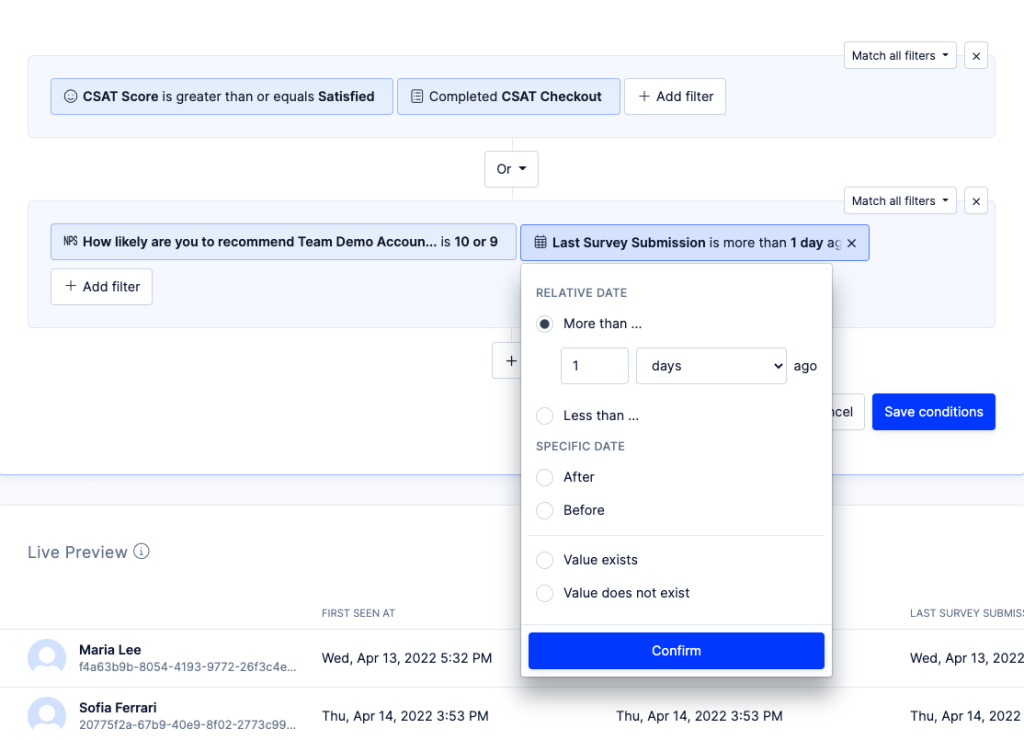 Our segmentation engines allow you to create segments based on different data points; notably, you can use:
Your user data which we received when you identified the user with our client library.
User events that we received through our Web client or Mobile SDKs, our REST API, or one of our integration (including Segment, Zapier, and more).
Survey responses given by a user.
Auto-generated fields like "first seen" or "last survey response".
Past survey interactions like completing or dismissing a survey.
Create a data driven user segment
Creating a data driven user segment in Refiner is straightforward. Follow the steps below to create your first user segment.
First, navigate to the "User Segments" section in your Refiner project. In the top right corner of the page, click on "Create segment".
Set a name and description (optional) for your segment and choose "Data Driven Segment".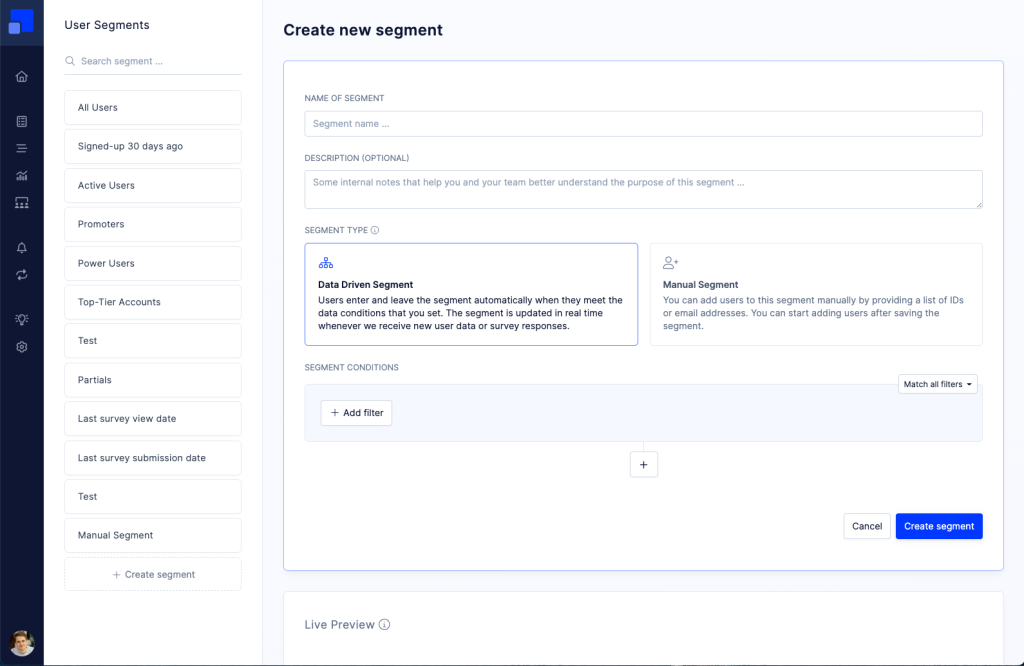 You can now add any combination of data conditions to define your user segment. Refiner supports filter groups which allow you to create deep user segments based on various traits.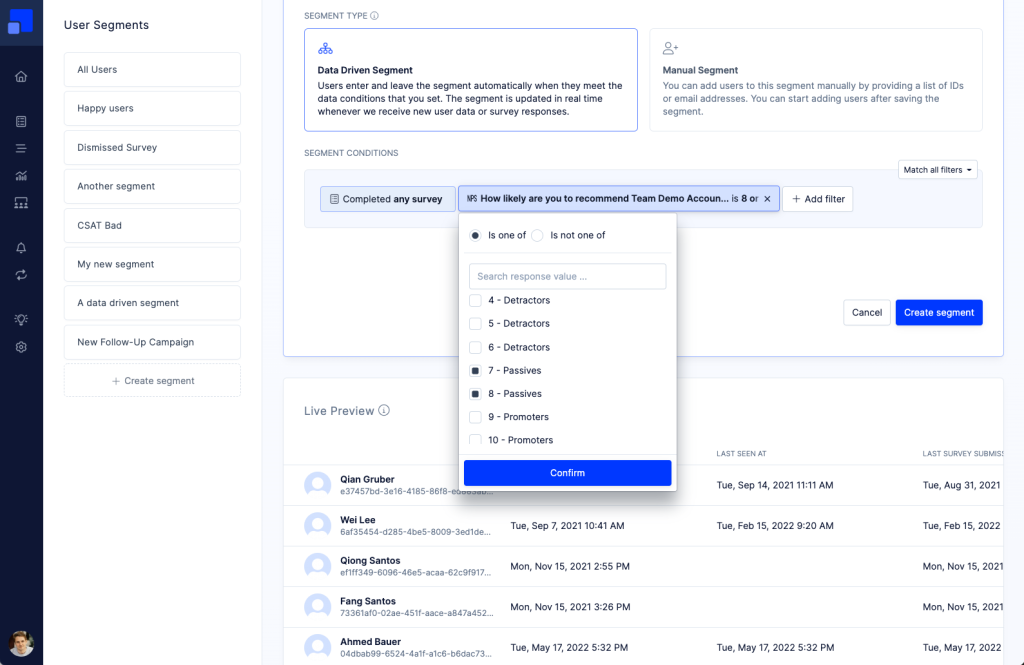 When adding conditions, Refiner will automatically show a sample of users that match your conditions in the bottom of the screen.
Once you save your new segment, we'll go through all user profiles in your project and check for each of them whether or not they match your filters. The same happens when you update an existing segment. Depending on the size of your user base, this process can take up to a couple of minutes.
Update a data driven segments
In the top right corner of any data driven segment, you'll options to update conditions, edit the name and description, copy or delete a segment.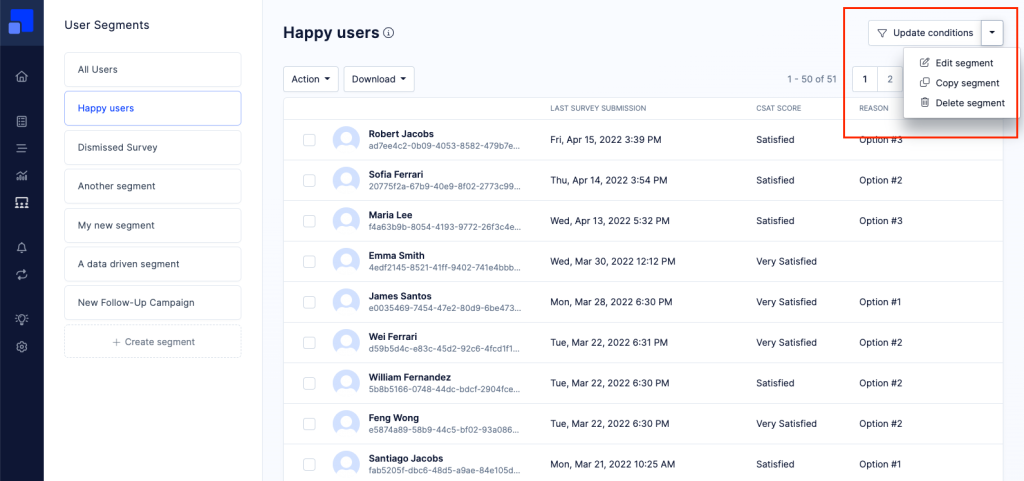 When are segment affiliations updated?
Our segmentation engine checks if a user belongs to a certain segment, whenever a significant event is happening.
Events that lead to checking if a user matches a segment include:
They logged in to your app and we received an "indentifyUser" call
A user saw, completed or dismissed a survey
We tracked a new event for a user
You created or updated a segment in the Refiner dashboard
When you create or update a segment in your Refiner dashboard, we'll go through the entire list of users and check for each of them individually if they match your segment. Depending on the size of your user list, it can take up to 20 minutes to check all users.
When a user enters a segment, we'll trigger integrations (e.g. Slack alerts, Webhooks, etc.) that have the segment listed as a trigger event. However, we won't trigger integrations when you just created or updated a segment and we bulk check all your users.