Introduction
You can think of Environments as logically separated workspaces that each have their own set of surveys, user data and API keys.
Most of our customers use Environments to create a dedicated workspace for Testing and Production. However, Environments can also be used to manage multiple apps under one account. 
Create a new Environment
You can create multiple environments within your Refiner account. The number of environments you can create depends on your subscription plan.
To create a new Environment, expand the left sidebar by clicking on the Refiner icon, then click on the Environment Dropdown next to it. Choose "Create Environment" and follow the steps of the creation process.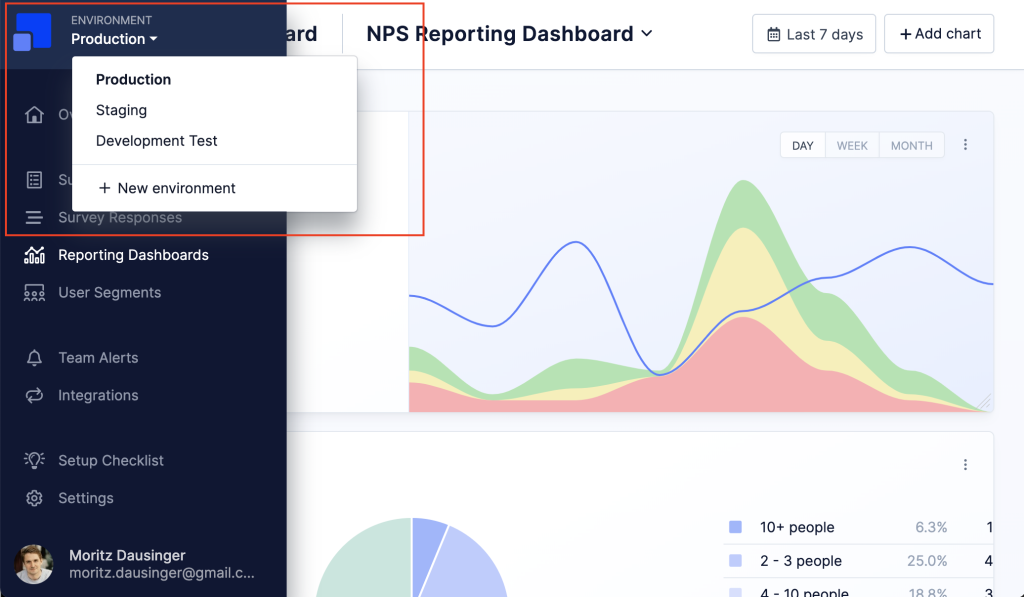 Switch Environments
You can switch between environments or create a new one in the navigation sidebar. Click on the Refiner icon to expand the left sidebar, then click on the name of the current Environment to show the list of Environments.
Delete an Environment
Deleting an Environment can be done from within the Environment Settings. Click on the gear icon to access the Environment Settings, then locate the red "Delete Environment" button.
Copy Surveys between Environments
If you prepare survey campaigns in one Environment and want to use them in another one, you can copy them between Environments. Locate "Duplicate Survey" in the survey action menu ("⋮" icon), then choose the target Environment as shown in the screenshot below.