In June, our customers launched hundreds of customer satisfaction surveys and collected over 40k responses.
But just like these surveys delivered great news for some, many of those companies may have also heard the opposite – Through their feedback, customers told them that they were not happy.
Some rated the companies' overall customer experience poorly,
Others indicated their dissatisfaction with product quality, and
Many complained about how far off the company is from meeting their expectations.
That's hardly the news anyone wants to get, of course.
But it happens. It so does…
Now, as pompous as it may sound, in such a case, the only way forward really is to pull up your sleeves and start improving the CSAT scores.
If you're in that situation now, I have at least some good news for you – Below, I've shared eleven actionable ideas that will help you do it.
But let me be clear: None of these ideas are easy to do. Sure, some focus on finding answers rather than physically implementing or changing something about your business, but even in that case, these tasks are not easy.
They do work, though.
Put the effort into them, and you're guaranteed to have more satisfied customers. And needless to say, that's going to affect your CSAT scores too.
Here are the ideas for improving CSAT that we'll cover:
Setting clear goals and objectives for your CSAT
Auditing lower CSAT scores to look for patterns or themes
Identifying customer touch points that generate low CSAT
Identifying audience segments that rate their experience and satisfaction low
Reaching out to those lower-scoring customers for more feedback
Investing in customer service training around problem areas
Personalizing customer experience
Improving the self-help options you offer customers
Running regular QA checks
Reacting to negative feedback
Creating a proactive support plan
It's a lot to cover, so let's dive in.
11 Ways to Improve CSAT Scores
#1. Set clear customer satisfaction goals
I know, I know; you've probably heard the word, goals, enough to last you a lifetime, and you certainly didn't come here to hear it again.
But hear me out, please. Because it's actually super hard to refute how instrumental customer satisfaction goals are in improving CSAT scores.
In fact, clear customer satisfaction goals – like reducing the average response time, for example, boosting NPS, or increasing product ratings – are directly linked to the feedback customers give on the CSAT score.
Let me explain this further using the three examples of goals I mentioned above.
Reducing the average response time. When customers receive quick and helpful responses, they feel valued and appreciated and have a positive perception of the company and its service levels. And that's, ultimately, going to reflect in higher CSAT scores.
Increasing NPS. When customers are satisfied and have a positive perception of the company, they are more likely to recommend its products or services to others. This positive word-of-mouth and increased customer loyalty contribute to a higher CSAT score as more customers express satisfaction with their experiences.
Achieving higher product ratings. By focusing on improving product or service ratings, the company actively works to address any quality or performance issues. Satisfied customers are more likely to give positive feedback and higher ratings, which, in turn, leads to increased CSAT scores as the overall customer sentiment improves.
But as I'm sure you've realized already – None of this can happen without you first setting up your customer satisfaction goals.
#2. Audit lower CSAT scores for patterns and themes
One of the biggest misconceptions about CSAT is that it's a singular score. What I mean by this is that we often look at CSAT as a single number without digging a bit deeper into it.
For example, most people I know would look at this CSAT dashboard and feel pretty good about themselves.

Without a doubt, 87.8 is a great score.
And yet, it includes some negative (and neutral) responses too. It looks like someone didn't like something about the company's checkout process.
Now – What is the chance that this negative feedback holds the key to unlocking higher scores?
Well, huge!
Take a look at this list (note – since this is a screenshot of an actual survey, I had to cover the options. But I'm sure you can imagine that these would contain quite valuable information about the reasons for these customers' dissatisfaction.)

Now, imagine a low CSAT score. The number of negative replies would greatly outweigh the positives there. And needless to say, these negative responses could help you understand what you're doing wrong.
So, if you're in that situation, go beyond the overall score and review the negative feedback.
Look for patterns. This is quite easy to do if you've used a multiple choice question as a follow-up.
Check for any themes in individual comments too. See if any issues come up over and over again. Look for negative words, or references to your product, its features, the service.
All of this will help you understand better what factors cause customer dissatisfaction. And let me tell you – Such feedback alone is often enough to get you back on the right track.
#3. Identify touch points that generate low CSAT
Another way to analyze negative feedback is to look for touch points that cause customer dissatisfaction. You have several ways to do it, actually.
Look for mentions of different touch points in customer comments. For example, here's feedback referencing customer support not being reactive enough.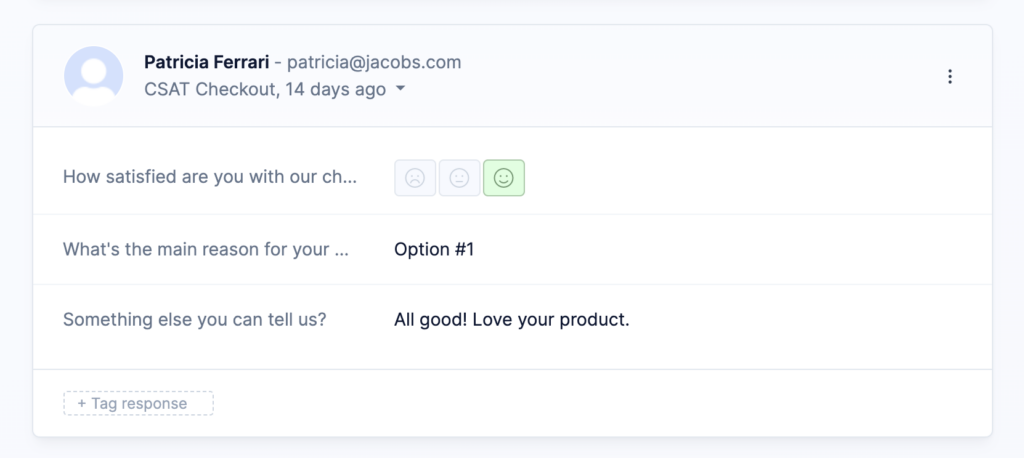 You could run dedicated CSAT surveys focusing on different touch points. Note how the example in the previous section asked about the checkout process, specifically.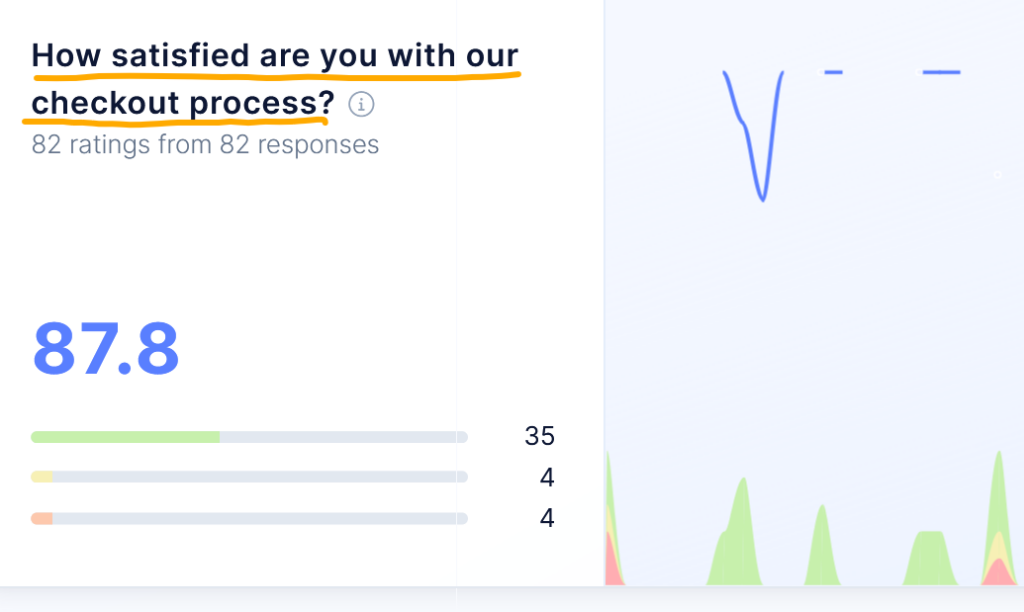 TIP: Once you've identified potentially problematic touch points in customer feedback, run dedicated surveys to dig deeper and uncover what specifically frustrates customers about those.
#4. Identify audience segments that rate their experience and satisfaction as low
You know – There is a possibility that your CSAT scores come from a specific audience segment only. It's a rare occurrence, but it can happen, and I recommend you analyze your feedback from that angle too.
There is a reason for that – You should know who rates their satisfaction low. These might be highly-lucrative customers; in that case, you should put all the effort into improving your CSAT scores. But these might also be less lucrative customers (i.e., free plan users only who would never convert to a paid plan.) In that case, you might choose to put your efforts elsewhere.
#5. Reach out to lower-scoring customers for more feedback
I know; this is a no-brainer. But it's also one of the hardest things to do for many.
It's easy to talk to someone who loves your product, after all. You know that you'll hear praise that will make you feel good about yourself, your product, or the company.
Negative feedback, on the other hand, usually has just one effect – It knocks you down. Big time.
The thing is – Sometimes you just have to face it. You have to talk to people who don't enjoy using your product, feel frustrated by it, and perhaps even wish they'd never discovered it in the first place.
Because as soul-crushing as it might be, when you talk to dissatisfied customers you:
Demonstrate your commitment to make things better. Sometimes even that one thing alone is enough to convince someone to give your product another chance.
You show that you seek direct feedback and want to rectify your shortcomings.
You tell customers that their opinions matter, and that's also the first step to fostering trust and loyalty, and so on.
In short, you take proactive steps to improve their experience. And that, in turn, will lead to higher CSAT scores too.
#6. Invest in customer service training around problem areas
A quick note before we move forward – All the ideas we covered so far focused on gaining insights to help you improve the CSAT score. From now on, however, we will talk about the execution and see how you could use those insights to start getting better CSAT survey results.
And the first idea to consider is to organize more training around customer service. Because, more often than not, that's what's causing customer dissatisfaction. Slow issue resolution, slow response times, or a perceived lack of empathy from your team can make someone feel unvalued. That, in turn, will result in low satisfaction with your service.
Customer service training will help your teams understand their customer needs better. It will foster better communication, improve communication skills, show team members how to handle difficult situations, boost their product knowledge, and more.
Sure, it might take time to go through it all, but the result will be a much better functioning service department and happier customers.
#7. Personalize customer experiences
In general terms, the term – personalizing customer experience – refers to tailoring interactions and touchpoints to meet the individual needs, preferences, and expectations of each customer.
But of course, we need to look at it through the issue of improving customer satisfaction. And in this context, such personalization involves using customer demographics, buying behavior, past interactions, and other relevant data to understand individual customer preferences and needs.
Such insights allow you to establish personalized communication with each customer. This may include personalized greetings, using customer history insights to deliver personalized customer service interactions, communicating with customers through their preferred channels, better empathy and understanding of their needs, and more.
There are many examples of personalized experiences:
HubSpot offers personalized customer onboarding, for instance. The company also uses a personalized support triage system in which HubSpot's support team uses customer data to prioritize and route inquiries to the most appropriate specialists, ensuring faster and more relevant responses to individual customer needs.
When you book a demo with CELUM, a DAM platform, the company asks you to provide some initial information about your challenges and tailors the demo to your specific needs.
Asana offers personalized project templates and workflow suggestions based on a team's specific needs, streamlining project management and collaboration.
#8. Create mind-blowing self-help options for customers
I know – We used to shy away from having customers self-help their issues. But these days, that's exactly what they want to do!
For example, in one of their research studies, Zendesk discovered that
91% of customers would prefer to use an online knowledge base (providing that it would meet their needs – please keep that part of the data in mind when reading on.)
67% said they preferred self-service over speaking to a company's representative
75% said that self-service is a convenient way to address customer service issues.
Microsoft discovered similar sentiments. The company discovered that more than 90% of consumers expect brands or organizations to have an online customer self-service offering. (Link to the report.)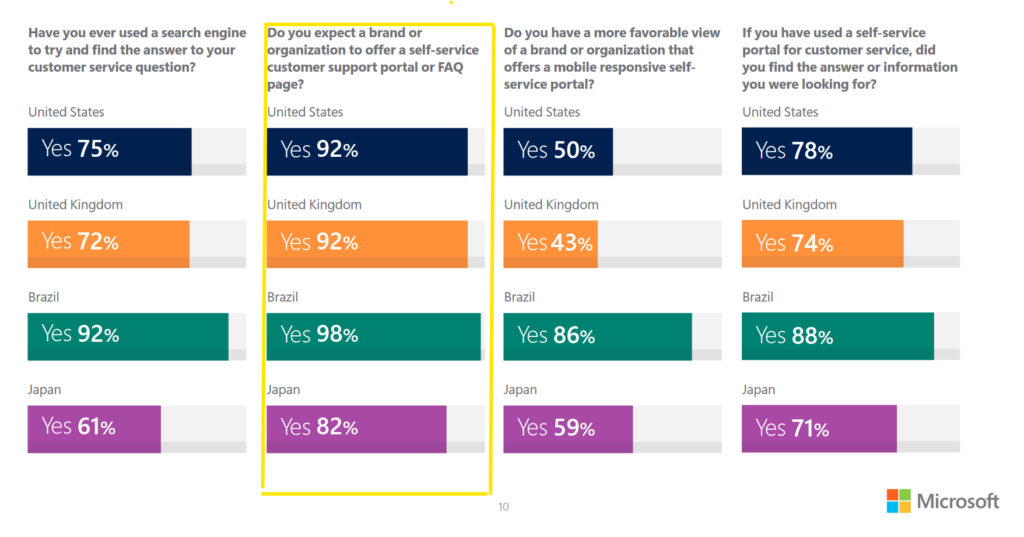 But why is the self-help option so important to customers?
Well, for one, because it eliminates the most irritating aspect of customer support – Waiting times. With the self-help option, customers also don't have to explain the issue to one agent after another. They go straight for the answers they need.
In other words, your self-help portal, knowledge base, FAQ section, etc., will provide customers with instant access to the information they seek. With it, customers will be able to solve their issues conveniently whenever they need to, and as a result, perceive your company as efficient and customer-centric. Full stop.
And by the way, I'm not theorizing here. I understood this early on with Refiner and invested in building a thorough documentation for customers. Our guides cover all aspects of using Refiner, and customers can access those from within the app with ease.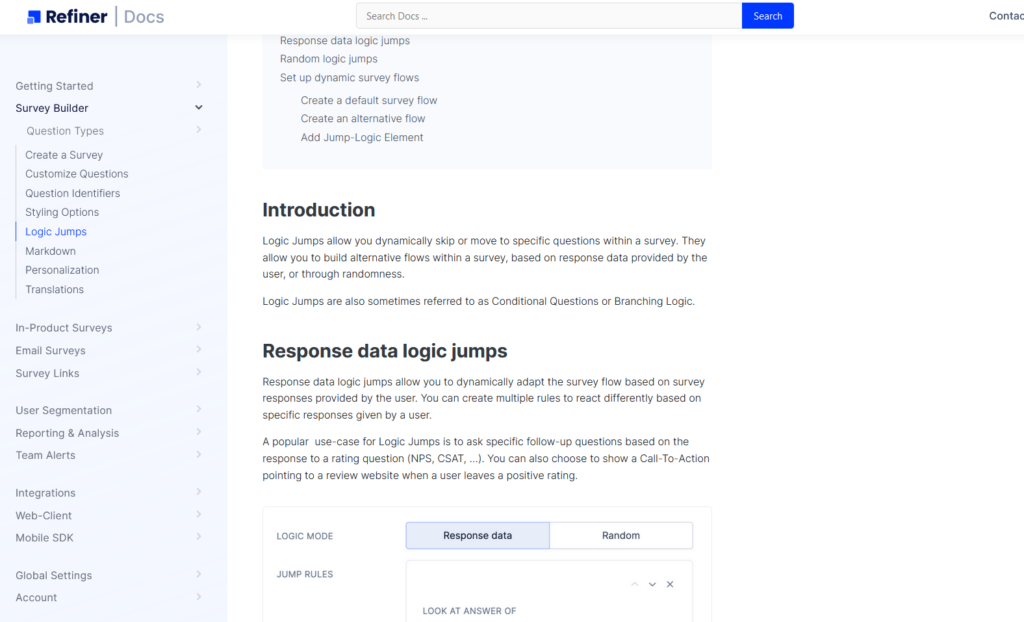 #9. Run regular QA (quality assurance) checks
I agree – "Quality assurance" sounds like one of those seemingly meaningless terms so often thrown around within organizations. But it's none of that. Having a quality assurance process (or framework, as it is also often called) means that your teams deliver consistent and high-quality interactions and experiences to customers every single time.
But for that to happen, you first need to create the quality assurance framework. And then you need to run regular checks to ensure that it gets implemented in every customer interaction.
Now, we're not focusing exclusively on QA in this guide, of course. But let me give you a quick run-through of what your quality assurance framework should include:
The definition of your customer standards. This pretty much outlines the experiences you want to deliver to customers every time.
Monitoring customer interactions to assess adherence to quality standards.
Collecting customer feedback through surveys to understand your customer satisfaction levels, and so on. (TIP: Refiner is a software created specifically for that.)
Assessment and identification of improvement areas.
Training around problem areas and more.
#10. React to negative feedback
Earlier on, I called reaching out to customers who rated you negatively as one of the hardest things to do.
But I tell you something, replying to their negative feedback and reviews is even harder.
Why? Well, for one, because, in this case, you're replying in public. Whatever you say will affect your audience's perception of your business.
At the same time, you have to react to negative feedback too.
Naturally, there is no one-size-fits-all way to address negative feedback. Sometimes offering an apology is enough. Other times, you might have to go far beyond that, contact the customer, get more information about what happened, and act to remedy the situation.
So, as cliche as it might sound, you really do have to approach every negative review individually.
Overall, however, you should always react and respond to them, no matter how painful doing so might be.
#11. Create a proactive support plan
When you take a proactive approach to support customers, you simply anticipate and address their needs, queries, and challenges before they even arise. One way to do that is by providing self-help resources, which we already discussed.
Other proactive support options that you could consider include:
Onboarding assistance to guide new users through the intricacies of your product. You could even dedicate a small part of your onboarding sequence to those elements of your UI or product that typically cause the most challenge. Even explaining how to use a product would help increase the success of new customers and boost your CSAT as a result.
Here's a wonderful example from my friends at Userlist. See how their initial onboarding email immediately focuses the person on the most important tasks they should be doing to succeed with the product.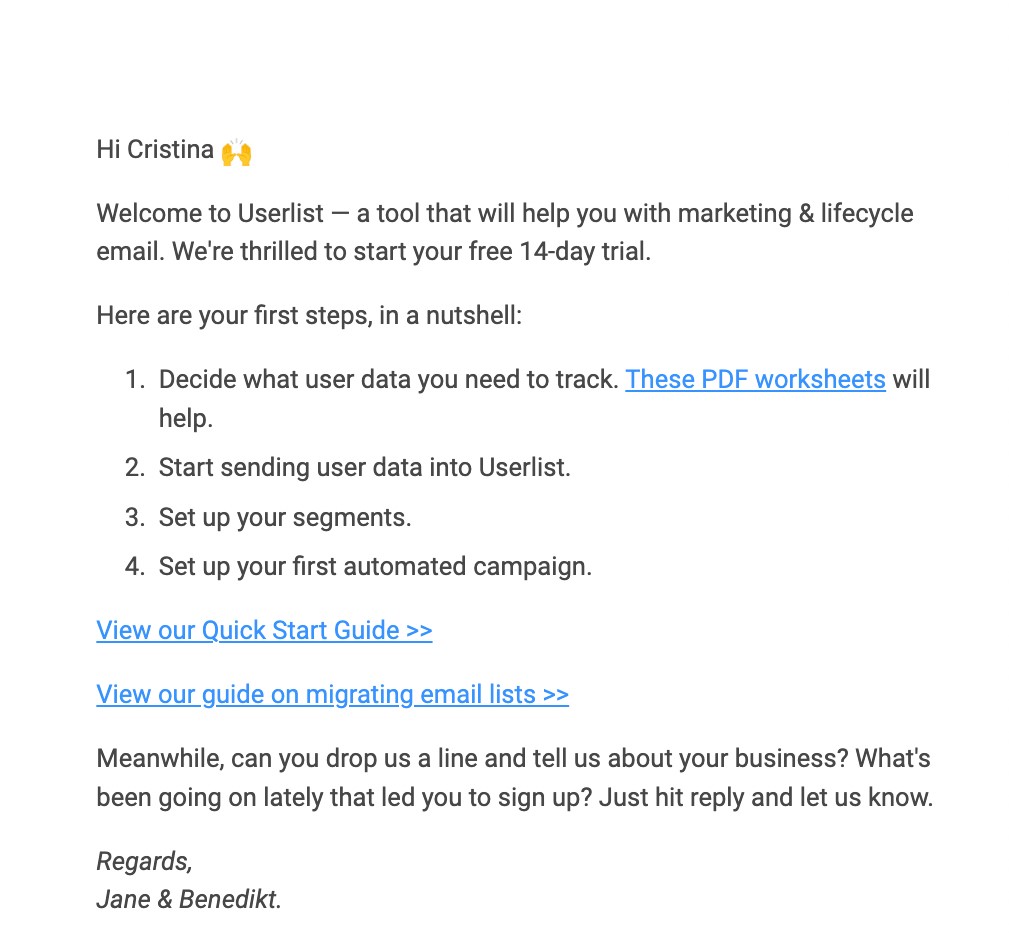 (Source)
In-app notifications, guides, and tooltips. These could help you proactively assist users while they navigate through the software, offering contextual tips and explanations to common challenges people like them have encountered.
In-app micro-surveys. These could help you gauge customer satisfaction and loyalty and identify potential concerns of your customers and shortcomings of your product.

How to use Refiner to evaluate and improve your CSAT scores
Refiner (full disclaimer: this is my tool) is a complete customer feedback survey tool for SaaS & digital products.
I created Refiner to help companies like yours collect feedback & insights from their user base with a focus on tracking customer satisfaction metrics (NPS, CSAT, CES, etc.), as well as conducting user & product research.
With Refiner, you can reach more customers with fully customizable in-product surveys and make accurate measurements of your customer satisfaction score.
Refiner will also help you become more proactive in improving your CSAT score with smart integrations and automation.
Here are just some of the ways in which Refiner helps you improve your CSAT:
Start collecting customer feedback in just a few clicks with our CSAT survey template.
Create fully brandable survey widgets. Use your own colors, customize the style of your surveys; you name it.
Trigger your survey manually, on a page visit, but more importantly, using segments.
Never miss a response. Set up surveys to show again a few times or until they are completed. Refiner even lets you capture partial responses!
Use logic jumps to customize your survey based on answers and get the most accurate feedback possible.
Track the evolution of your CSAT score on a dedicated reporting dashboard.
Sync CSAT scores to your CRM, marketing automation platform, analytics, act on the feedback, and more.
Looking for a CSAT survey solution for SaaS?
Reach more customers with fully customizable in-app surveys and make accurate measurements of your customer satisfaction score.
Discover Refiner