Want to send an NPS survey to your customers? Wondering how to write an NPS email that gets responses?
It goes with saying, doesn't it – There is no better indication of your customers' loyalty than seeing them recommending you to friends or family. After all, nobody would recommend your product to anyone if they didn't see its value, right?
*Yup*
The challenge – How do you get customers to reveal their attitude towards your product?
In this guide, I'll show you one way to do it – Sending an NPS survey via email.
You'll learn how to write NPS emails that get response, what to include, and how to take the strategy to a whole new level.
Before we get to that, though, let's cover some basics.
What Is NPS?
The Net Promoter Score (NPS) is a popular metric to measure customer satisfaction and loyalty.
NPS is based on a simple, one-question survey, like this: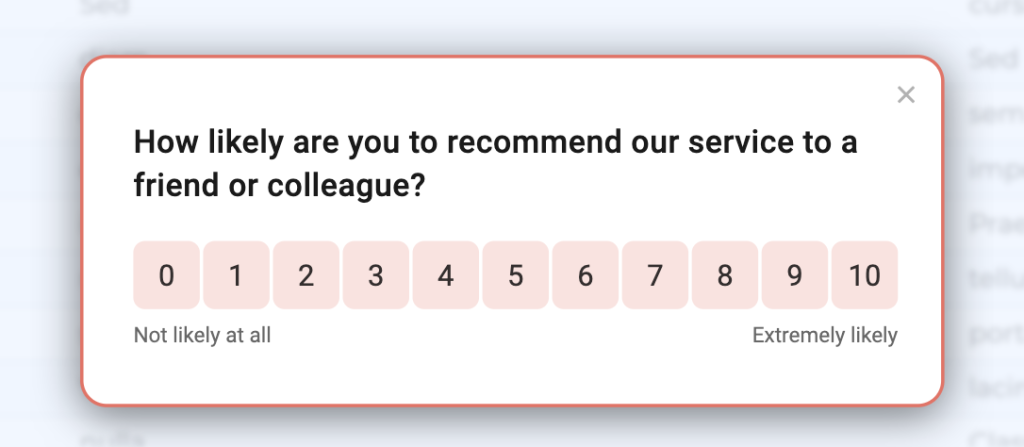 To answer, customers just need to rate their likelihood to recommend you on a scale of 0 to 10. It's as simple as that.
(Well, to be fair, there's quite a lot more to it, of course. I've covered it all in this ultimate guide to NPS. Check it out.)
Now, you can deliver the survey in several ways. You can display it on your website or app, or send it to customers via email.
Let's see how the latter should work.
How to Write a Powerful NPS Email that Gets Responses
Let me get the hardest part out of the way – You see, to really make an NPS email work, you must really do more than just quickly write few words to your contacts and attach the survey. I wish it were that easy but it's not.
The good news – It doesn't take an awful lot extra to write an engaging NPS email. Here are some of the most important things to know:
#1. Set the expectations
Your NPS survey email should have a clear purpose. Don't want to include too many requests to confuse your customers.
Instead, write a short email with clear objectives.
For example, you can set the expectations from the first sentence:
Dear X,
I noticed that you're using our product daily. We would love to hear your feedback to improve our services.
The recipient should be able to understand what the email is about from the very beginning to avoid wasting time reading something that is not relevant to them.
#2. Brand it
Nobody likes an email (or survey) that looks bland.
A branded survey allows your email to stand out even before the recipient starts reading it. It's also easier to improve your brand affinity by sticking to your own design.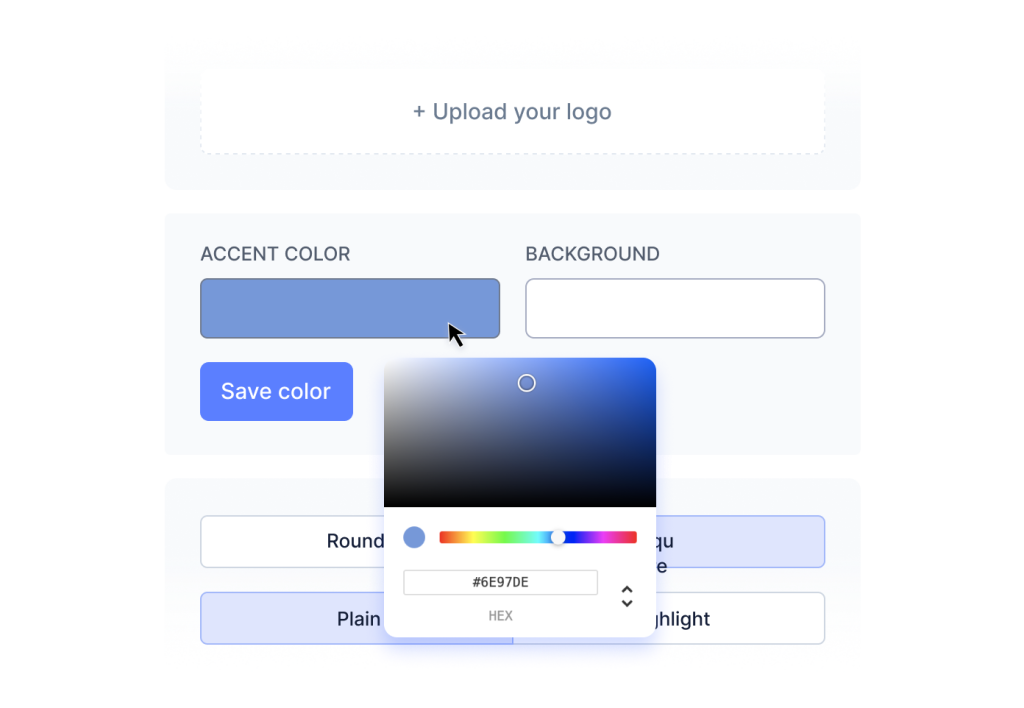 With tools like Refiner, you can customize the branding to your company's color palette to maintain your branding consistency in just a few clicks.
You can even use survey templates if you want to avoid starting the process from scratch.
#3. Send the email from a person, not a brand
FACT: An email from a person always works better. Knowing that the message came from a real person makes it easier to connect with it.
So, your NPS survey email should come from a person within your team rather than a generic email.
Aim for a personal and warm tone of voice that helps the reader engage with the person behind the brand.
#4. Keep it short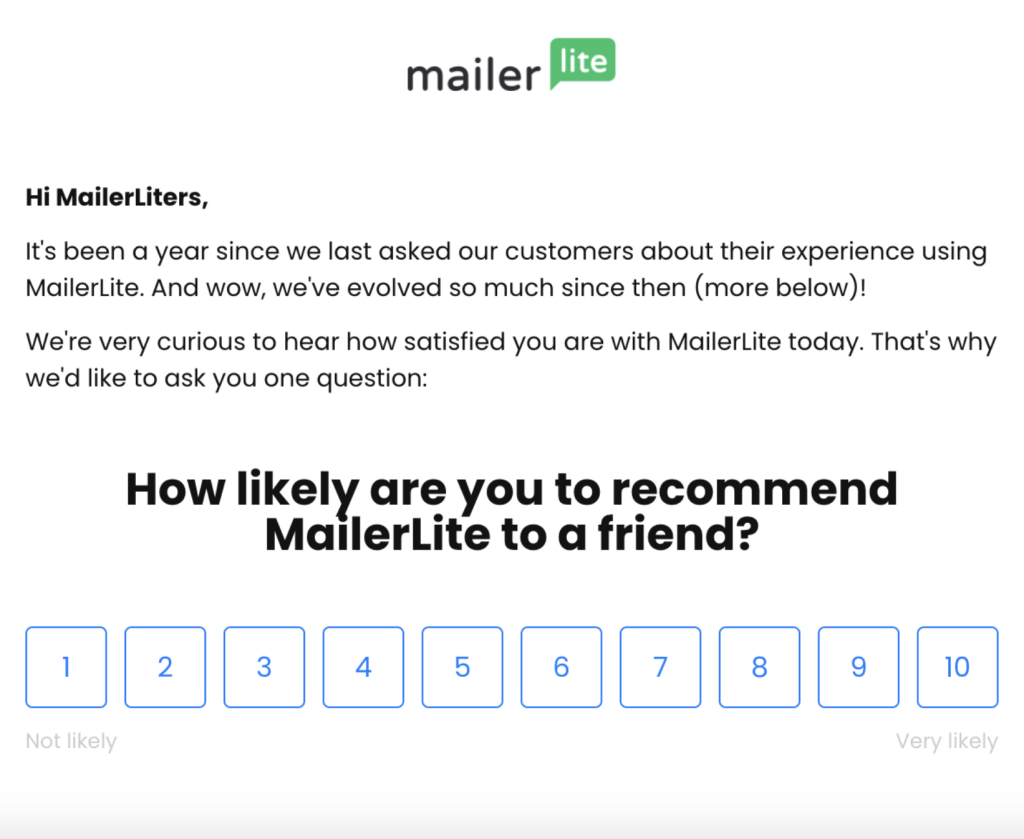 An NPS survey email doesn't have to be too long.
What's the best way to keep it short?
Think like your audience.
Ask yourself, what do they want to read? How can you increase their chances of answering the survey?
Now it's time to review the copy. Keep it simple and remove any sentences that don't add any value to the email.
Finalize the copy and A/B test it to improve your response rate on future surveys.
#5. Be clear
All emails benefit from simple and clear language. This is writing 101.
Your NPS survey emails should be easy to understand with clear instructions on what someone needs to do.
For example, imagine starting your email with two long paragraphs explaining what an NPS is, how you measure it, and why it's important to send frequent surveys.
Chances are, your customers are not interested in these, right?
Stick to what matters to them and make it as easy as possible for everyone to respond to the survey.
#6. Embed the survey to the email
There are two types of NPS survey emails:
The one that directs users to an external page to respond to the survey
The one that embeds the survey on the email
The first one is popular when you want to include more than one question. The second option helps you minimize friction.
There is no right or wrong approach. You can pick the one that works better for your audience.
However, many companies decide to embed the survey in the email to boost the engagement rate.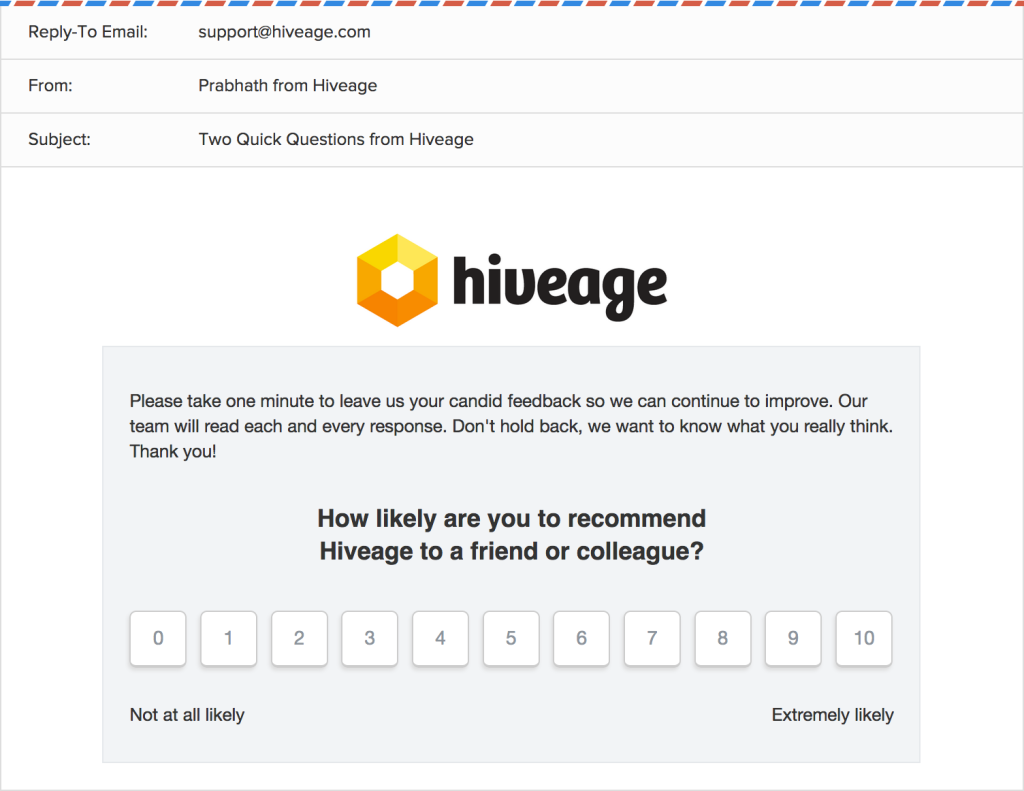 Instead of asking for your customers to visit an external page to respond, they can simply engage directly through an email.
As you can guess, there are more chances to boost your survey response rate with the second approach, especially if you also include a short copy that makes it easy for a customer to focus on the survey.
An Example of an NPS Email
Looking for NPS email examples to inspire you. Here's one.
Subject Line
A quick question from <Brand> – your feedback can make a difference
Body
Hi <Name>
My name is Paul and I am in Refiner's product team. I've noticed that you use our product regularly and I'd like to ask for a favor.
Would you mind sharing your honest feedback about your experience using Refiner to help us improve?
It's only one question in the survey so it shouldn't take more than a few seconds of your time.

Thank you for taking the time to open this email, I appreciate it.
As you can see, the structure of the email includes:
A personal introduction
A sentence to explain the ask
A sentence explaining the process or how long it takes
An embedded survey (or a link to it)
Don't be tempted to add too much copy, your survey should be the main focus.
7 NPS Email Best Practices
How can you boost your response rates in your next NPS email?
Here are seven tips to consider.
#1. Segmentation will make your emails more relevant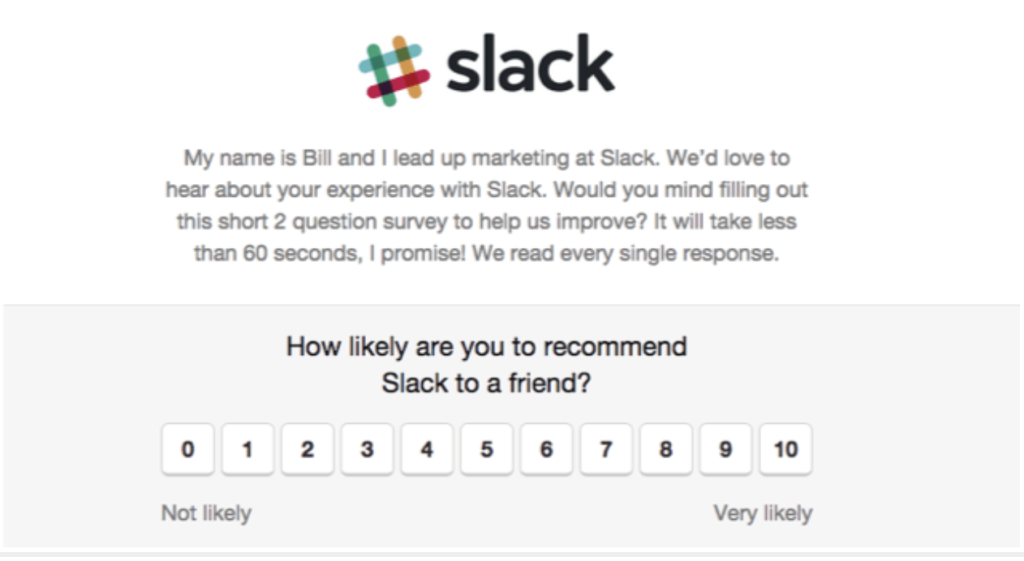 Not everyone is at the same stage in the customer journey. Segmentation can help you make your email more relevant to your customers' expectations.
You can segment your audience based on their product usage, their demographics, or their level of engagement.
For example, you can send an NPS email to your new customers who may be responding to your survey for the first time. In this case, you can explain why their feedback matters and how it can make a difference to your product development.
You can even incentivize them to respond.
#2. Timing matters
Right after you confirm your target audience, it's time to pick the best time to reach out to every segment.
When is the best time to make the ask? Have you asked them too many things in a short period of time?
If a customer is on the first day of using your product, you might want to wait a bit longer until you ask for feedback. Chances are, they are not in a stage yet to know whether they would recommend the product to a friend or not.
#3. Add a follow-up question to understand each response
In many cases, an NPS survey is focusing on one question. This doesn't mean that you can't add more questions.
How about adding a follow-up question to find out more about your customers' responses?
For example, if someone rates 3/10 the likelihood of recommending your product to a friend, you can ask a follow-up question on the reasons they feel this way. Or if there is a positive response of 8/10, you can ask for additional feedback on what they like about your product.
#4. Clarify the time commitment
The best way to convince someone to engage with your email is to communicate from the start how much time they need to spend on it.
Imagine promising that the survey only takes 30 seconds and then the customer ends up spending 10 minutes answering all the questions. It wouldn't be a pleasant customer experience, right?
As with every customer feedback survey, keep the user experience in mind, from the very first impression to the process of responding to a survey. You don't want to annoy your customers for the sake of an email survey, do you?
#5. Make them feel valued
Why should a customer respond to your survey?
Ideally, they believe in your product and want to see it grow. But chances are, they are also busy and may still need additional encouragement.
The best way to create an appealing email is to make your customers feel valued. Show how important their feedback is for you. Make them feel special. You can even reward them for filling out the survey.
#6. Aim for mobile-first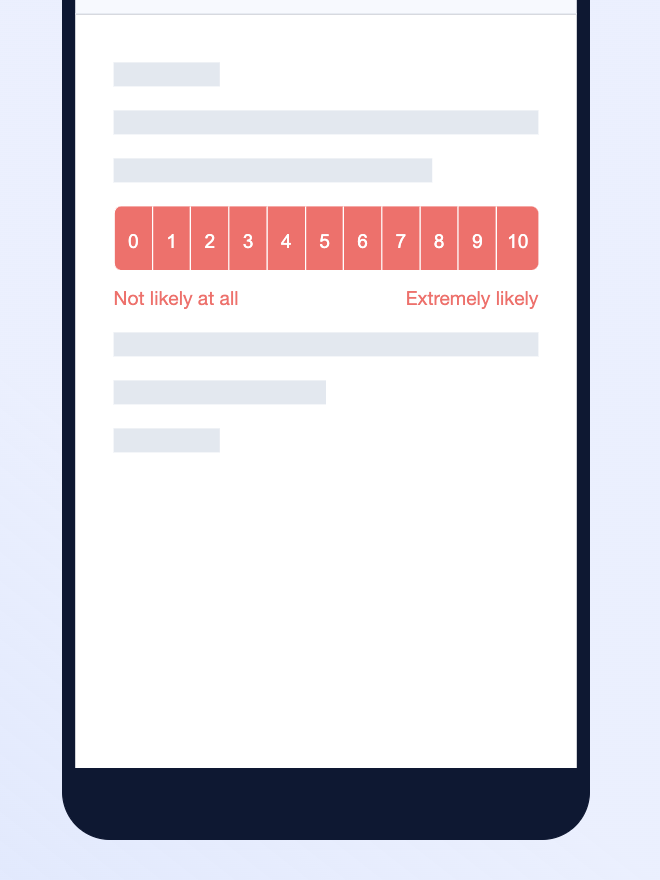 Your NPS email surveys should be easy to access across all devices.
A mobile-first experience increases your chances of a high response rate while you're also acknowledging the different content consumption habits.
Before you send your email, check the preview on different screens.
How is the formatting of the copy? Is the survey easy to use?
#7. A/B test
We make too many assumptions about our target audience. The next step is to choose a sample size to validate them.
Use A/B testing when sending a survey email to test:
the use of visual content
whether you should embed the form on the email
the tone of voice to use
the call-to-action to include
Remember, A/B testing is about trialing one thing at a time so don't change everything at once.
There you have it…
Everything you need to know about NPS survey emails and how to improve your response rate.
What's next? Start planning your next NPS email and what it looks like for different segments.
Make sure you keep it short and relevant and only make one ask.
Good luck!
Looking to run NPS surveys for your SaaS? Check out Refiner, the #1 NPS software for SaaS
Get the ultimate NPS cheatsheet
We compiled the best NPS information we have from over a dozen articles. Get NPS basics, use cases, best practices, 13 question examples, 17 follow-up email templates in a single document!
Get the cheatsheet