Install with Google Tag Manager
As an alternative to our Javascript Client, you can also install Refiner on your website or app using the Google Tag Manager.
With Google Tag Manager, you can add or remove third party Javascript snippets to your website without requiring a developer to update the code.
Our Google Tag Manager integration allows you to install Refiner in "anonymous visitor" mode, as well as for "identified users".
To install Refiner on your website or app with Google Tag Manager, just follow these steps:
1/ Navigate to the Google Tag Manager container which is installed on your website or app.
2/ Click on "Add New Tag"
3/ Name your new tag "Refiner" and click "Choose a tag …"
4/ Navigate to the "Community Tags" by clicking on the banner above the tag list
5/ Scroll to "Refiner" and click "Add to Workspace"
6/ Fill in the "Project ID". You can find your project ID on the Installation page inside your Refiner account.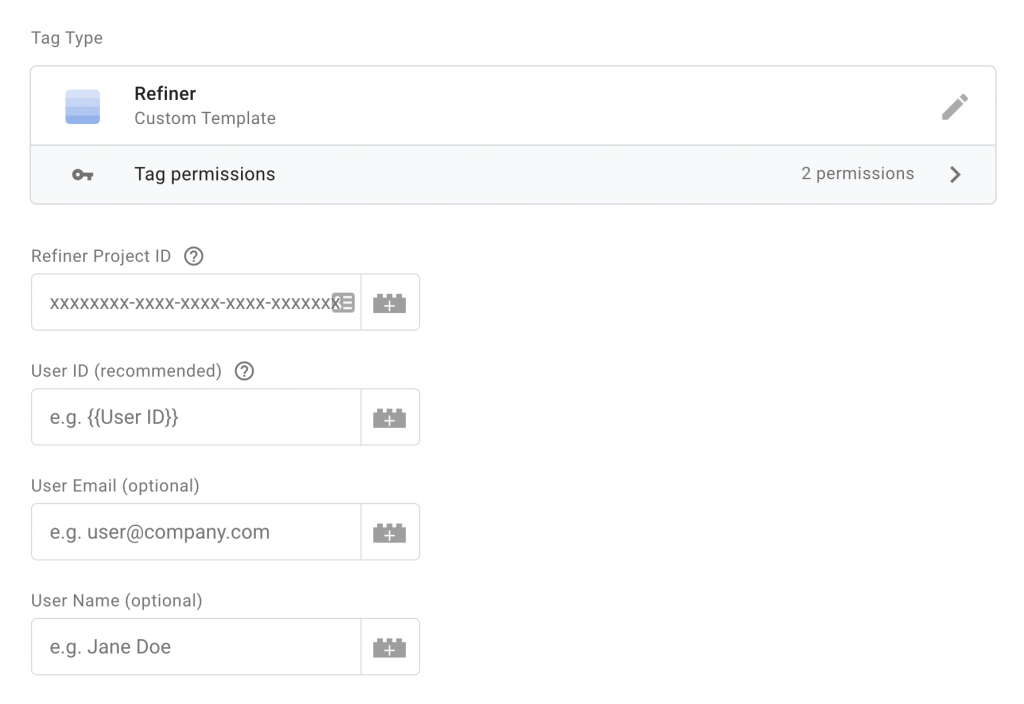 7/ (Optional, but recommended) You can identify your users by mapping the User ID, User Email and User Name fields shown in the screenshot above to values from your Google Tag Manager Data Layer.
8/ (Optional) Next to identifying your users, you can also send additional user traits from your GTM data layer to Refiner. Traits sent to Refiner can be used to segment your users and create target audiences.

8/ Set the trigger for the Refiner snippet to "All Pages". You can control when exactly a Refiner widget is shown in your Refiner dashboard.
Please note: When identifying your users (Step 7), it might happen that the "User ID" is not available yet when the "All Pages" trigger is executed. In this case, you can try to add a custom trigger event "Window Loaded".
That's it! Your Refiner widget should now be installed on your website or app. You can test if everything is working as expected by logging in to your app as a new user or by visiting your website in a new anonymous window.