Refiner is a survey solution with a strong focus on "in-app survey widgets". We believe that context matters and surveying your users while they are using your product provides unbeatable response rates and data accuracy.
There are however situations where in-app surveys don't work or are not the ideal choice. For those situations, Refiner also offers alternative survey channels such as email or shareable links.
Supported Distribution Channels
Web-App Survey Widgets for Identified Users
Survey the right users at the exact right moment, while they are using your product. In-app surveys have an extremely high response rate and produce high quality responses. Unlike Website Popup Surveys, they are shown "post-signup" which means that you can tie each survey response to a user profile.
Website Survey Widgets for Anonymous Visitors
Website Popup Surveys are great for surveying visitors of your marketing website. Inquire more information about who is visiting your website and how they heard about you. You can also use them as a lead generation tool.
Email Surveys
Survey users right inside their email inbox. Email surveys are a great way to re-engage with users that are currently not using your app. There is no need to change your email service provider. We provide you with a HTML code snippet that can be included in any email.
Create a survey link that you can share with your audience. Customize the URL of your survey link to identify your users or add hidden contextual data.
Choose Distribution Channel for new survey
When creating a new survey, you'll be asked to choose a Distribution Channel. Depending on your choice, additional options are available for your survey.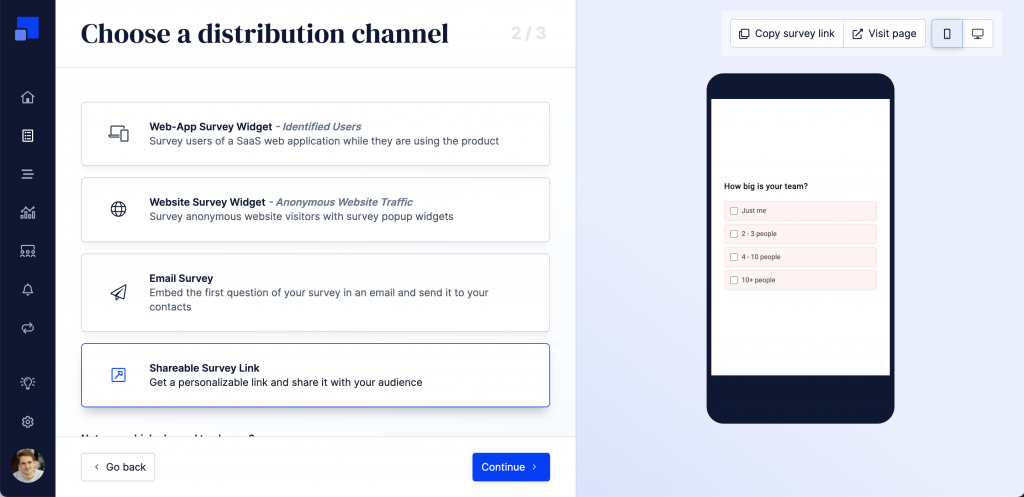 Change Distribution Channel for existing survey
You can also change the Distribution Channel of an existing survey. To do so, open the navigation menu in the top right corner of the survey editor and choose "Change survey type".